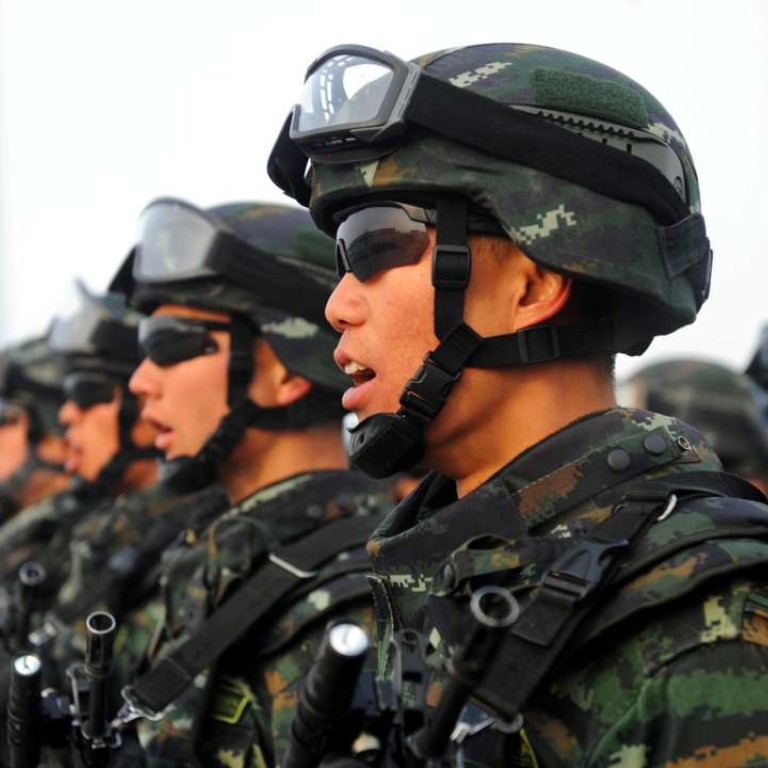 Censure of officials sheds light on sweeping surveillance measures in China's restive Xinjiang
Punishment of cadres for failing to gather intelligence highlights the intensive surveillance in place amid violent attacks blamed on Islamist separatists
The Communist Party in China's restive Xinjiang region has punished 97 cadres in its rural south for failing to do a proper job monitoring local residents, providing a rare glimpse into the extent of surveillance imposed in the ethnic-Uygur heartland.
The cadres in Hotan prefecture in southern Xinjiang, including seven village police officers, were punished for a wide range of derelictions of duty, such as failing to mark down the exact number of Muslims taking part in congregational prayers, or not knowing who were absent from the weekly flag-raising ceremonies – a compulsory gathering aimed to boost patriotism, during which the national anthem is sung under the Chinese flag.
The announcement came after an inspection team was sent to the prefecture to check on their work last month by the region's party chief Chen Quanguo, the regional party committee's propaganda department said on social media on Thursday.
The far western region of Xinjiang, home to the country's Muslim Uygur minority, has long been placed under stringent security and surveillance measures in a government's crackdown on what it calls Islamic separatist and extremist forces. The announcement is a rare public acknowledgement of some of the detailed security measures taken.
Hotan prefecture, where 96 per cent of the population of two million are Uygurs, has witnessed two violent attacks in recent months. Eight people died in a knife attack in February and another five died during a bomb attack in December.
Some cadres sent to rural villages in the prefecture to visit families were punished for gathering too little information about households, especially "key persons" - people deemed to be associated with terrorism and extremism - or religious people, the propaganda department said.
Apart from household information, the religious life of local people is also placed under tight scrutiny.
"Some cadres did not show up on time at the mosques on the days of Jummah [Friday prayers]; some had no idea about the content of the preaching, did not assign staff to watch surveillance footage, count the congregation or make a name list of the participants," it said.
It added that some mosques were not "equipped properly" and had blind spots for surveillance cameras.
Some village party chiefs did not know about the "four activities" in their villages – the authorities jargon for four ceremonies of child naming, circumcision, weddings and funerals. The party demands these ceremonies are held at designated venues, but the article said in some villages they were found to have been held at homes or hosted by "religious figures".
The announcement also said some village officials were punished for bullying and taking advantage of villagers and some had even become a "local tyrant". Some village police had resorted to brutality while carrying out their duties and had even blackmailed villagers.
Although the problems were found in the major oasis town of Hotan and seven other counties under its administration, they were "pervasive to a certain extent" throughout the region, the propaganda department said.
Cadres who have committed more serious offences were investigated, demoted or fired. Others received warnings, demerits or were named and shamed.
Other areas in the region were asked to conduct self-inspections on whether similar problems existed in their own administrations.
This article appeared in the South China Morning Post print edition as: 96 officials punished in xinjiang