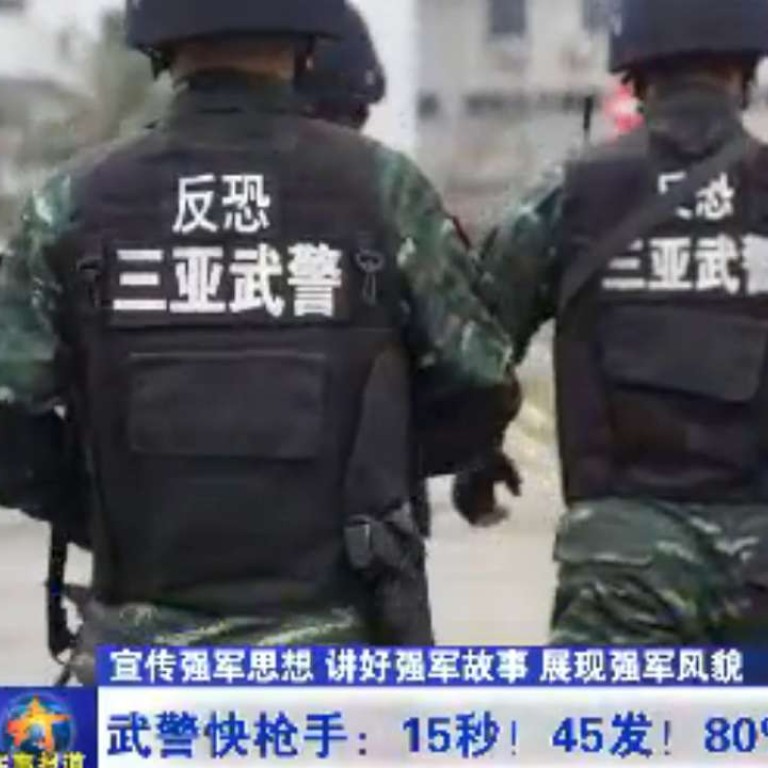 Details emerge of 'terrorism suspect' arrest during armed raid in China
Man held after paramilitary police operation on Hainan island, but little information given in state media about his identity or alleged crimes
Chinese state media have released rare details about the arrest in an armed raid of a suspected terrorist accused by the authorities of organising terrorism operations overseas.
The suspect was said to have led over a hundred followers in Turkey, according to Chinese state television.
The man was arrested as part of a special forces operation in Hainan province after a number of wanted suspects were found hiding in the city of Sanya waiting to flee China, the state broadcaster reported late on Sunday.
The report did not mention the ethnicity of the suspects, but the arrests took place in December 2014 at a time when many Uygur Muslims from the restive Xinjiang region were leaving the mainland to join Islamic State in Syria and Iraq.
The name of the main terrorism suspect was also not given, but he was said to be the leader of a group of militants, according to the report.
"When he was in Turkey, he had a team of more than 100 people under his command. He himself was an organiser," Wu Tengfei, a member of the anti-terror squad which carried out the arrest, told state television.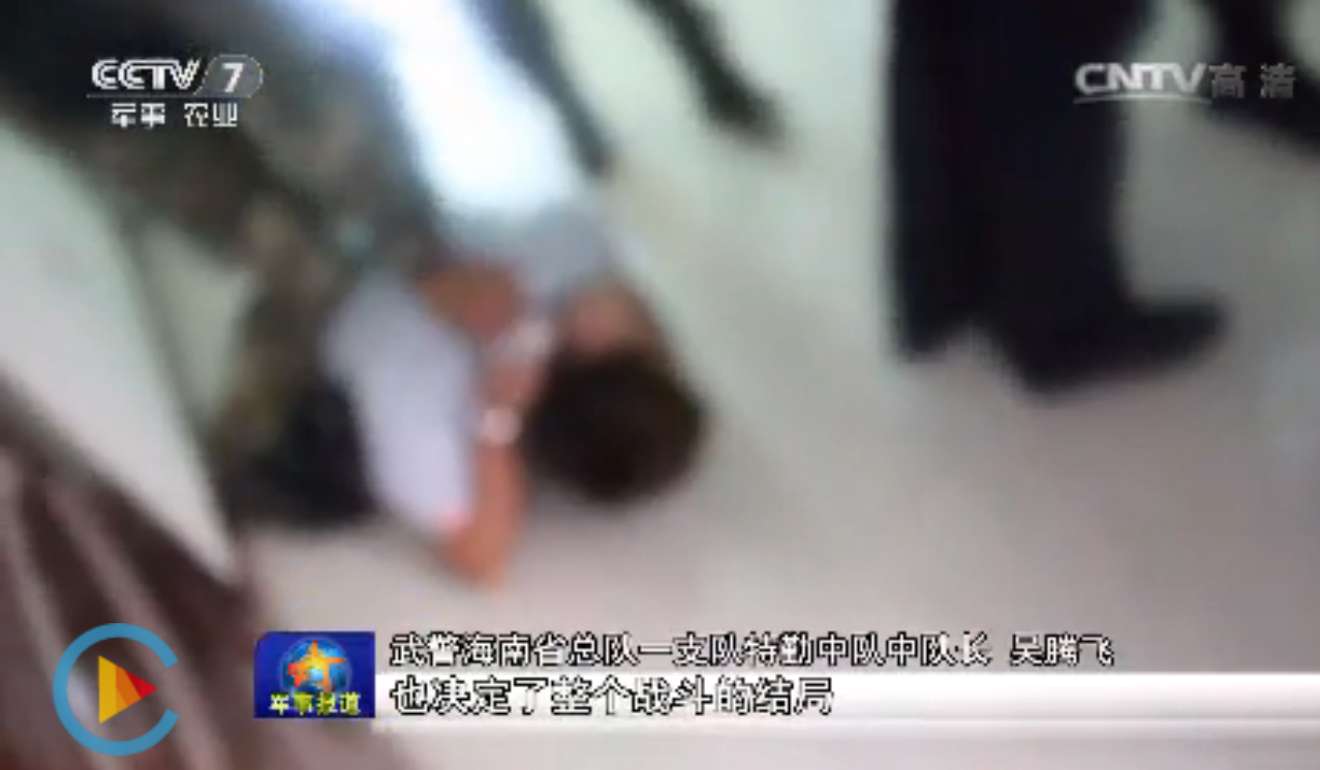 Video footage showed a team of Hainan anti-terror paramilitary police officers carrying guns and wearing helmets and bulletproof vests entering a residential building.
The officers are shown storming into an apartment and swiftly pressing a couple of men to the floor with their guns.
The three suspects had fled to Hainan from southwestern Yunnan province with their families, according to news reports on the island at the time of the arrests. The original reports said they were wanted by the Public Security Bureau, but did not mention they were terrorist suspects.
China is concerned that a growing number of Uygurs have gone to Syria and Iraq to receive terrorist training through Southeast Asia and Turkey after leaving the country illegally through its southern borders.
Islamic State released a video in February showing Uygur fighters training in Iraq and vowing to plant their flag in China and let blood "flow in rivers".
Rights groups say Uygurs who have left Xinjiang were fleeing ethnic violence that has killed hundreds in recent years.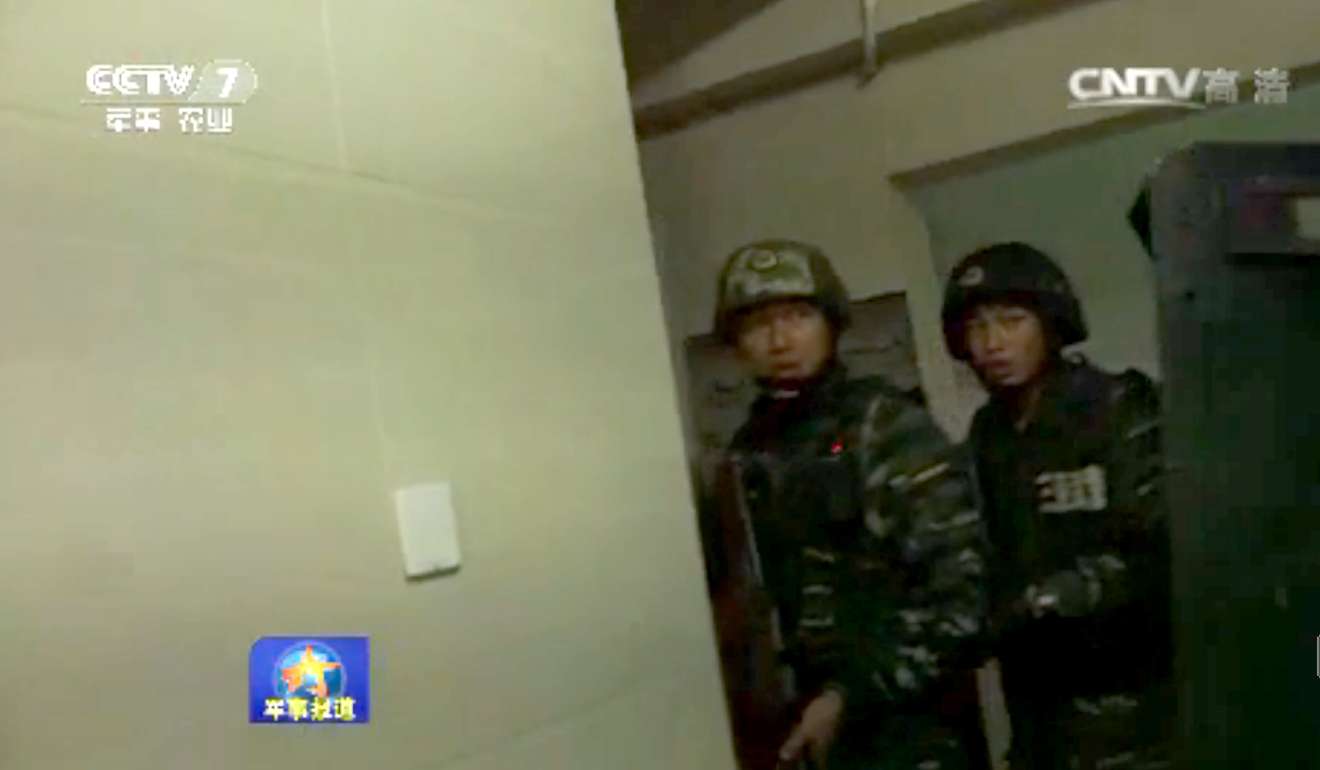 They are also fleeing due to repression of Uygurs' language, religion and culture, according to rights groups, allegations Beijing strongly denies.
Thailand deported 109 Uygurs back to China in July 2015 at the request of Beijing, who said they were on their way to Syria and Iraq to carry out jihad, or holy war.
The move was condemned by the United States and rights groups and sparked protests outside the Thai embassy in Turkey, home to a large Uygur diaspora.
Thailand said it did not return all Uygurs held in detention camps back to China, despite its lobbying. The Thai authorities said 170 Uygurs who were found to be Turkish citizens were sent to Turkey.
More than 800 people were stopped trying to illegally cross from China into Vietnam in 2014.
Most were Uygurs attempting to get to jihadi training camps, according to Chinese state media.
This article appeared in the South China Morning Post print edition as: State TV offers rare look into terrorist sweep