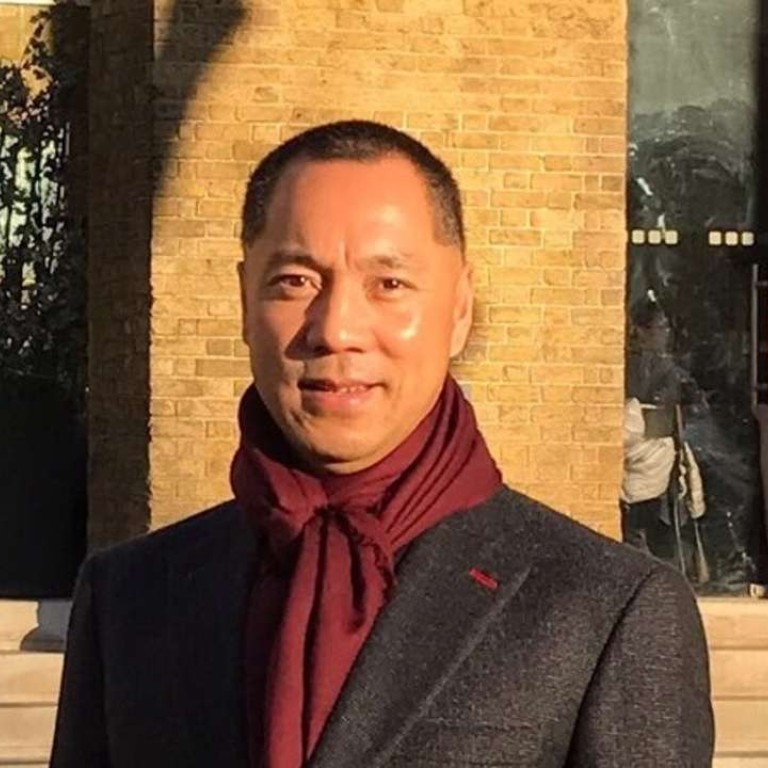 China confirms tycoon Guo Wengui wanted by Interpol
Beijing confirmed on Wednesday Interpol had issued a "red notice" seeking the arrest of Guo Wengui, a tycoon who claimed to have ­evidence of corruption at the top of the Communist Party.
The comments from foreign ministry spokesman Lu Kang confirmed reports by the South China Morning Post that the ­notice was issued at Beijing's ­request. Lu did not give details of Guo's alleged crimes.
Sources briefed on the notice told the Post Guo, who has close ties to disgraced former state ­security vice-minister Ma Jian, was suspected of bribing Ma with 60 million yuan. Ma is under ­investigation for corruption.
Guo left the mainland in ­December 2013 and had been wanted by Chinese prosecutors since April 2014, a source with knowledge of the case said.
An Interpol red notice is a request to locate and provisionally arrest an individual pending extradition, according to the Interpol website. It is not an international arrest warrant.
Guo is based in the United States, according to his frequent postings on Twitter, but as recently as this month he travelled to Britain. Neither country has an extradition treaty with China.
Interpol said it would not comment on specific cases or individuals.
Deputy public security minister Meng Hongwei became president of Interpol in November, the first Chinese ­national to hold the position and which came as Beijing was trying to bolster efforts to return ­suspects from overseas.
Guo has given several interviews with overseas media recently, including Voice of America on Wednesday, in which he dismissed the claim he bribed Ma as a lie. He said he had met officials from China's graft-busting Central Commission for Discipline Inspection and the Communist Party's Central Political and Legal Affairs Commission in London last year regarding Ma's case, the true details of which were different from the allegations in the red notice.
In a tweet on Wednesday, Guo said the red notice was a "suicidal act" indicating that corrupt officials were fearful of their wrongdoings being exposed. He also said the allegations against him were "pure fabrication".
"This will make Wengui more determined to fight these bad guys," he wrote.
In earlier interviews with Mingjing News, a Chinese-language website, Guo said Fu Zhenghua, China's executive deputy minister of public security, had abused his power in pursuing him. He also pointed the finger at the son of former anti-graft chief He Guoqiang, saying the son was a major backer of a business rival now behind bars.
Just two days before President Xi Jinping's summit with US President Donald Trump at Mar-a-Lago this month, The New York Times reported that Guo was a member at the resort, which Guo confirmed. The report said it might embarrass Xi if Guo showed up at the resort during the summit. Guo was in London at the time, according to his tweets.
Although the acts of bribery and taking bribes carry the same penalties under Chinese law, the authorities have so far been focused more on punishing those who accept bribes.
Among the 100 fugitives subject to red notices from Interpol's National Central Bureau for China in 2015, only one was wanted on suspicion of paying bribes. All the others are suspected of embezzlement, fraud or receiving bribes.
China's move to seek a red ­notice was more of a warning to him than an indication an extradition was likely, Beijing-based political commentator Zhang ­Lifan said. "It's a way for Beijing to exert pressure on him," Zhang said. "It's a problematic question whether it would help in getting him back, but it might affect his travel in other countries."
This article appeared in the South China Morning Post print edition as: China says Interpol alert issued for tycoonChina says Interpol notice issued for tycoon