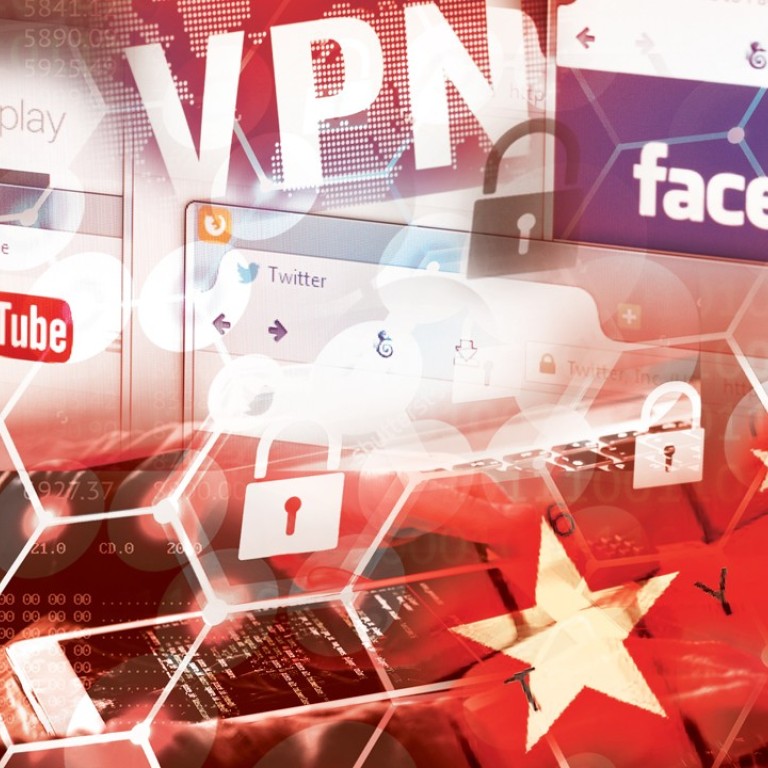 Man jailed for selling VPNs to evade China's 'Great Firewall'
Fears among some VPN users on the mainland over whether they will also face punishment for using the services to get round internet censorship
A man has been sentenced to nine months in jail for selling virtual private networks to circumvent internet censorship, amid Beijing's tightening crackdown on ways to get around its "Great Firewall".
Deng Jiewei, a 26-year-old from Dongguan in Guangdong province, was convicted of "providing software and tools for invading and illegally controlling the computer information system", according to court documents posted on a website run by the Supreme People's Court.
Deng had been selling two VPNs via his website since October 2015, and was first detained in August last year. He and a partner made nearly 14,000 yuan (HK$16,700) selling the software, which allowed users to "visit foreign websites that could not be accessed by a mainland IP address", the judgment said.
Deng was sentenced in March, but the online court documents were only circulated on social media on Sunday.
Posts about Deng's case have been shared by thousands of people on Weibo drawing anger as well as concern about the treatment of VPN users.
What's on Weibo, a blog tracking social trends in China, first reported Weibo users' discovery of Deng's case on Sunday.
Many wondered why VPN services were considered as "invading and illegally controlling" a computer system, while others worried they might face punishment for using the VPNs.
"If selling a VPN means a conviction for 'providing software and tools for invading and illegally controlling the computer information system', then everyone here who uses a VPN to evade the Great Firewall can also be convicted of illegally invading or illegally controlling the computer information system, right?" one of the most liked comments on Weibo said.
VPN users in some parts of the mainland already face consequences from the local authorities.
Under new rules issued in March, people in Chongqing who use VPNs to access banned sites get a message on their computer telling them to disconnect, while those who generate profits of more than 5,000 yuan from using a VPN can be fined up to 15,000 yuan. VPNs are a popular way to skirt the Great Firewall by connecting to the internet outside the mainland. They allow users to access blocked sites such as Facebook, YouTube, Twitter and foreign news sites, which might carry information that is critical of the Communist Party.
The authorities announced a 14-month campaign to crack down on unauthorised VPN services in January. Some domestic VPN providers, such as GreenVPN, have been shut down. Approved VPN networks used by multinationals, however, have not been affected.
Bloomberg reported in July that the state-run telecoms firms China Mobile, China Unicom and China Telecom had been ordered to stop allowing the use of VPNs by February next year, but the Ministry of Industry and Information later denied the report.
Apple removed VPN apps from its App Store on the mainland later the same month.
This article appeared in the South China Morning Post print edition as: Man jailed for selling VPNs to evade 'Great Firewall'