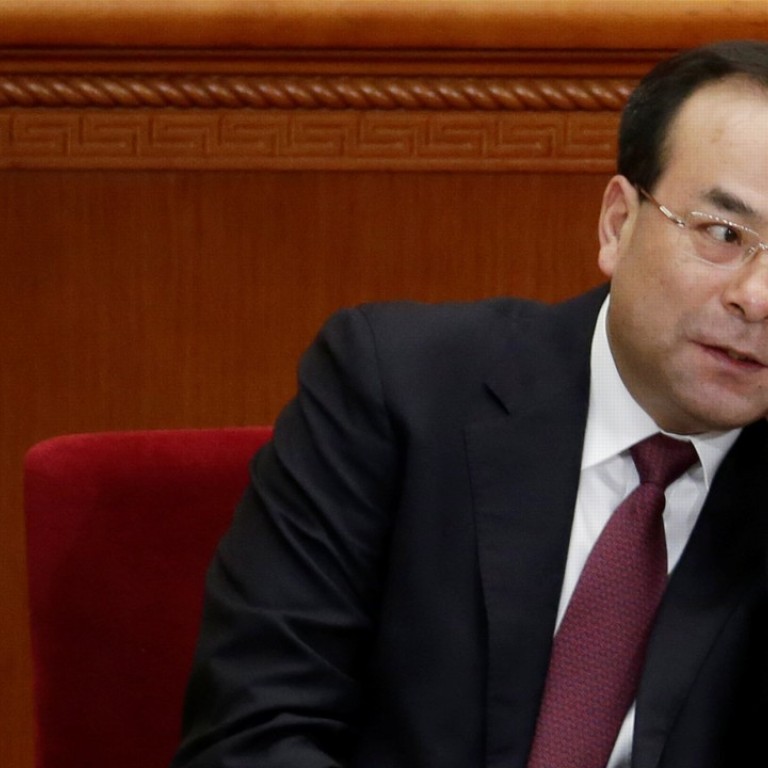 China issues formal charges against former Communist Party star Sun Zhengcai
Disgraced ex-boss of Chongqing to be tried in port city of Tianjin on charges related to bribe-taking, Supreme People's Procuratorate says
Sun Zhengcai, the former member of China's Politburo who was once tipped as a possible future leader, has been formally charged with bribery, the top prosecutor's office announced on Tuesday.
Sun, who was abruptly sacked as party boss of the megacity Chongqing in July and placed under investigation for corruption in the run-up to the Communist Party's leadership reshuffle in October, is now facing trial.
Prosecutors in the northern metropolis of Tianjin submitted an indictment to the city's first intermediate people's court, the Supreme People's Procuratorate said in a statement, although a trial date has not yet been announced.
Sun is accused of taking advantage of his position to seek profits for others and illegally accepting "a huge amount of assets".
The statement said the charges related to crimes he allegedly committed since his time as a district party boss in Beijing in 2002, through his years as minister of agriculture, and as the party chief of both northeastern Jilin province and Chongqing.
In September, when the party announced that Sun had been expelled from the party and would face prosecution, he was accused of a long list of wrongdoings, ranging from bribery to leaking party secrets and abusing his power. But the latest statement said he was facing only charges related to alleged bribe-taking.
The First Intermediate People's Court of Tianjin has tried political heavyweights felled by President Xi Jinping's anti-corruption crusade before, including retired Politburo Standing Committee member and security tsar Zhou Yongkang, and former top presidential aide Ling Jihua. Both are serving life sentences for bribe-taking, illegally obtaining or leaking state secrets and abuse of power.
Zhou's case was heard in less than two months after he was charged, while Ling's case took less than a month. Both hearings were held behind closed doors because they involved state secrets, the court said at the time.
Although Sun's charges do not involve state secrets, it is unclear if his trial will be made public like that of Bo Xilai, another disgraced former party boss of Chongqing and one-time contender for the top leadership.
At 54, Sun was the youngest member of the Politburo before he was expelled. He was once widely considered a strong candidate for the supreme Politburo Standing Committee when the party reshuffled its top leadership at the five-yearly congress in October.
But the high-flyer came back to Earth with his unexpected dismissal as Chongqing's party boss. He was replaced by Chen Miner, a close protégé of Xi and a rising political star.
Sun is the most senior serving politician to be snared in Xi's signature anti-corruption campaign, a crackdown on deep-rooted graft that has also purged the president's political rivals and instilled fear and loyalty in the ranks.
"Sun's case is first and foremost a political one," Beijing-based political commentator Zhang Lifan said.
"Corruption itself is commonplace within China's [bureaucratic] system, [but Sun] had political ambitions and so-called conspiracies."
The party's top anti-corruption agency chastised Sun, Zhou and Ling for their "inflated political ambitions" and "conspiracies", and said their downfalls had eliminated a "major lurking political peril".
This article appeared in the South China Morning Post print edition as: Disgraced Politburo memberCharged