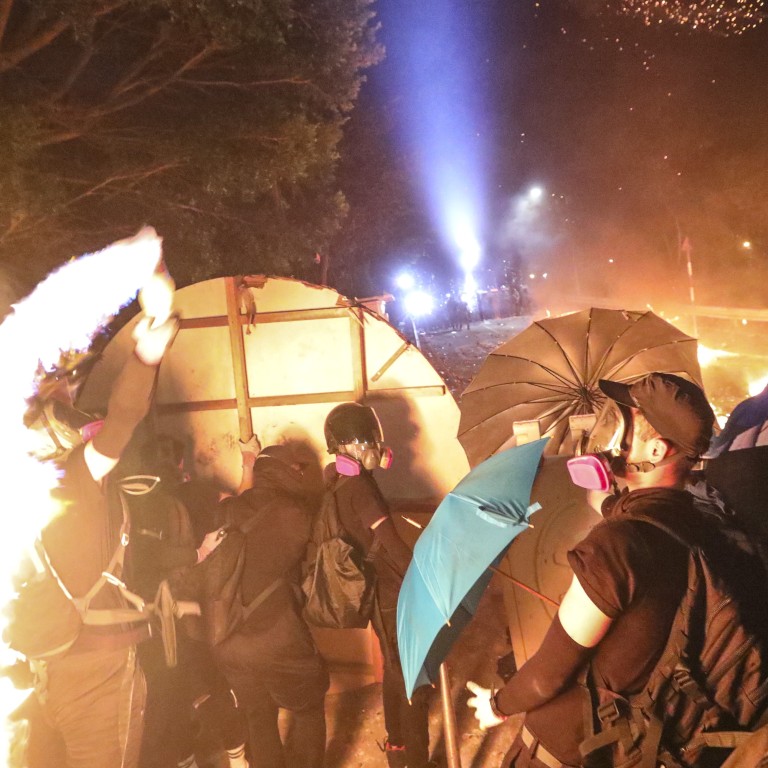 Is Beijing ready to step in to stop Hong Kong protests?
Despite the escalating chaos this week, observers do not think the central government is ready for such a drastic step
One analyst believes that the cost to China's international reputation is still too high while another questions whether it has an effective plan
As this week's major escalation of violence shows no sign of abating, a question that has hung over Hong Kong from the start of the protest movement is again weighing heavily on the city: Will Beijing finally lose its patience and decide to intervene?
Traffic and public transport were disrupted across the city, office workers took to the streets during their lunch break every day and university campuses turned into blazing battlegrounds.
A man was set on fire after being doused in flammable liquid and a protester was shot in the abdomen at point-blank range by police.
The central government has issued nothing but dire warnings in response.
On Wednesday, Beijing's Liaison Office in Hong Kong said that the city is "sliding into the abyss of terrorism", calling for a harsher crackdown to end the unrest by "every necessary means".
State media also weighed in, warning that the city is running out of time to resolve the situation on its own.
The same evening, Hong Kong leader Carrie Lam Cheng Yuet-ngor convened a late-night meeting with senior ministers, leaving many guessing about the next possible action.
The next day, rumours swirled that the Hong Kong government was about to impose a curfew this weekend, sending the Hang Seng Index – already on a big weekly decline – tumbling further. The Hong Kong government later denied the rumours.
But despite the tensions, analysts said Beijing did not see the situation in Hong Kong as totally spinning out of control and was unlikely to step in at the moment.
"Despite the escalation of violence, we still can't draw the conclusion that things are really out of control," said Li Xiaobing, an expert on Beijing's policies for Hong Kong at Nankai University in Tianjin.
"In fact, at this stage, neither Beijing nor Hong Kong has a way to effectively deal with it. So I think Beijing can understand [the difficulty of] the situation in Hong Kong."
At the ruling Communist Party's top policy-setting meeting last month, the Central Committee laid out various ways to tighten Beijing's control over Hong Kong, ranging from pushing for national security legislation and patriotic education to tighter supervision of the city's key officials and judiciary.
Adam Ni, a China specialist at Macquarie University in Sydney, said Beijing had a comprehensive strategy on how to deal with Hong Kong in the medium to long term, but not a clear solution in the short term to shut down the protests effectively.
"We've seen a trajectory of increasing rhetoric and tough line response from Beijing, but I think we're still some way off from Beijing actually sending in the security forces as it's threatened on multiple occasions implicitly or explicitly," he said.
The latest warning came from Hu Xijin, editor-in-chief of the state-run nationalist tabloid Global Times.
In a social media post on Monday, Hu told the city's police force: "Behind you there are not only the [patriotic] Hong Kong public and the nation, but also the country's paramilitary police and the People's Liberation Army Hong Kong garrison, who can enter Hong Kong and offer support in accordance with the Basic Law when needed."
Under Article 14 of the Basic Law, Hong Kong's mini-constitution, the city can ask the central government for help from the PLA garrison to maintain public order and help with disaster relief.
Article 18 provides that in the event of the standing committee of the National People's Congress declaring a state of war or a state of emergency in Hong Kong, the central government may issue an order applying relevant national laws in Hong Kong.
But Ni said that sending in the paramilitary police or the PLA would not be a solution.
"That's essentially a concession that [Beijing] has lost Hong Kong. It's going to have long-term ramifications, especially … for China's international reputation."
Ni warned that Beijing's long term strategy of tightening control could also backfire. Beijing's perceived encroachment on Hong Kong's civic and political freedoms has been fuelling the protests for months, and is at the core of the rising anti-China sentiment among the city's youth.
"Ultimately, Beijing shares a large part of the blame for the current chaos in Hong Kong, and what it is doing today is again making the same mistake, essentially sowing the seeds for future conflicts.
"If I was in Zhongnanhai," Ni said, referring to the central leadership compound in central Beijing, "I need to be conscious that what I'm doing today is not provoking additional native sentiment, identity issues and resistance."
But, he warned, Beijing's policies are "without doubt" going to bring that sort of situation into play.