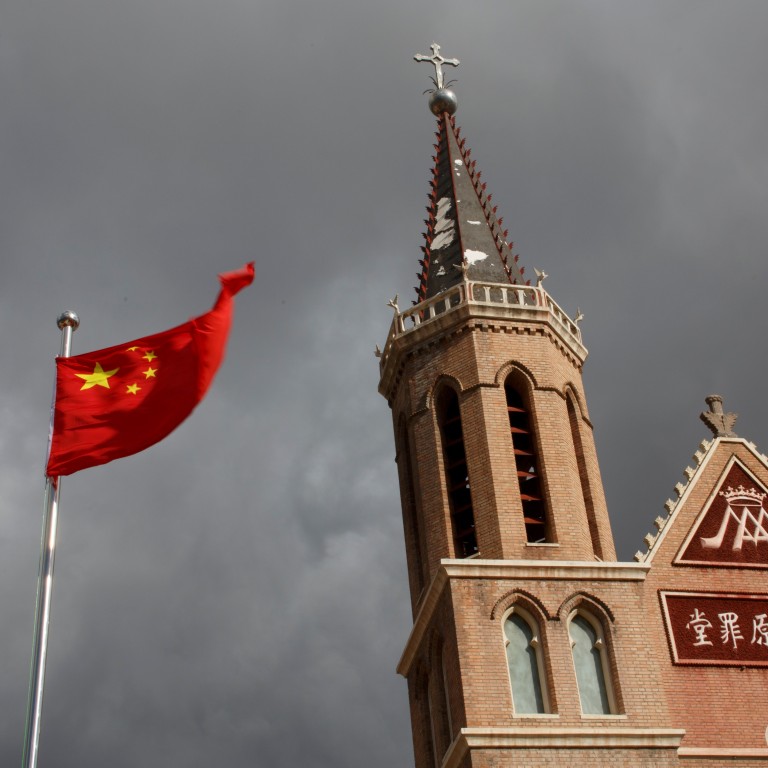 China's religion chiefs to double down on bringing doctrine in line with socialist dogma
Reinterpretation of texts the latest effort in four-year old push to establish 'theology with Chinese characteristics'
China's religious leaders met in Beijing on Tuesday to work on ways to reinterpret religious doctrine to bring it in line with socialism, as the ruling Communist Party presses on with its campaign to
"Sinicise"
 religion.
The meeting, convened by Wang Yang, the country's top official overseeing religious affairs, focused on how to ensure that religious dogma "meets the requirements of the progressing times" and fits "core socialist values", according to state news agency Xinhua.
Wang, who is also a member of the Politburo Standing Committee, the party's inner circle of power, said the goal was to develop "theology with Chinese characteristics" and make religion more compatible with socialism, the report said.
The meeting comes after the party's powerful Central Committee met last month to map out China's policy directions for the coming years.
It also comes four years after President Xi Jinping launched the "sinicisation" campaign to bring religions into line with Chinese culture and the party's absolute authority.
But the ultimate goal, in Xi's own words, was to keep believers away from "Western ideology" and "religious extremism".
"[We] should use core socialist values to lead our religions, use Chinese culture to permeate our religions, support the religious sector to make new interpretations of religious thought, doctrines and decrees to resolutely prevent the infiltration of Western ideology and consciously resist the influence of religious extremism," Xi said in 2015.
The officially atheist party recognises five religions in China: Buddhism, Taoism, Protestantism, Catholicism and Islam. But it is the last three that the party is most wary of, associating them with foreign influence or ethnic separatism.
Tuesday's meeting sent a clear message to religious figures and organisations across the country to double down on efforts to interpret religious texts.
"In recent years, our country's religious sector proactively practised core socialist values and made a great deal of helpful explorations into reinterpreting religious doctrines and decrees," Xinhua quoted delegates as saying.
"We've achieved positive results, but there are also problems that needed more attention."
"Core socialist values" are a recurring theme in party propaganda, from school textbooks to television programmes. They include 12 all-encompassing terms: prosperity, democracy, civility, harmony, freedom, equality, justice, rule of law, patriotism, dedication, integrity and friendship.
While publicised official speeches and documents did not detail how the "reinterpretation" would work, Ying Fuk-tsang, a specialist on Chinese religion at the Chinese University of Hong Kong, said that in one church boards had been put up showing a Bible verse for each value.
For example, under "patriotism" is a verse from Peter entitled "Submission to Authority".
"This is a typical example of what is going on in Chinese churches," Ying said.
On Tuesday, attendees also vowed to conduct a "comprehensive review" of all scriptures.
"For content that does not fit the progressing times, reinterpret that that should be reinterpreted, correct that that needs to be corrected, and retranslate that that needs to be retranslated," Xinhua quoted the attendees as saying.
In April last year, China's online retail giants removed the Bible from sale, triggering rumours among believers that authorities were looking to retranslate the text.
But Ying said the translation of religious scriptures was a "huge project".
"It takes a long time to accomplish the job. I do think that the most important matter now is how to interpret the text," he said.
This article appeared in the South China Morning Post print edition as: Bring scripture in line with socialism, religious chiefs told