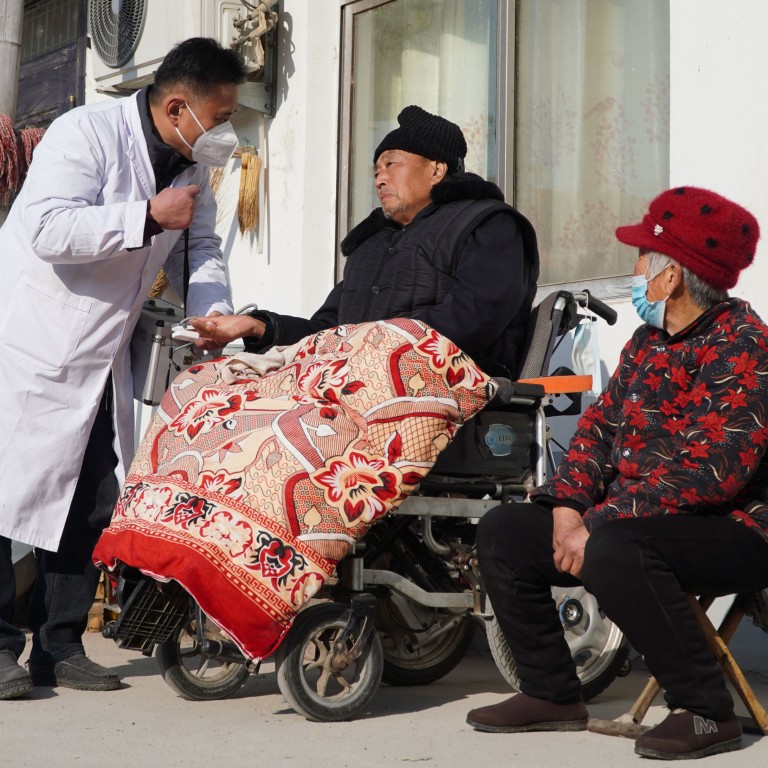 Why did Covid-19 wave hit China's countryside earlier than expected?
Returning migrant workers and students brought a surge to rural areas weeks ahead of the Lunar New Year mass migration
Many grass-roots clinics were caught off guard but while cases are falling, experts warn the greatest test lies ahead
In nearly three decades as a village doctor, Zhu Wenbing has never seen his clinic under so much pressure, nor supplies of medicines run so low.
The worst moments were in late December, when the
Covid-19
Omicron variant raged through his village in China's eastern Shandong province. At its peak, Zhu was seeing more than 50 patients a day, and did not have enough medicines to treat them.
"All the Covid-related drugs were hard to get, and I kept phoning the [pharmaceutical company] salespeople and [township] clinics to make sure the patients could access the necessary medicines," Zhu said. "The price of medicines soared, [and that is] so unfair to the patients."
Zhu is one of just over a million doctors across China's vast countryside who have been bracing for
the arrival of the pandemic
, after three years of protection under the country's zero-Covid policy.
But the wave hit rural areas earlier than expected, leaving grass-roots hospitals and clinics struggling to cope.
The official travel season for
Lunar New Year
– the biggest annual human migration in the world – runs from January 7 to February 15 this year, and waves of infections were anticipated once it got under way.
Health authorities warned rural areas to brace for Covid-19, setting up fever clinics and boosting manpower and medical supplies ahead of the new year – when tens of millions of people traditionally travel across the country for family reunions and holidays.
But the mass movement of people started early, accelerating the spread of the virus and catching many grass-roots clinics off guard.
China has a three-tier rural healthcare network, with village clinics like Zhu's at its base, followed by township health centres and the county hospitals.
Tucked into the rural pockets of Dezhou city, Zhu's clinic – which has employed only two doctors since 1994 – is one of two serving a village of about 2,000 people, 20 per cent of them aged over 65.
"We mainly treat patients according to their symptoms with limited available drugs … and Chinese medicines," Zhu said. Severe cases are referred to higher-level hospitals.
In rural China, these are nowhere near the scale or facilities of the highest tier hospitals in the big cities. There are also only 1.48 practising doctors and 2.1 nurses for every 1,000 people in the countryside, compared with 3.96 doctors and 5.4 nurses per 1,000 in urban areas.
Before China abandoned its zero-Covid policy in December, rural hospitals and clinics were not allowed to receive patients with symptoms related to Covid-19 in a bid to prevent the pandemic's spread.
These facilities were also limited in the treatments they could prescribe – with antipyretics, cough medicine, antivirals and antibiotics not allowed – sending them scrambling to stock up on Covid-related medications when restrictions were lifted.
China's underdeveloped healthcare system and uneven distribution of medical supplies were exposed last year when Shanghai – the country's most developed city – struggled to cope with its Omicron outbreak.
In a number of large cities, restaurants, entertainment venues and businesses had been shut down since November because of zero-Covid lockdowns. When the policy was relaxed last month, mass infections among their employees kept them closed.
As a result, many migrant workers have returned to their hometowns several weeks earlier than expected. Students were also encouraged to go home before the semester ended, according to multiple sources.
In Guangzhou, China's southern manufacturing hub, a restaurant owner surnamed Xiong said 90 per cent of his 150 workers had returned to their homes in central Hubei province by late December.
"There's no business here and we're closed off," he said. "We've got nothing to worry [about going back home]. We've all [been] infected already anyway."
Hongtang village, in central China's Hunan province, recorded its first case on December 9, when a homecoming migrant worker tested positive, according to an official in charge of the local pandemic response. Days later, students also started returning from various cities to the village.
In mid-December, local officials started stockpiling traditional Chinese medicines in preparation for a wave of infection, which struck the village – home to 530 people over 60 – within 10 days.
"In the second half of December, many people aged 80, 90 and above died. The deaths were quite concentrated," the official said, on condition of anonymity.
While some medicines were available for sale online, supply was limited, so last week the village started appealing for help and donations via the internet, he said.
NGOs have stepped in to give some villages a helping hand. Among them is Zheng Hongbin, co-organiser of a campaign to send medicines to rural areas.
Zheng said the team of volunteers has collected and sent antipyretics and cough medicines to over 13,000 elderly people in more than 110 villages in dozens of provinces since mid-December.
Last week, Zheng told the Southern Weekly newspaper that he was still receiving messages asking for medicines and "the shortage of drug supplies continues".
After the early surge, many areas are now reporting a drop in Covid-19 infections, including the largely rural provinces of Henan in central China and Sichuan in the southwest. But public health experts warn that the challenge of more severe cases remains.
Cao Xiaofei, who works for a finance company in Guangzhou and returned to his home in Hunan province last Saturday, said most residents of his village had probably contracted the virus by around December 20. But without RAT kits, no one was sure they were really infected.
"Everyone was catching a cold at that time so people were suspicious but nobody cared. They just got treated as if it was normal flu," he said.
But Cao said he had witnessed an increase in the number of funerals held in the village over the past week.
"Many old people have died, mostly the bedridden ones with severe underlying diseases," he said. "The funerals are very complicated in rural areas and villagers gather together."
In an interview with state broadcaster CCTV on Sunday, National Health Commission official Jiao Yahui said the greatest test during the Lunar New Year would lie in the treatment of severe cases in rural areas.
"The emergency system in rural areas is relatively weak and treatment resources – including personnel and medicines – are relatively scarce. The biggest challenge is whether critically ill patients in rural areas can be transferred [to higher-tier hospitals] in time," she said.
A doctor surnamed Liu at a county hospital in the coastal province of Zhejiang said patients had been arriving from lower-tier clinics.
Liu is one of the doctors assigned by the hospital to get training on emergency and ICU treatment. He has also learned how to prescribe Paxlovid and Azvudine, two antivirals used to treat Covid-19.
"The pressure has eased a bit now compared with two weeks ago when infections reached the peak. But the ICU beds are far from sufficient … and the medicines have not arrived," Liu said.