Science
Get more with myNEWS
A personalised news feed of stories that matter to you
Learn more
Forest study in China finds mix of trees can absorb twice as much carbon as areas with one species
Research shows greater diversity leads to more greenhouse gas absorption
Forests with a diverse mix of trees can absorb more than twice as much carbon as areas with just a single species, research carried out in eastern China has found – a discovery that could help in the fight against climate change.
More than 150,000 trees were planted on a hillside in Jiangxi province in 2009 for the study. Over eight years, researchers found that an average of 32 tonnes of carbon was absorbed per hectare in the above-ground biomass – or living organisms – of the species-rich forest, according to the results published in Science on Friday. Single-species forests, in contrast, captured an average of 12 tonnes of carbon per hectare.
The experiment near Xingangshan, was the first involving a large cultivated forest to find out whether a greater diversity of tree species leads to increased greenhouse gas absorption, a process that can help to mitigate climate change.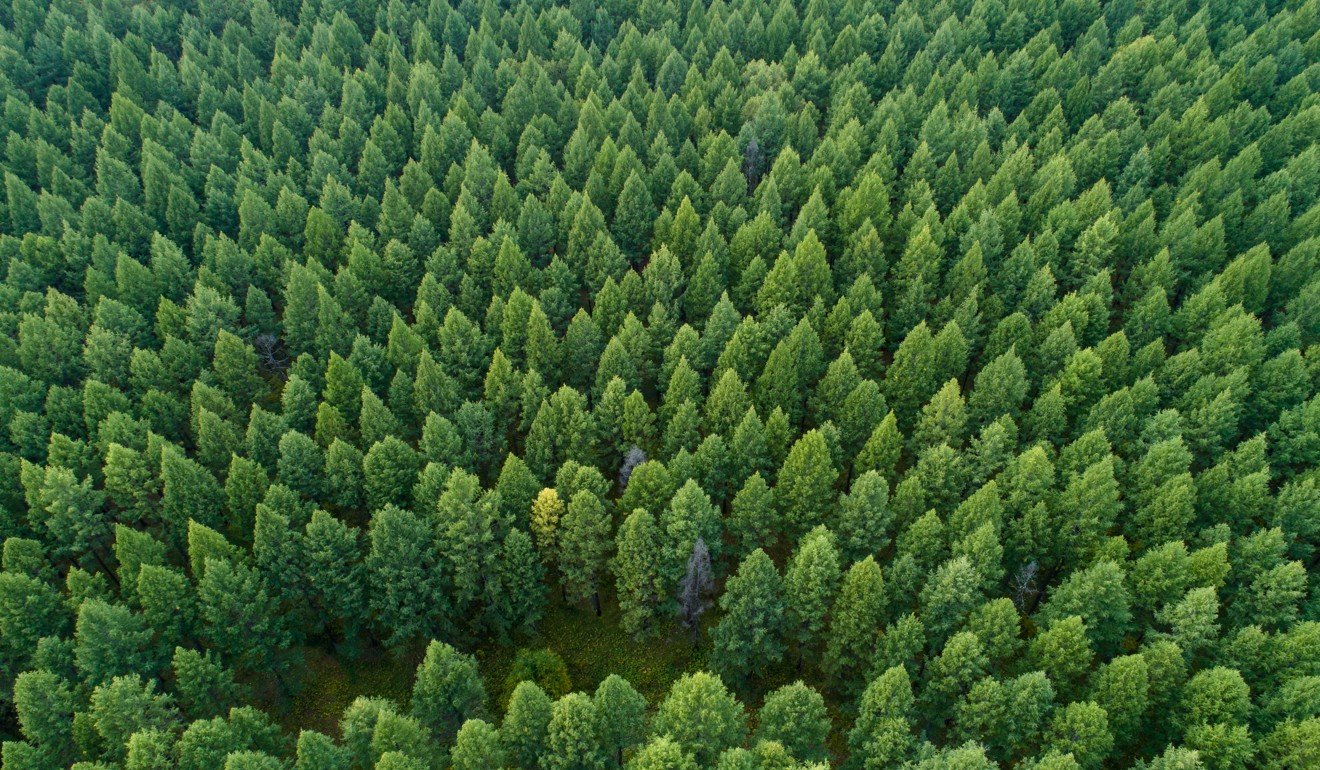 More than 60 scientists from China, Switzerland and Germany were involved in the research, testing a hypothesis based on observations in the field.
"By only observing natural forests, it was impossible to conclude that higher biodiversity was the cause of the higher productivity [absorption of carbon]," said Ma Keping, one of four lead authors of the study and a botanist with the Chinese Academy of Sciences.
"By planting 150,000 trees ourselves, we could control the conditions and prove that a forest with a large number of tree species is more productive than a monoculture," Ma said.
Increasing the number of tree species in existing forests worldwide by 10 per cent could reduce carbon at a level that would cost US$20 billion a year with other methods, according to the study.
The experiment measured forest productivity by determining how much carbon was stored in the above-ground biomass in the research areas. The team did this by cutting down about 100 trees, working out their biomass volume and how much carbon had been stored in it.
They found that about 47 per cent of the tree trunks and branches was stored carbon. By measuring the height and diameter of the trees, they could then calculate how much carbon they had captured – an indication of how much carbon dioxide they had absorbed from the atmosphere.
Watch: Chinese ghost village shrouded in greenery
Plants absorb carbon dioxide from the air through their leaves and convert it to organic carbon compounds in the process of photosynthesis. When forests store more carbon, they help to reduce greenhouse gases in the atmosphere.
"These findings have great ecological and economic significance," said Bernhard Schmid, another lead author of the study and a biology professor at the University of Zurich.
Ma said the results also highlighted the need to increase forest diversity in any plan to fight climate change by planting more trees.
There are major reforestation programmes planned and under way worldwide with the aim of protecting the climate. In China alone, 1.5 million hectares of new forests were planted every year between 2010 and 2015, though they were mainly fast-growing monocultures, according to the study.
"The study shows that forests are not all the same when it comes to climate protection – monocultures achieve not even half of the desired ecosystem service," Schmid said. "The full level of mitigation of global warming can only be achieved with a mix of species. In addition, species-rich forests also contribute towards protecting the world's threatened biodiversity."
Such forests were also less vulnerable to disease and extreme weather events, which are becoming increasingly frequent as a result of climate change, Schmid said.
Sixteen tree species were planted on the Jiangxi hillside for the study in an area spanning 53 hectares, Ma said.