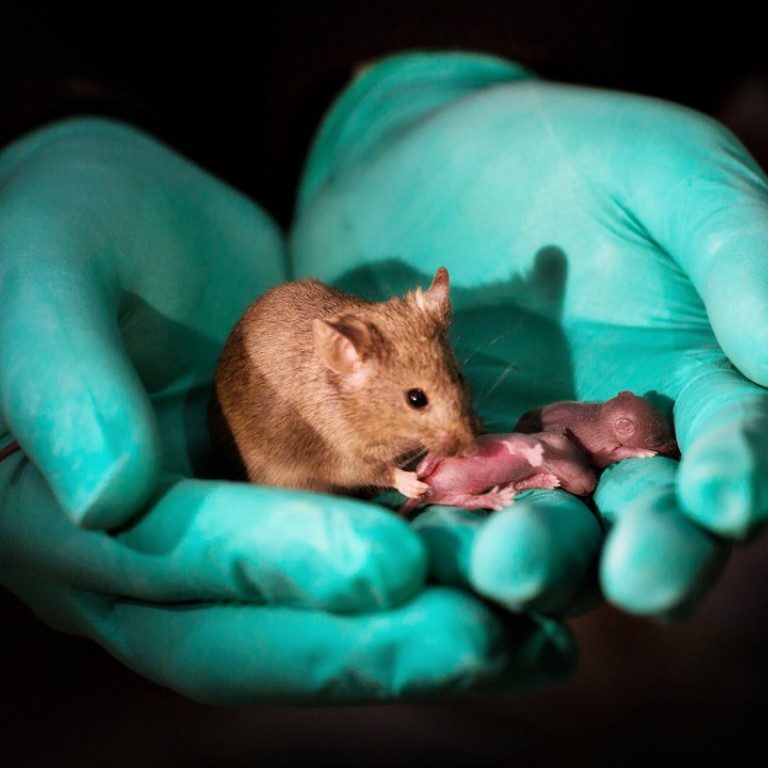 Chinese scientists, using DNA editing, breed healthy mice from two mothers
Team also used genetic manipulation to create pups from two male mice, but these survived only a couple of days
Chinese scientists have produced healthy mouse pups from two female parents with the help of DNA editing, according to a study published in the American scientific journal Cell Stem Cell.
The team also bred mouse pups from two male parents, but those offspring survived only a couple of days.
"Previously, we have derived mice with two female parents with one or two DNA region modifications, but all these mice exhibited significant growth retardation before or after birth," said Zhou Qi, a co-author of the study and a researcher with the Chinese Academy of Sciences.
"Now we have found a third DNA region to delete, and produced bimaternal mice – those from two mothers – with normal growth and behaviours."
Zhou and his colleagues produced 29 live mice from 210 embryos. The "uniparental" mice were normal, lived to adulthood, and had babies of their own, the study said.
They were also able to create 12 live mice with two fathers, but those pups survived only two days, indicating there were greater challenges for successful reproduction using two male parents.
Zhou said the key to producing healthy, normal mice was using a type of stem cell that contained one copy of DNA, instead of immature eggs seen in similar studies in the past. Most mammalian cells – including those of humans and mice – have two sets of DNA, one each from the mother and father.
Zhou said same-sex reproduction was difficult for mammals because of a mechanism called genomic imprinting, while it was much easier for some reptiles, amphibians and fish.
The mechanism controls the growth of young mammals through parts of genes called imprinted regions, which require DNA from both male and female parents for normal growth.
Scientists are now able to mimic the presence of DNA from both genders by deleting certain genes.
The work builds on the gene editing technologies that were first published by a Japanese team led by Tomohiro Kono at Tokyo University of Agriculture in 2010. Kono and his team produced mice from same-sex parents by deleting certain parts of DNA from immature ovum.
Li Wei, another of the study's authors, said that the Chinese team was researching how to produce monkeys from two mothers by means of the same techniques used in the mice study.
"We cannot assert this technique can never be used in humans in the future. But for now, the answer is no," he said.
"There are many unsolved questions such as whether the effects of DNA deletions in mice could also be carried out in other mammals like primates."