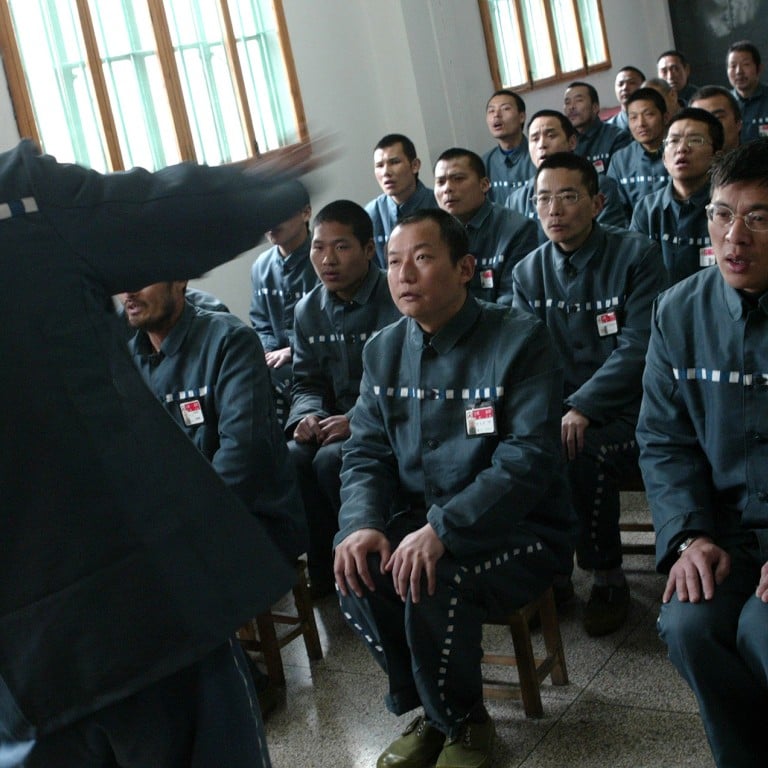 New
Tales of torture: time spent in Chinese police custody leaves victims permanently scarred
Strapped to a chair hanging above ground; strangled, shackled and barred from using the toilet… China's activists recount their traumatic ordeals under police detention
When lawyer Cai Ying recounted how he was tortured during 87 days of secret detention, tears welled up in his eyes.
Accused of bribery, perjury and fraud – charges that he insisted were trumped up in retaliation for having sued local judges – Cai was detained incommunicado by Yuanjiang city prosecution authorities in Hunan province in a hostel from July to October 2012 in the name of "residential surveillance".
During his time in detention, Cai said he had suffered torture of unimaginable cruelty that made him feel "living was worse than being dead". He even contemplated suicide three times.
"I was humiliated so badly I thought of ending it all, but then, I thought of my daughter," said the 50-year-old as he shed tears.
During his ordeal, Cai was questioned for long hours while restrained in an "interrogation chair", which was suspended more than 1.2 metres off the ground, with his hands cuffed onto a wooden board while his feet were left hanging.
Cai said the physical abuse had resulted in him suffering rectal bleeding. He had also faced threats, verbal abuse, sleep deprivation, and was starved of food and water at times. The authorities did not inform his family, nor were lawyers allowed to see him, he said.
To this day, Cai is still scarred by the horrendous experience. "The humiliating experience filled my heart with hatred," he said.
He suffers from coronary heart disease, chronic slipped disc problems and his lower limbs are often numb.
After having had hot and cold air blown on him for long periods during his detention, Cai still suffers from dizzy spells, neck pain and headaches when in an air-conditioned room.
Cai said he was released after a letter he wrote was smuggled out of custody and was posted on the internet. He eventually got an apology from the local authorities.
However, Cai is only one of numerous victims of torture in custody across the country.
The United Nations named June 26 as the UN International Day in Support of Victims of Torture in 1997, with a view to the total eradication of torture.
Although China has laws banning torture in custody and ratified the United Nations Convention against Torture in 1988, former detainees, lawyers and rights groups claim the use of torture is still widespread in police custody and in arbitrary detention outside the legal system.
They say the long established use of torture in China, unchecked police power and the over-arching importance of "stability maintenance" over human rights are to blame.
After a revision to the Criminal Procedure Law in 2012, which banned authorities and investigators from extorting confessions and using torture to collect evidence, there had been hopes that the "exclusionary rule" might improve the treatment of ordinary criminal detainees.
Measures, such as the prohibition of using "cell bosses" to manage other detainees, and ensuring that interrogations were videotaped, were introduced.
Late last year, state media reported that the Supreme People's Court was working on a detailed definition of illegally obtained evidence and confessions that should be excluded by the courts.
In late 2013, the top court issued guidelines to eliminate the extraction of confessions through torture, such as the use of cold, hunger and fatigue.
However, despite these efforts, reports of torture in custody go unabated.
Ran Chongbi, a petitioner who was released last month after being held in Beijing's Fengtai district police detention centre for eight months for "provoking trouble", said she was handcuffed and had her feet manacled for three months.
She claimed her hands and feet were bound tightly together with a dog lead for 16 days while she was barred from going to the toilet.
Ran, who was held after she demonstrated in Beijing in support of Hong Kong's Occupy Central movement last October, said she had also been strangled by a member of staff at the detention centre and placed in a room where five men blew cigarette smoke on her and threatened to poison or shoot her.
"I had never been so frightened in my life, I was shaking all over," she said.
Lawyer Yu Wensheng, who was held for 99 days on suspicion of "picking quarrels and provoking trouble" after trying to help a detained supporter of Hong Kong's Occupy movement, also said he had experienced torture in custody. He claimed he was often interrogated for 16 hours a day, given an inadequate amount of food, often had to sleep on the floor and lived in cramped conditions.
For three days, he was confined in a tall, wide metal chair while his hands were twisted around the back of the chair and handcuffed together, he claimed.
Yu said interrogators had kept pulling the handcuffs until he screamed with pain, and told him: "We will make it even worse than death for you."
Since his release, Yu has continued to suffer both physically and mentally.
He said he had undergone an operation to treat a hernia – an injury he believed was caused by torture – and continued to be haunted by a sense of fear.
When he was first released, he was afraid of chairs because they reminded him of being interrogated under duress.
"I often dream of the interrogators ... the sense of fear has cast a long shadow over me," he said.
Beijing police did not respond to a request for comments.
Lawyer Tang Jitian, who has defended many torture victims and suffered torture himself, said that torture remained difficult to eradicate because the protection of human rights was less of a priority than the protection of the political regime in China.
As the authorities see law enforcers' ability to crackdown on "elements of instability" as a matter of paramount importance in their "stability maintenance" drive, limited steps to revise rules on reducing torture will not lead to effective results, he said.
"When torture is used on 'enemies' [of the regime], such as prisoners of conscience, Falun Gong members, [underground] Christians, nobody takes it seriously and people are rarely held accountable", he said.
Tang was detained for 16 days in March last year when he and several other lawyers investigated the illegal detention of several Falun Gong members in Heilongjiang province.
He was accused of "using cult activities to endanger society" and said he had been hung up and severely beaten while in custody. He said 10 of his ribs had been broken and he was left suffering from tuberculosis.
Lawyers and rights groups say abuses in custody are due to unchecked police power and are facilitated by suspects not having access to lawyers and relatives.
In police-run detention centres, the police are given unlimited and unsupervised access to detainees.
Lawyers are not allowed to be present during interrogations, suspects have no right to remain silent and prosecutors and judges rarely challenge police conduct,
Nicholas Bequelin, East Asia director of Amnesty International, said torture remained "endemic" in China. Unless the government's torture curbing measures were matched with reforms to grant defendants' the right to silence, right to legal representation and lawyers' access, "they are not going to make a significant difference", he said.
Bequelin said that although the authorities were keen to stop torture in ordinary criminal cases to shore up their public legitimacy, there was little incentive to do the same in political cases because dissidents and activists were viewed as threats to the Communist Party's monopoly of power.
Human Rights Watch's report, Tiger Chairs and Cell Bosses: Police Torture of Criminal Suspects in China, released in May, found that some police officers deliberately thwarted the measures aimed at protecting detainees by means such as using torture methods that left no visible injuries or removing them from detention centres to be tortured. Prosecutors and judges also often ignored evidence of abuse, the report found.
The rights group also found police were rarely held accountable for their abuses. Out of 158,000 verdicts published on the Supreme People's Court's website for the first four months in 2014, of those verdicts in which suspects had alleged police torture, it found only 23 had resulted in the court throwing out evidence, and none had led to an acquittal.
From the same court verdict database, it found only one prosecution of three police officers responsible for torture, but none had served any time in prison.
"Unless the government substantially curtails police powers and significantly increases the basic rights of the defence, officers will still be able to get away with torture, and wrongful convictions will continue to emerge," said Maya Wang, China researcher at Human Rights Watch.