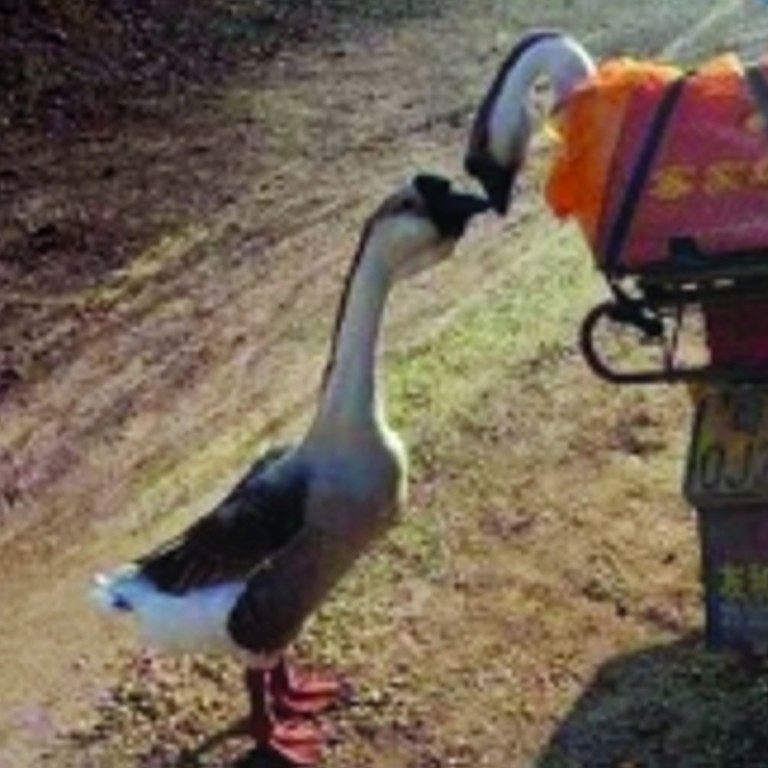 A 'kiss' goodbye: geese become Chinese internet sensation after picture goes viral of them bidding farewell before being killed
Two geese in southern China have become an internet sensation after a photograph of them kissing goodbye went viral on social media since Valentine's Day.
However, three days later came the unfortunate news that the owner of the two "love birds" in Guangdong province had already slaughtered and eaten them, the Modern Express reported.
The simple image that touched the hearts of tens of thousands of internet users showed a grey goose stretching out its neck to touch the beak of another goose, which was being bundled up in a box on the back seat of a motorbike parked on a country road.
The picture has been shared more than 20,000 times since it was posted on Weibo, China's microblogging site, on Sunday.
The owner of the geese, identified only by her surname, Deng, told the newspaper on Tuesday that the picture was taken on the second day of the Lunar New Year just as the female goose was about to be taken to the home of her relatives, where it was killed and eaten during a small banquet.
The picture also appeared to show that the male goose had been trying to free its mate from the ropes, Deng said.
The female goose was slaughtered at the relative's home, while the male goose had been eaten by Deng and her parents at the end of the holiday, she said.
Many internet users had expressed their concerns about the fate of the birds because when a bird is tied up and placed on a vehicle in mainland China it most often means it will end up in a cooking pot – particularly around the annual Lunar New Year holiday, when a freshly slaughtered bird is a very popular choice for family meals.
Deng said the geese had been raised by her parents at her family's home in the rural city of Meizhou. Her parents had looked after them for more than a year, she said.
Deng said there had been no alternative to eating the male goose because it had been injured by the family's dog on several occasions.
Also after the end of the holiday, she and her parents needed to go back to work, so there was no one at home to look after the bird.