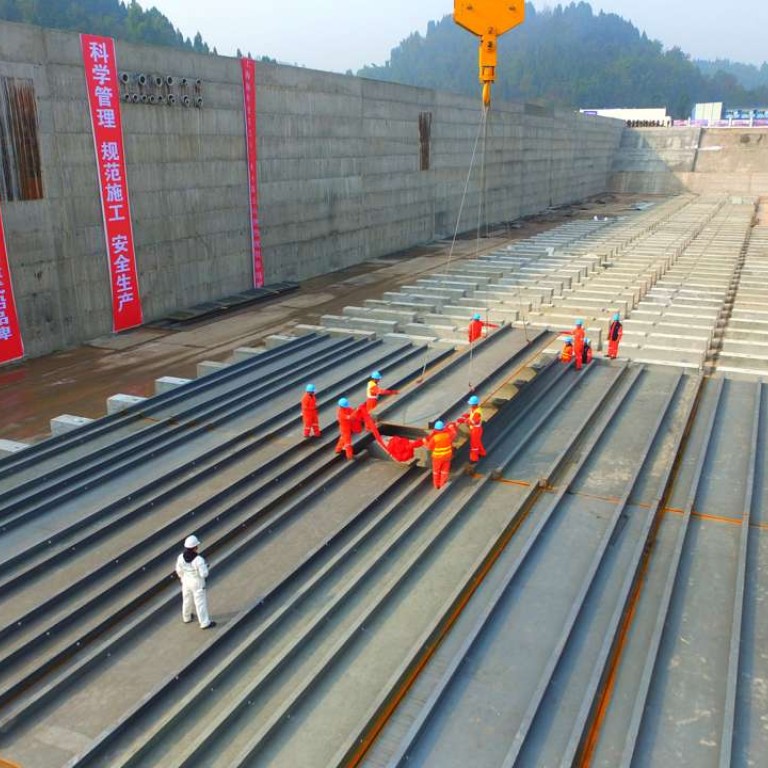 Full-sized replica of Titanic begins taking shape in landlocked southwest China
Tourist attraction aims to recreate the thrills and horror of doomed voyage
Construction has started on a life-sized replica of the Titanic in a rural part of southwest China, with the backers hoping to eventually give tourists a taste of the thrill – and eventual horror – that passengers aboard the ocean liner experienced more than 100 years ago.
A keel-laying ceremony was held in a rural town in Daying county in Sichuan province on Monday, China News Service reported.
The replica will measure 270 metres in length, 28 metres across, use 26,000 tonnes of steel and cost an estimated 1 billion yuan (HK$1.12 billion, US$145 million), according to West China Daily and the construction company, Wuchang Shipbuilding Industry Group.
The Titanic has held a grip on the popular imagination ever since it struck an iceberg and sank on its maiden voyage across the Atlantic, on April 14, 1912, killing more than 1,500 people.
The replica going up in Daying, part of a larger visitor attraction, will feature exact reproductions of the interior and exterior of the original vessel – from lamps, door handles to toilets, West China Daily reported last year.
Visitors can take part in period-correct parties and games, and even the banquet menu would be "exactly" the same as it was a century ago.
With the aid of a high-tech simulation re-enactment, visitors can experience some of the horror the passengers must have felt when ocean liner began its decent into the north Atlantic.
But the project has fallen behind schedule. The replica was announced in 2013 and slated to open next year, but construction is expected to take another 2 ½ years, according to a report published on Monday on the government website of Suining, the municipality overseeing Daying.
The "Unsinkable Titanic" is part of the larger Romandisea Seven Star International Cultural Tourism Resort, aimed at luring China's expanding middle class and their burgeoning spending power.
The least expensive price for a night on board is 3,000 yuan, while the most luxurious option will cost several hundred thousand yuan.