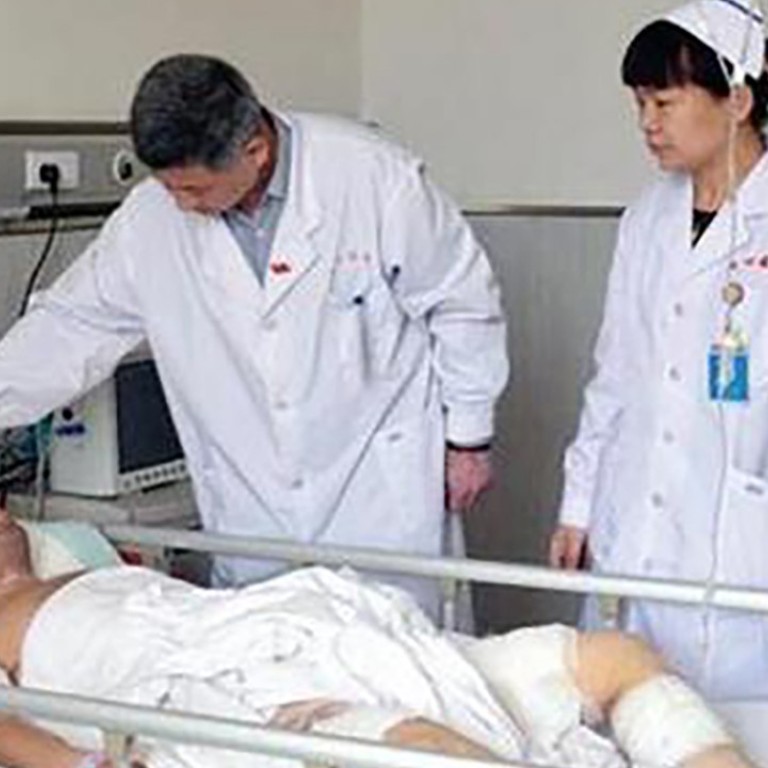 Forester in northeast China fights off bear attack then rides 12km to seek help
Man, 53, bleeding profusely from severe injuries, sets off to find help from nearest inhabited area
A forester in northeastern China fought off an attack from a black bear before riding 12km on his motorcycle, despite his injuries, to find help, local media reports.
Li Heping, 53, of Yichun, Heilongjiang province, was in stable condition after 10 days of hospiral treatment, Life News reports.
Though he was recovering well from his physical injuries, Li said he was deeply traumatised by the attack and was still frightened by the thought of it.
The accident happened at the start of May when Li was working alone in a forest.
The black bear suddenly appeared about three metres away from him when it suddenly charged and knocked him to the ground. The bear bit his face and head as Li desperately resisted.
The animal then bit his leg and Li kicked it back with his other leg, forcing the bear to release him and run away.
Li found that much of his scalp was detached and his face was covered in blood. Using clothes to wrap his head, Li ran to find his motorcycle and rode for 12km to the nearest inhabited area, where he said he lost consciousness soon after arriving there.
Doctors said Li was suffering shock when was sent to hospital and had severe injuries to his face, head and limbs.