Taiwan
Get more with myNEWS
A personalised news feed of stories that matter to you
Learn more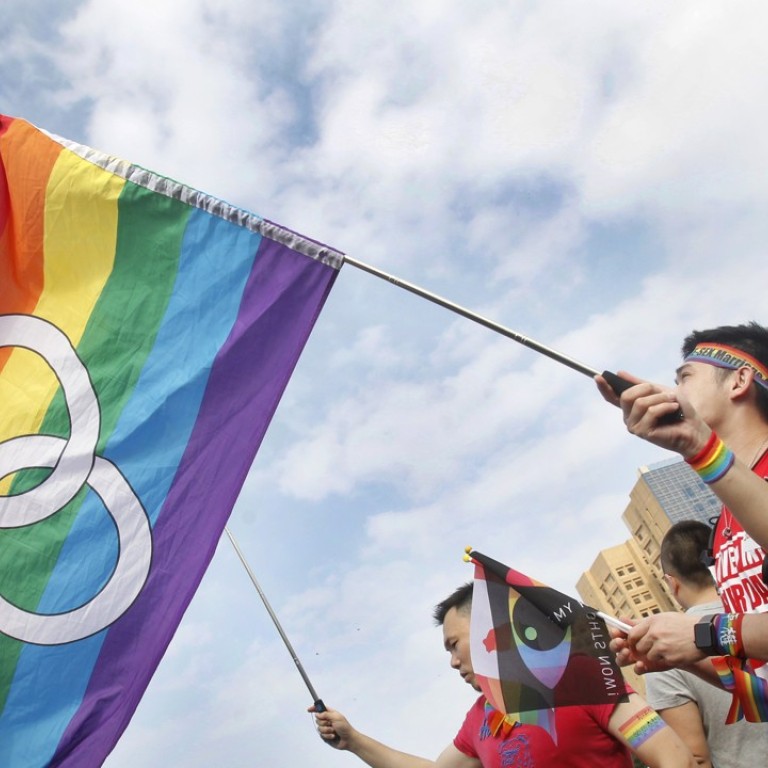 Taiwan's gay marriage ruling forces Beijing to give it serious thought even as critics argue it misleads children
In ruling in favour of gay marriage, Taiwan's top court has paved the way for the island to become Asia's first place to legalise gay unions
Taiwan's landmark ruling in favour of gay marriage holds greater significance for mainland China than Western countries' same-sex marriage laws, an analyst has said.
While gay rights activists on the mainland see the activists as boosting their battle to legalise same-sex unions, some mainlanders worry the decision will mislead children about the idea of marriage.
On Sina Weibo, one internet user said he hoped the mainland would never make gay marriage legal. "It will mislead children and be detrimental to their mindset," he said.
Another user said he opposed gay or lesbian relations, and thus stands against same-sex marriage. "These things are all in clashes with human society's basic principles," he said.
On Sina Weibo, mainland writer Su Xiaohe said the ruling was against nature. The "freedom" of human interaction "has lost its boundary", he said.
Li Yinhe, a professor from the Chinese Academy of Social Sciences, said Taiwan's ruling held greater significance for the mainland than would the same-sex marriage legislation of Western countries.
In the past, Li said, when Western countries passed laws to allow same-sex marriage, mainland authorities would turn a blind eye to this display of progress, saying those nations' situations, cultures and values differed from China's.
"Now Taiwan, sharing the same language and ancestors with the mainland, has approved it and it will really prick the mainland public and authorities to [give it] serious thought," she said.
Hunan-based gay rights campaigner Sun Wenlin said he was so excited about the Taiwan court's ruling that he and his partner, Hu Mingliang, planned to invite friends to their home for a party celebrating the momentous legislation.
"The mainland society will be greatly affected due to the same language and same culture with Taiwan and I believe that the mainland will be pushed by this case toward the marriage equality direction," said Sun.
After Spain legalised same-sex marriage in 2005, many Spanish-speaking countries followed suit over the ensuing years, he said.
In a groundbreaking case, two years ago, Sun and Hu went to the Civil Affairs Bureau of Furong District of Changsha to get legally married, but were turned down because they are both male. The couple challenged the bureau in a lawsuit and lost its case – the first of its kind in China.
They filed an appeal last year and lost again. Sun said his family and friends are closely watching Taiwan's campaign for marriage equality.
Legalising gay marriage would mean society recognises the couple, he said. Without that occurring, he and his partner will always be repelled by the public, Sun said.
Carol Ding, a Guangzhou-based lawyer who belongs to Rainbow Lawyers Group, an organisation that supports LGBT rights, said she received 100 hotline calls last year, most of which were from people seeking advice for problems with their "form marriage".
"It's easy to tell that they hope same-sex marriage can be lawful," she said.
Li, the academic who has advocated marriage equality for years, said there is little progress in the legislation on the mainland since strong discrimination exists against gay people and there is no channel that would allow them to make their voices heard by a top legislator.
"There is no legislator in the National People's Congress representing gay people's interests," said Li. "Most people in the society don't care about gay groups' rights."