Why China's gays and lesbians are still stuck in the closet
While Taiwan's LGBT community has cheered a ruling in favour of same-sex marriage, their mainland counterparts are struggling just to be accepted by their loved ones and the authorities
Thirty-seven-year-old Chinese teacher Dongcheng leads a double life. To his colleagues, pupils and most of his relatives, he is happily married to the woman of his dreams. The couple held an elaborate wedding ceremony back in his hometown in eastern Shandong province when they got married in 2010. But to his closest friends and family members, Dongcheng's real life partner is in fact a man, a designer in his 40s, with whom he has been living for more than a decade. The woman he married, a 34-year-old barista, is actually lesbian, and they live separately in Wuhan, central Hubei province, meeting up as friends only occasionally.
"I dare not come out of the closet at school because I am a teacher," Dongcheng (not his real name) told the South China Morning Post from his home in Wuhan, where he teaches painting at a high school.
"If I tell other teachers and my pupils that I am gay, my pupils will tell their parents. Their parents will then demand to have their children leave my class and join other classes instead. Most parents have a misconception about gay people. I won't have a chance to explain to them. [Coming out of the closet] will probably bring trouble to my school.
"I feel sorry for my partner because I can't hold his hand in public and [unlike straight couples who can bring their spouses] I can't have him accompany me at gatherings organised by my school."
Watch: Taiwan rules in favour of gay marriage
Struggle for acceptance
A survey of nearly 30,000 LGBT Chinese by the United Nations Development Programme last year found that more than half of them were discriminated against because of their sexual orientation. Another survey by WorkForLGBT, a non-profit network for LGBT employees in China, last year found that only 4 per cent of 20,000 LGBT Chinese it polled were openly gay, compared with more than half in the United States.
Homosexuality was illegal in China until 1997; it was declassified as a mental disorder only in 2001. Social attitudes towards homosexuality in the country remain generally closed, in part due to the traditional Confucian emphasis on producing children.
A 2013 Pew Global Attitudes Project survey found that 57 per cent of those polled in China believed that society should not accept homosexuality; the proportion in the United States who felt the same way was 33 per cent.
Those who have come out as LGBT say they still face strong stigma for their choices, and those who have not remain under tremendous societal pressure that discourages them from ever doing so.
Dongcheng came out to his parents in 2014, after about three years of preparing for it, seeking advice from other gay people and their parents. As he expected, both his father and mother, who had little to no education, wept upon finding out that their only son was gay.
"I knew what they would say. I knew they would cry emotionally," he said.
The parents of 29-year-old Ruizai (not his real name) responded with tears as well when he came out to them in 2015.
"My mother said, 'Son, you are wrong [to think you are gay]. That's impossible'. She cried in front of me. I also cried, since I had suppressed my feelings for so long and had to cover it up for 10 years," recalled the salesman who lives in the Hubei city of Xiangyang, adding that his father cried for several days both at home and at work.
"My parents felt like it was the end of the world and that their life was now hopeless as their goal of working hard for so many years was to earn enough money for me to get married and raise a child of my own."
Self-discovery
Ruizai, who is presently single, said he first discovered his sexuality as a high school pupil, when he found himself drawn to the handsome boys at school while other boys were smitten with girls. "I was a bit of a sissy, and was thus often bullied by the other boys," he said.
For Dongcheng, there were two sexual experiences that may have shaped his sexuality. One was the time, as a seven-year-old, he participated in a "sex game" with a 13-year old boy. The second was when he fell in love with a fellow middle school pupil at the age of 16 - they touched, kissed and had sex in their dormitory, he said.
Dongcheng first seriously questioned his sexual identity at age 21, when he found himself jealous of his university dorm mate's girlfriend while their other friends were happy for the new couple. The roommate had treated him as a good brother, but Dongcheng had feelings for him that went "beyond brotherhood".
"After classes, I would go with him to do everything: from eating together, fetching boiled water to the dorm, visiting the library and exercising," the teacher said. "I felt very attached to him. It was as if I was in love with him."
Pained and confused, Dongcheng started reading up on his situation in the university library. A book he found described a person in his situation as having "a psychological problem that was wrong and abnormal". "That book affected me a lot, making me deny my sexual orientation," he said.
It wasn't until a year later, after he started participating in activities with a small Wuhan-based gay charity organisation, that he regained confidence. "I found that there are in fact so many other people like me, and I gradually grew to accept myself," he said.
Increasing awareness
While Taiwan has taken a big step towards marriage equality for LGBT people in its court ruling last month, experts say the mainland is only at the starting point of the gay rights movement.
"The biggest challenge for mainland China is the visibility or awareness, knowledge of LGBT people," said WorkForLGBT founder Steven Paul Bielinski, adding that a poll conducted last year by the organisation found that only one-fifth of its over 2,000 Chinese respondents personally knew at least one LGBT person. This showed how low their visibility was on the mainland.
"If you look at other countries legalising same-sex marriage, there is usually a high degree of visibility of LGBT people before marriage becomes an issue that is talked about, debated and ultimately legalised."
Although same-sex marriage was highly unlikely to be legalised on the mainland in the near future, Taiwan's progress would help draw more attention to the issue among the mainland Chinese public, Bielinski said.
"People will think it's worth discussing and worth taking action over," he said."Gaining people's attention to the issue and people's understanding is the first step towards same-sex marriage."
Ruizai said that though his family and close friends now know he is gay, he did not disclose his sexual orientation to his co-workers because he did not want to face their prejudices at work. Even today, China has no employment law to specifically protect people from being discriminated against on the basis of their sexuality.
Ruizai, who volunteers at an organisation that supports gay people, said the younger generation born after the 1980s tended to be more accepting towards LGBT people. Better educated people as well as women were often also more open and progressive in their attitudes towards homosexuality, he said.
Moshi, a 27-year-old lesbian woman who works with an internet company in Beijing, agreed. The atmosphere in offices with younger employees was usually more relaxed and most of her colleagues were aware of her sexual orientation, the business development manager said.
Still, she recalled a comment by a senior executive two years ago that made her feel uncomfortable. Her colleagues had been joking about how a male co-worker who did not have a girlfriend must be gay, when the executive, in his 40s, suddenly remarked seriously: "Gay people are forbidden in our company."
"It was really an embarrassing moment" as many colleagues knew she was lesbian, though the executive was unaware of it, Moshi said. Although the "gay ban" was not implemented, the remark made her realise the extent of the adverse attitudes towards LGBT people in society, she said.
Authorities clamp down
In their fight for visibility and equal rights in China, gay people have to contend not just with societal attitudes but also authorities' clampdown on their activities.
Late last month, gay event organiser Speak Out said it was forced to cancel an experience-sharing forum in Xian, Shaanxi province, on May 28, just hours before it was due to start. The group said on WeChat that prior to the cancellation, it had to switch venues four times after the venue owners changed their mind on leasing arrangements, giving only weak reasons for doing so.
Around the same time, popular lesbian social networking app Rela, with more than 5 million registered users, was shut down after it sponsored an event in which a dozen mothers tried to help their LGBT children find a partner at the Shanghai "marriage market" at downtown People's Park. The May 20 event was aimed at raising gay rights awareness in the city.
A video widely circulated online showed the mothers, with rainbow-coloured umbrellas, being driven away by park security. The security guards said the mothers had not registered their event with the park beforehand, but the parents of non-LGBT children who had been holding weekly gatherings at the park for years had never been required to register their activities.
In Guangzhou, the South China Normal University caused a stir in the LGBT community after it ordered its students to delete photos and videos from social media of a performance in which a university band sang a gay-themed song titled Rainbow and students waved rainbow flags on the side.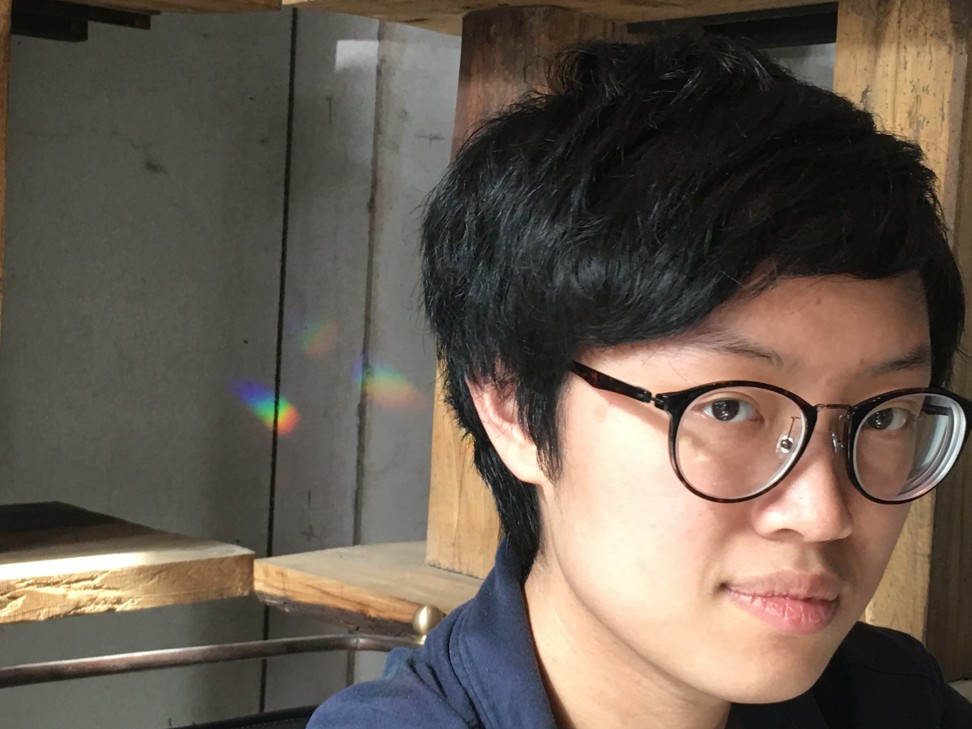 Holding out hope
Despite all these challenges from the public and the authorities, Beijing lesbian Jean Ouyang said she was optimistic that same-sex marriage would eventually be ­allowed on the mainland.
"Taiwan's victory offers us some hope," the 24-year-old said. "What is in progress in China is that more and more young people think homosexuality is acceptable and not a big deal."
Ouyang, who is single and was born and raised in Guangzhou, said gay marriage was important to her because of her first relationship experience, at 13. She said her girlfriend at the time dumped her because she believed they had no future since lesbian marriage was not legal on the mainland.
But for Shangguan Piliang, a law professor at Soochow University, legalising same-sex marriage is out of the question. "I admit that I am conservative," said the academic, who is based in Suzhou, Jiangsu province. "LGBT people and non-LGBT people should respect each other. In the mind of a majority of the population, marriage refers to a man and a woman. So for many in our society, permitting LGBT ­people to marry would tarnish the sanctity of marriage."
The country's first gay marriage lawsuit
was filed by a Changsha couple two years ago
. Sun Wenlin and Hu Mingliang sued the local civil affairs bureau for not granting them a marriage certificate because they are both men. They lost both the first trial and the appeal.
Li Zhongxia, a professor with the Law School at Shandong University, said the decision to legalise same-sex marriage in the United States two years ago had legal scholars on the mainland talking about the issue.
He said that since many Chinese had a deep-rooted belief that marriage must involve a man and a woman, the best approach would be to learn from Germany, where gay and lesbian couples are afforded the same legal rights as married heterosexual couples.
But for Dong Chao, a 29-year-old gay man living in Wuhan, it is up to LGBT communities to be proactive in fighting for their rights rather than waiting for ­others to stand up for them in a society where they face so much opposition.
"Discrimination has always been there, not only against LGBT groups," Dong said. "Ignorance leads to discrimination, and discrimination leads to silence. And when all of us choose to be silent, our voices won't be heard by the non-LGBT people."
He added that in the current social climate, even if same-sex marriage was suddenly legalised there would not be many gay or lesbian couples brave enough to register their marriage.
Art teacher Dongcheng agreed, saying: ­"If I had a choice, I would prefer not to be gay in China. The pressure­ ­is immense."
This article appeared in the South China Morning Post print edition as: Living in the shadows