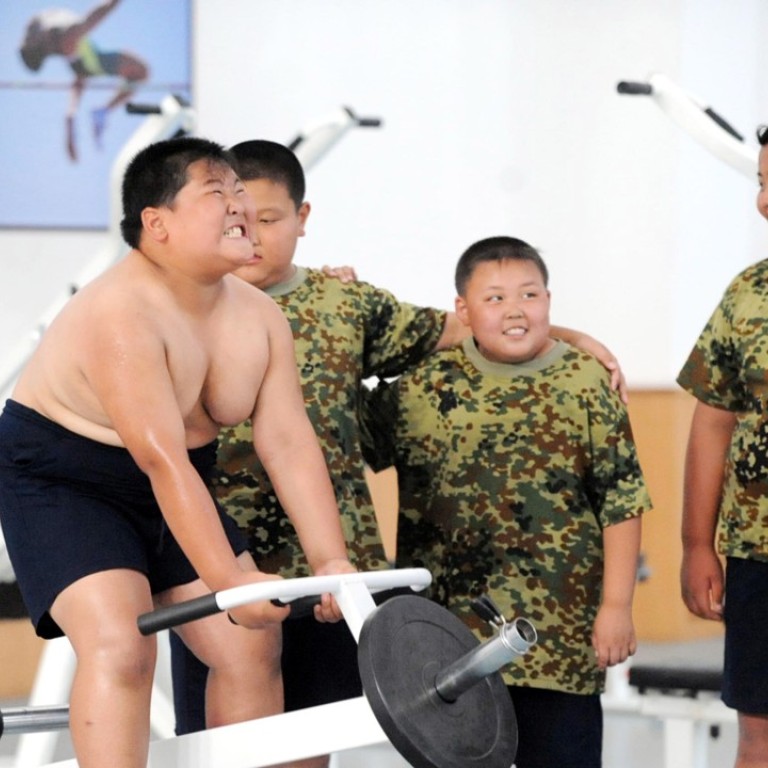 China's boot camp for fat kids helps tackle its big obesity problem
Boot camps could offer remedy for the national headache of an estimated one in four Chinese children over the age of seven becoming obese within 10 years
In a big gym room on the outskirts of Hangzhou, 36 chubby children and teenagers listen carefully to passionate coaches who guide them through physical exercises aimed at reducing their bulges.
During the one-hour session, the youngsters sometimes crouch while holding heavy metal plates as they extend their arms. Sometimes they lie on cushions, lifting heavy sticks up and down; or they move up one leg, holding it with one hand while extending their other hand towards the ceiling.
Music is blaring, as at any other gym clubs, to stimulate the exercisers, who have already worked up major sweats, to keep them moving; coaches wearing microphones loudly encourage them to carry on.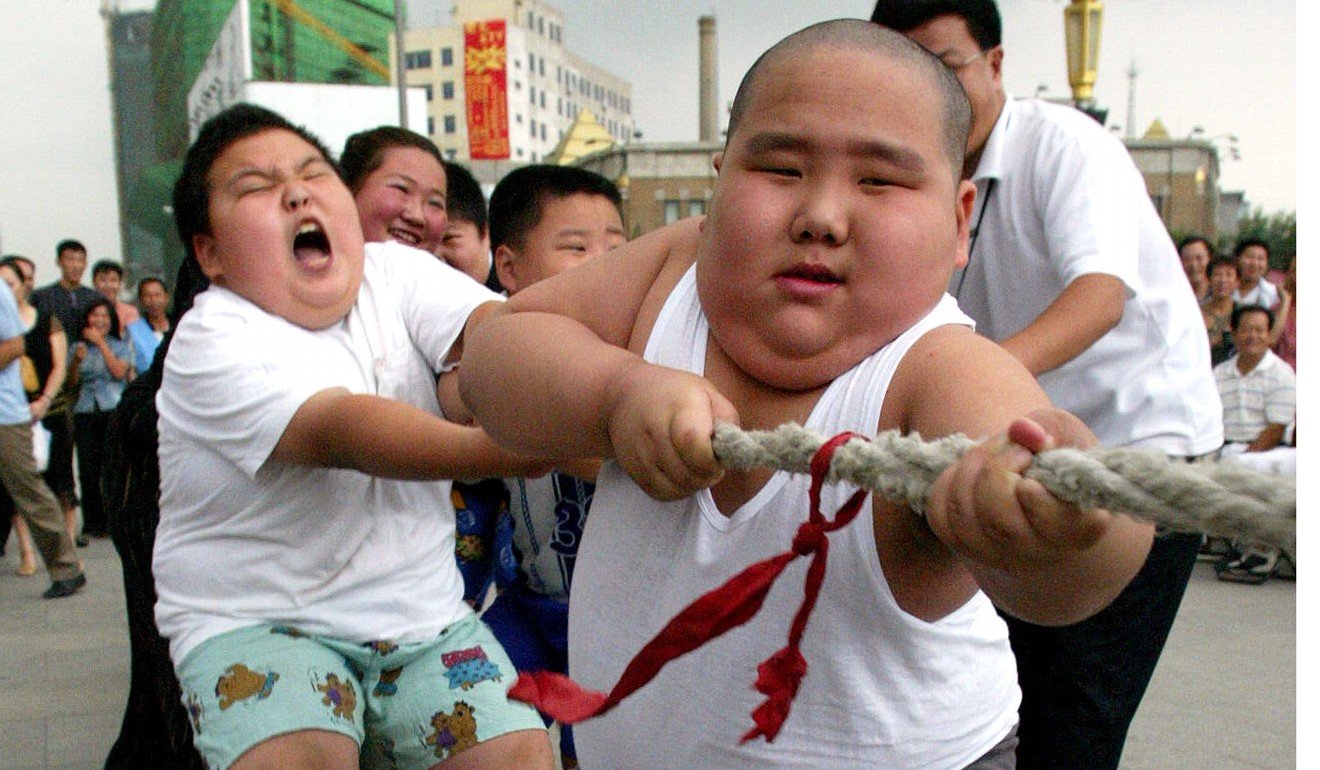 Hou Ankun, a 16-year-old boy from Nanjing of Jiangsu, is the oldest and fattest among this group of trainees in weight-loss boot camp.
At 1.79m tall, Ankun is measured at 105kg – too heavy for ordinary people but representing progress for him since he weighed 120kg when he enrolled in camp three weeks ago.
"Being fat is really a big burden for me. I would feel tired from doing any small movement, such as just taking several steps," he told the South China Morning Post.
"So I don't like any physical exercises," Ankun said. "At school, physical education teachers tell us to run and I l have difficulty breathing and feel a sense of suppression in my chest [when running]."
Flabby juveniles, like Ankun, were rarely seen in China three decades ago, but they have become much more common – part of the country's economic boom and the dramatic improvement in people's livelihoods.
Childhood obesity is on track to pose a headache for the country as experts estimate one in four Chinese children over the age of seven will be obese within 10 years.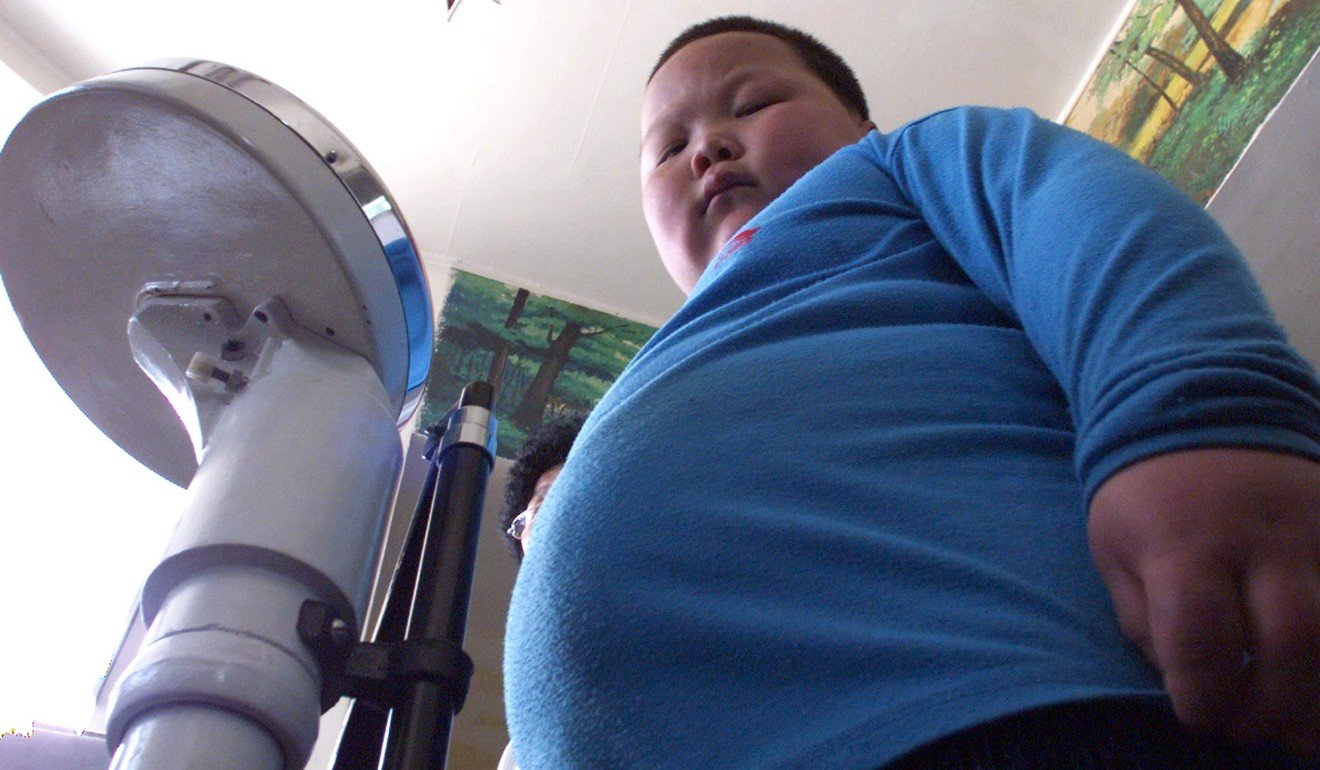 China has 15 million obese children – the most of any country, followed by India with 14 million, according to a 2015 study by researchers from the University of Washington in Seattle. The country also has 57 million obese adults, secondly globally to the United States with 79 million, according to the study.
In June, the Report on Childhood Obesity in China, compiled jointly by institutions including the School of Public Health of Peking University, determined that 28 per cent of minors aged seven to 18 would be overweight and obese by 2030 if no further intervention measures were taken.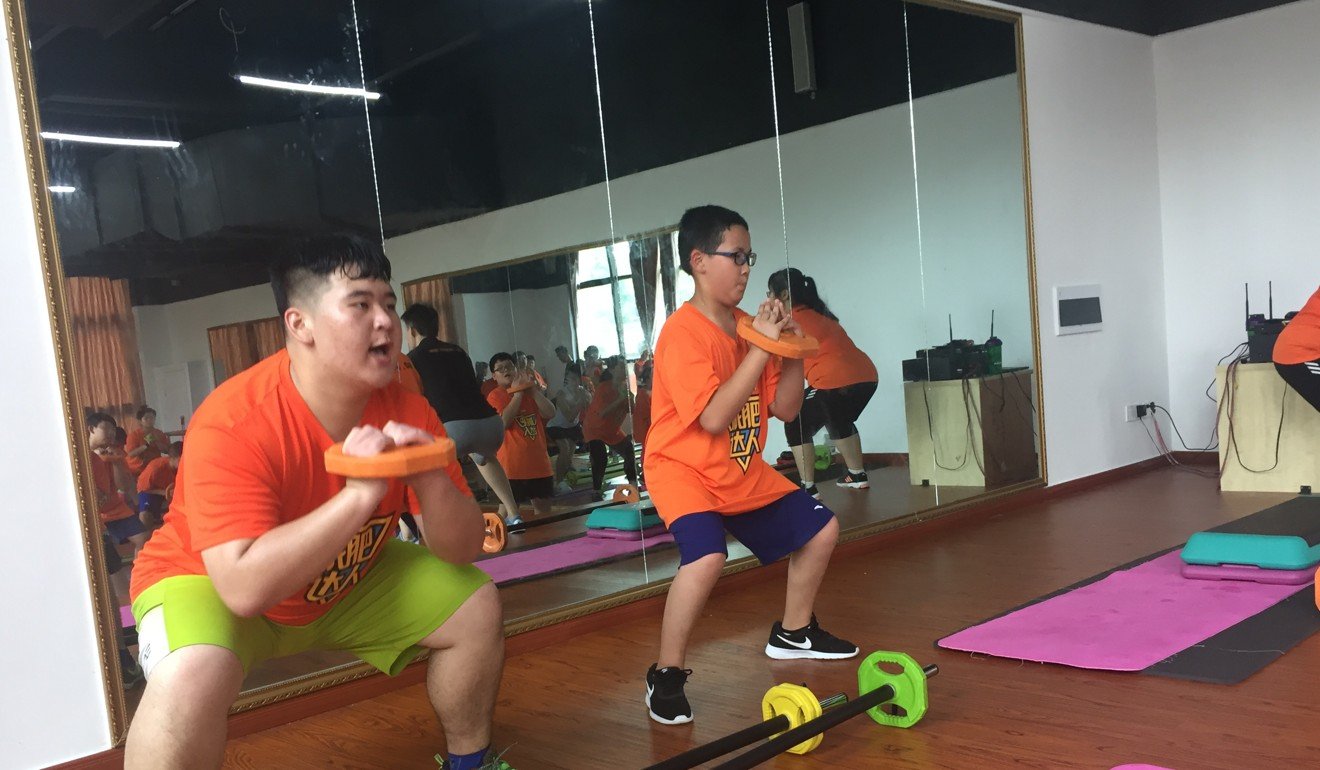 The report, based on data from nine mainland cities, said the rate of overweight students age seven and up increased from 2.1 per cent in 1985 to 12.2 per cent in 2014. During this period, the obese rate among these children soared from 0.5 per cent to 7.3 per cent, and will reach as high as 28 per cent by 2030, according to the report.
Obese children accounted for 4.3 per cent of those below age 7, it said. The figure is expected to reach 6 per cent in 2030.
Ma Jun, director of the Institute of Child and Adolescent Health at Peking University, said the number of obese children has grown fast over the past two decades mainly due to unhealthy diet and a lack of necessary sporting activities.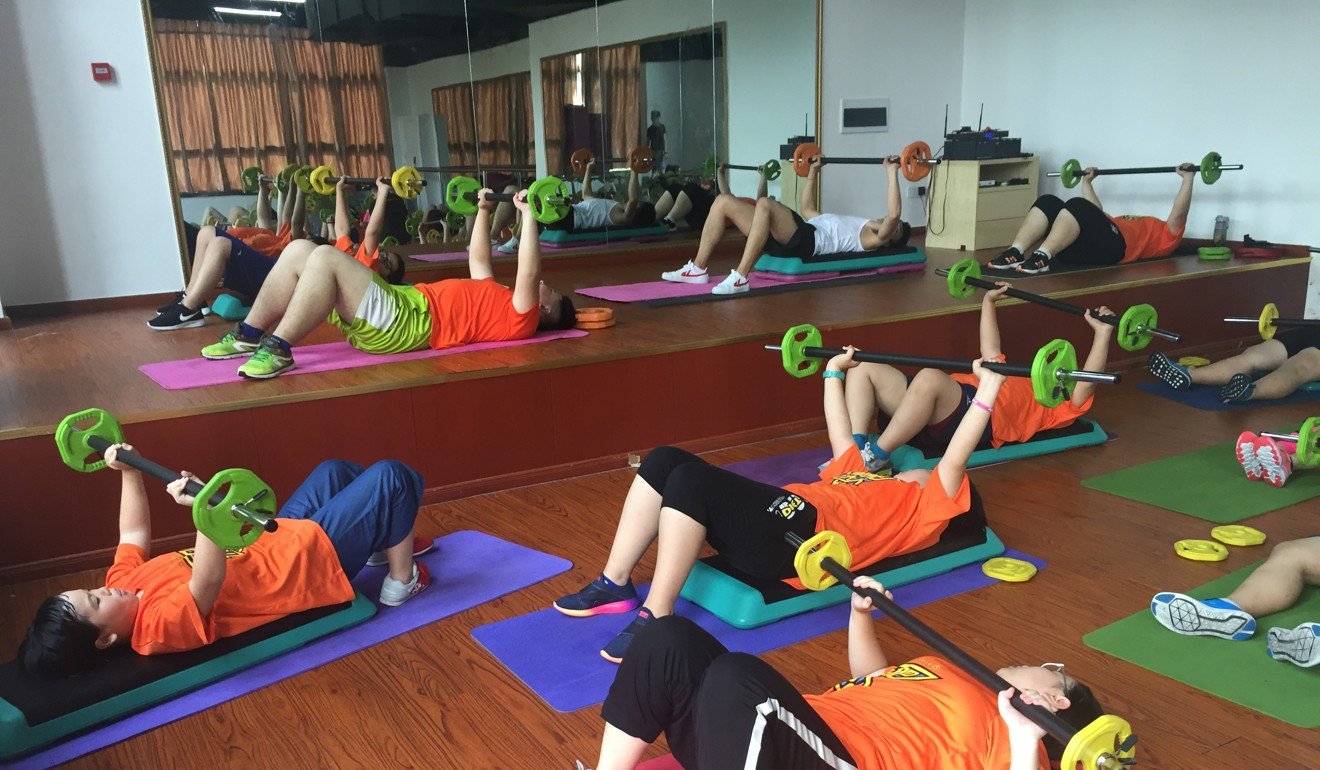 "Kids consume a lot of food that contains high volume of fat and sugar and they also like sweet drinks," Ma said. "These foods that are rich in calories need to be burnt through physical activities.
"However, the lifestyle of current kids is mainly full of sedentary activities which have increased in recent years, such as playing with electronic gadgets, or doing homework."
In the case of Ankun, a student at a Nanjing technical school, he always is ready to eat and is not at all picky in this aspect.
"I just can't resist the temptation of food and I like all kinds of it," he said.
At first, his parents, both of whom are sales workers, didn't think Ankun had a serious issue. They shared with many Chinese families the long-held idea that a plump child is cute and hints to others that he is living a happy life.
Ankun's parents began to control his diet about four years ago when the boy reached 1.6m tall but weighed 90kg.
He tried to lose weight but found it an uphill battle. "Even some simple and slight movement will make me sweat and pant dearly. It's too difficult for me," he said.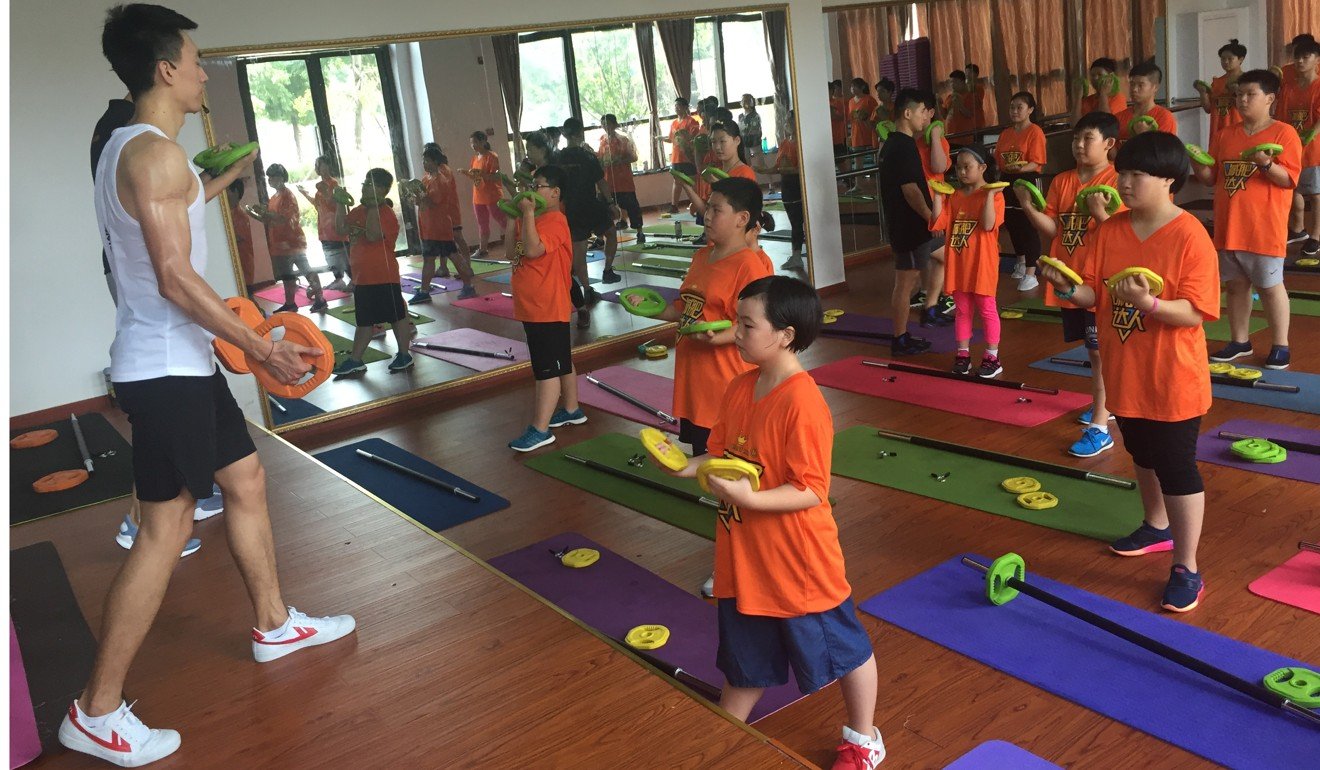 Ankun and his parents resolved to solve the problem this summer. Ankun joined the Hangzhou boot camp organised by the mainland's leading weight-loss company, Jian Fei Da Ren. It cost 28,000 yuan (HK$32,561) for training in July and August.
Established in Shenzhen in 2006, the company operates six training bases nationwide. Its adolescent membership at summer camps has grown from 30 people a decade ago to 1,000 this year, said Han Junchen, vice general manager of the company.
At the camp, participants do physical exercises four hours a day – two hours in each of the morning and afternoon sessions. Besides eating three meals per day, they have fruit in the afternoon. There is no access to other food during the camp stay. They are permitted to use mobile phones for one hour per day.
The goal for participants is shedding 2 per cent of their weight per week. Those who can't meet that objective receive a suggestion that they attend additional training in the evening, coach Yu Yinghan said.
"Children and teenaged kids have poor abilities in self-discipline," Han said. "They have unhealthy life styles and diet habits and poor awareness of doing sports. Due to their chubby shape, they tend to be inert, thus entering a vicious cycle that makes them feel even more challenged to lose weight."
Another camp member, Chen Chen, a 12-year-old girl from Urumqi of Xinjiang, said she was once a couch potato and didn't like to move while crouching on the sofa. She loves baked food that is cooked with excessive oil and salt and drinking fizzy drinks.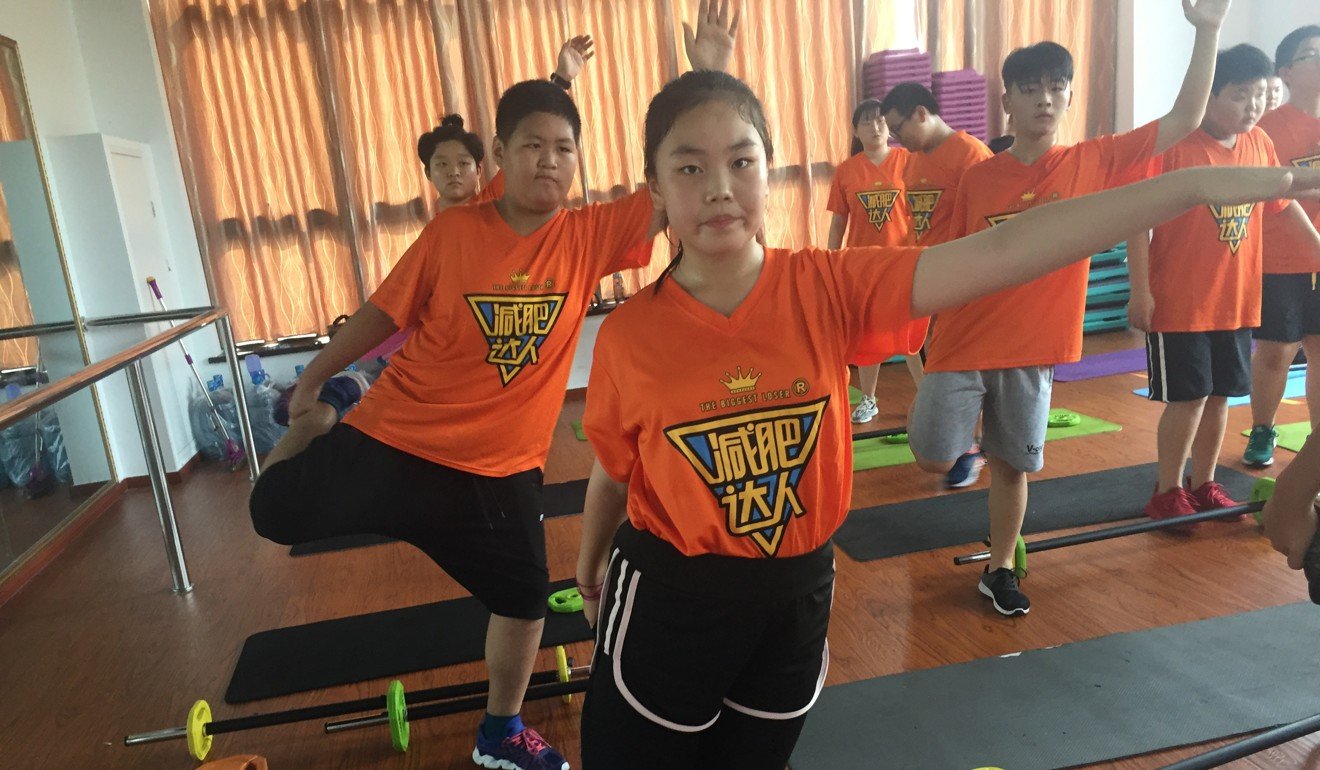 When she started her training at the camp she was 1.57m tall but weighed 62kg – considered obese by China's standards based on the body mass index. The measurement is calculated by dividing weight in kilos by the square of height in metres. Chen lost six kilos after three week's training.
"Before I started to lose weight, I would try to find an excuse to skirt physical exercises like morning running with my dad," the girl said.
Liang Xuejun, an endocrine expert at Beijing Children's Hospital, said a lot of children experience excessive weight gain at ages five and six and during adolescence.
"Parents generally don't think childhood overweight or obesity is an illness and thus don't attach high importance to it," Liang said.
Fat children will have a greater chance of developing diseases including hypertension, diabetes and hyperlipidemia, she said. "About one third of obese child and teenagers will continue their obesity when they are adults."
The Report on Childhood Obesity in China showed that obese adults who become obese as children are 8.5 times more likely to develop symptoms of endocrine disorders than people at normal weight. The report also said obese children are 2.9 times and 1.7 times more likely to get hypertension and diabetes in comparison with their non-flabby peers.
The boy Ankun, diagnosed with fatty livers and hypertension, said he'd really like to get rid of his bulge.
At school, his obesity status is not a problem since he gets along well with his classmates and he has a good personality.
"But if I am thinner, I will be more charming in girls' eyes," he said. "Some girls like to talk with me, but I know they don't consider me as a potential boyfriend, thanks to my plump body."
This article appeared in the South China Morning Post print edition as: cook-outs are meagre at this camp