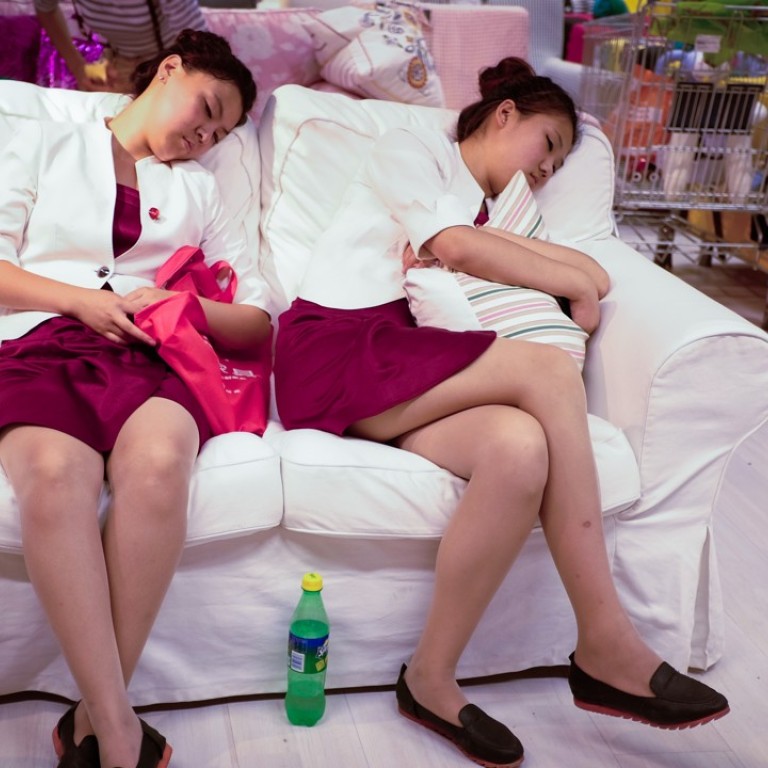 Why Chinese millennials are not getting enough sleep
Young people are worried about their careers and money, according to a survey. Playing with mobile phones may also be hampering their kip
Sixty per cent of people born after 1990 in China are not getting enough sleep, with worries about work and careers among the main factors disturbing their slumber, according to a national survey among young internet users.
The survey also suggested that most young people play with their mobile phones for up to an hour or more before trying to nod off.
Young Chinese often "turn backwards and forward many times before falling asleep", according to the study carried out by the sleep medical committee at the Chinese Medical Doctor Association, the Beijing Evening News reported.
Most of those with sleep problems live in China's biggest cities such as Beijing, Shanghai and Guangzhou, the survey found, which was released to mark World Sleep Day.
The average amount of sleep of the people canvassed was 7.5 hours, below a recommended healthy sleeping time of eight hours. More than 60 per cent of those polled said they do not get enough sleep.
No details were given of how many people took part in the survey.
Nearly half of those who took part in the poll said career worries affected their sleep quality, while about a fifth said financial concerns were a factor, the Shenzhen Evening News reported.
Eleven per cent admitted romantic worries hindered their sleep, the paper said. About 60 per cent of young people also admitted they played with their mobile phones for more than 50 minutes before sleeping, according to the article.
Programmers were most likely to suffer from insomnia, with the profession accounting for 16 per cent of the people taking part in the survey.
Blue-collar workers, sales staff, consultants, online store owners and online celebrities were ranked as the professions with the biggest sleep problems.
Residents in Shanghai go to bed earlier than their counterparts in other major cities on the mainland, while people in Shenzhen go to bed latest, the survey suggested.
Beijing residents get up earliest with young people in Zhuhai in Guangdong province the most tardy in getting out of bed, according to the poll.