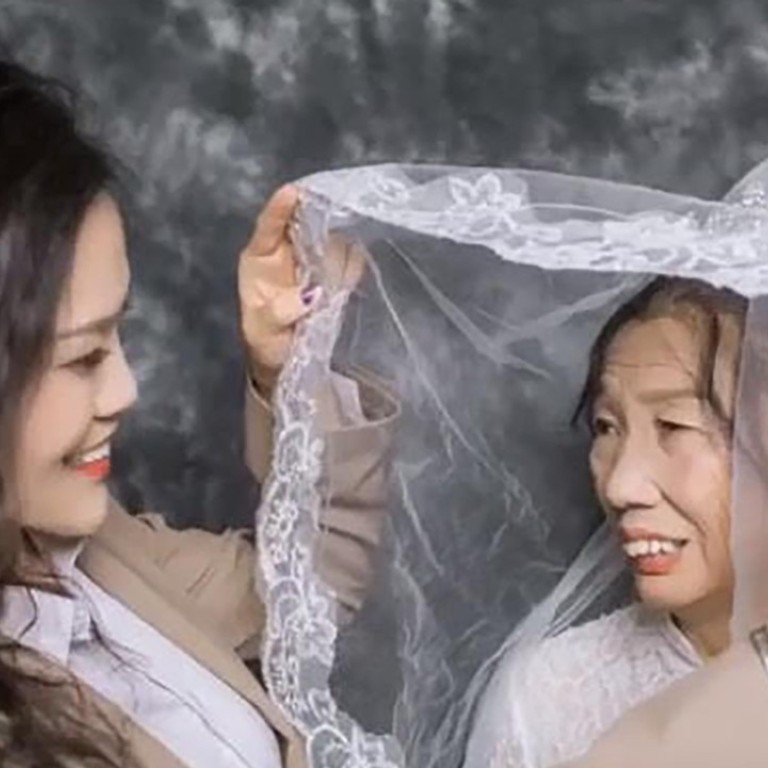 Chinese woman poses with widowed mother for the wedding photos she never had, and hearts melt
The 63-year-old mother, an illiterate street cleaner, wore a white wedding dress in the photo studio, and broke into tears when handed a bouquet of flowers
'These are the most beautiful wedding photos I've ever seen,' social media user says

A woman in central China dressed in a man's suit to give her 63-year-old mother the wedding photos she never had, and in the process moved millions of internet users to tears.
The woman, from Shiyan of Hubei, said her father died more than two decades ago and was never able to provide her mother with a wedding picture – something many couples at the time, especially those in China's impoverished hinterland, did not have the means to enjoy, Shiyan Evening News reported.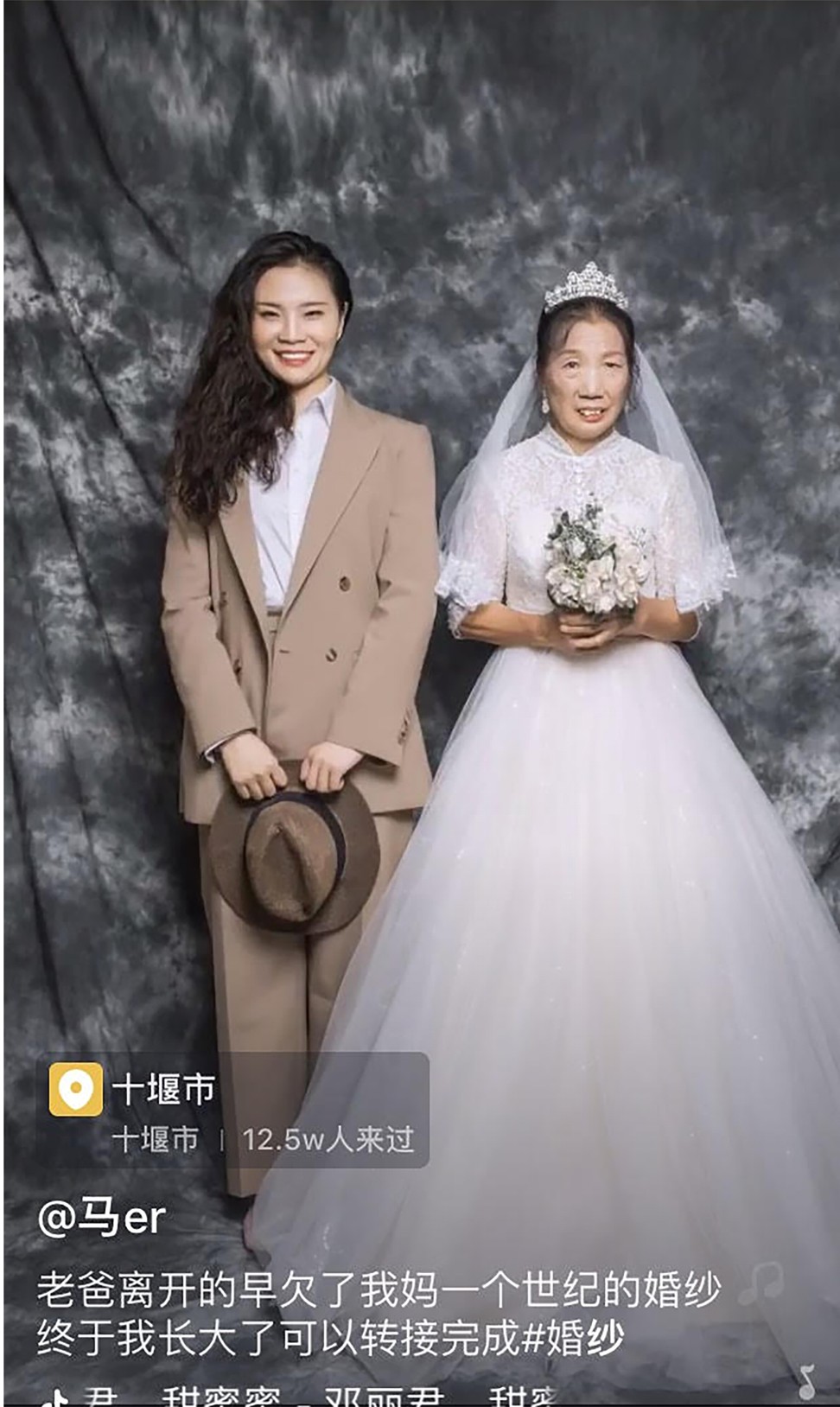 "Now I am grown up; I can take of this task," said the woman, 28, who was only identified with the pseudonym Ma Er in the report. She said she did not want to provide her real name as she was not keen on more interviews.
Her father died in 1997 when Ma Er was seven and her brother 17. Her mother, Chen Zhaolian, who is illiterate, raised the two children by working as a street cleaner and waste collector.
"My mother has worked very hard to raise us," Ma Er was quoted as saying.
"Every woman wants to wear a beautiful wedding dress," she said. "My mother simply never had the chance. So I decided to make it happen for her. I've wanted to do this for years."
So at the end of last month, she took her mother to a photo studio. Chen looks distinctly nervous in the photos – it was the first time she had put on make-up. She wore a white wedding dress that trailed on the ground while her daughter put on light-brown suit. Chen reportedly burst into tears when her daughter passed her a bouquet, the report said.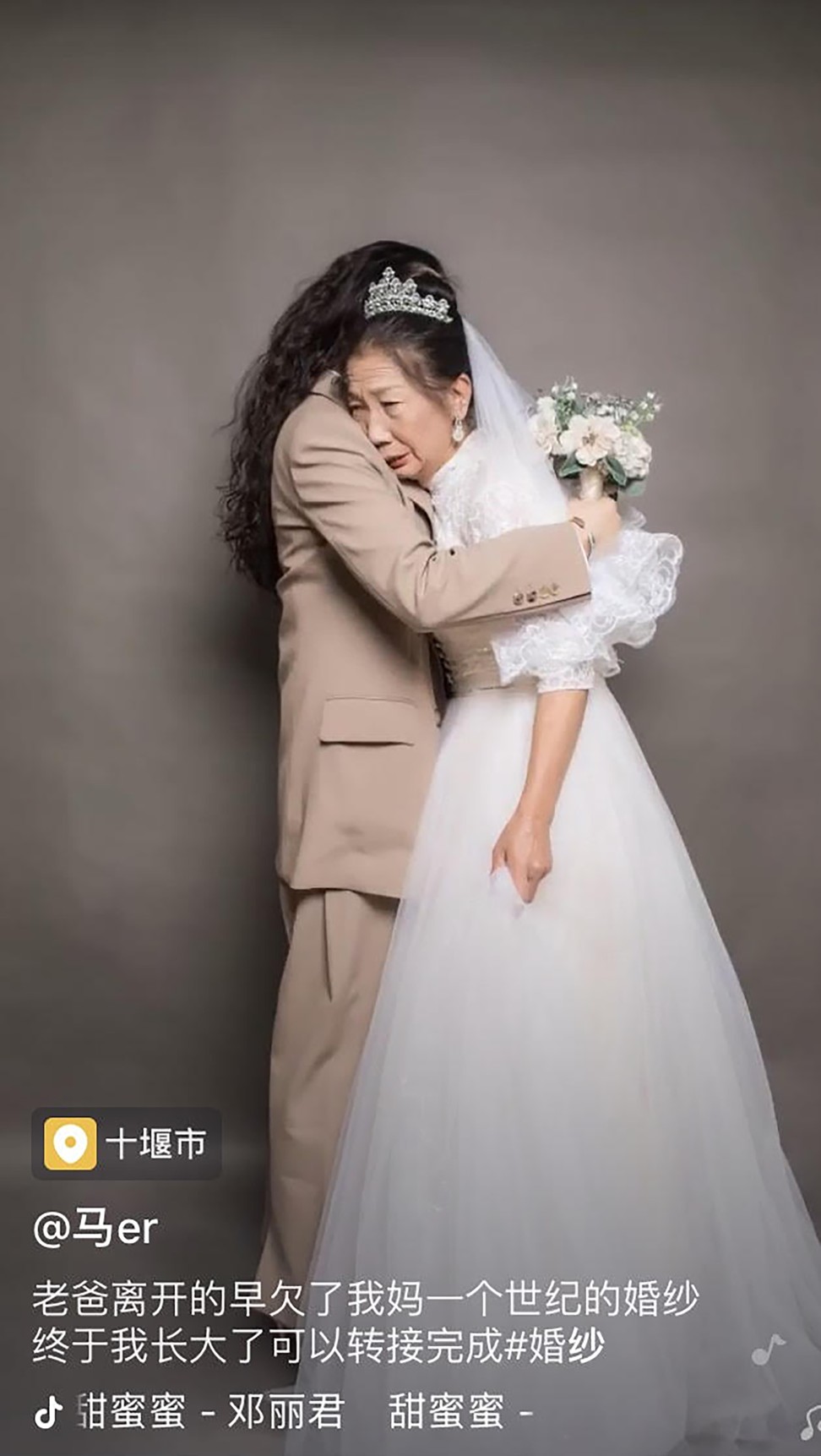 The photo shoot lasted about three hours. The mother and daughter chose 40 pictures into be included in an album. Chen was thrilled with the pictures, her daughter said.
Ma Er said in the first few years after her father died, her mother often wept late into the night. "I didn't know much about the society at that time and I was just frightened," she was quoted as saying.
The mother, the family's sole breadwinner, would often be humiliated by pedestrians while working to collect the waste, her daughter said.
"My brother and I didn't understand how difficult a situation my mother was in. I realised when I grew up," she said.
Ma Er said she studied hard at middle school, trying to please her mother. She was later admitted to a university she had dreamed of attending, and upon graduation went to work in Wuxi, Jiangsu province, in 2013.
"When we were young, no matter how poor we were, my mother would buy new clothes for me and my brother to celebrate the Spring Festival," Ma Er told the newspaper. "But she didn't buy herself anything, even a pair of socks."
Last year, the daughter moved back to Shiyan and opened a dance studio so she could have more time to spend with her mother, she said.
Along with cleaning streets, Chen is now a part-time cook at a factory canteen.
"We asked her to stay at home, but she insists on working," Ma Er said. "Maybe because she's not used to being idle, or because she wants to continue to make contributions for us" by earning more money.
"Although my mother hasn't received any education and is only able to do laborious jobs, including collecting waste to make ends meet, in my heart, she is the greatest mother in the world," Ma Er said.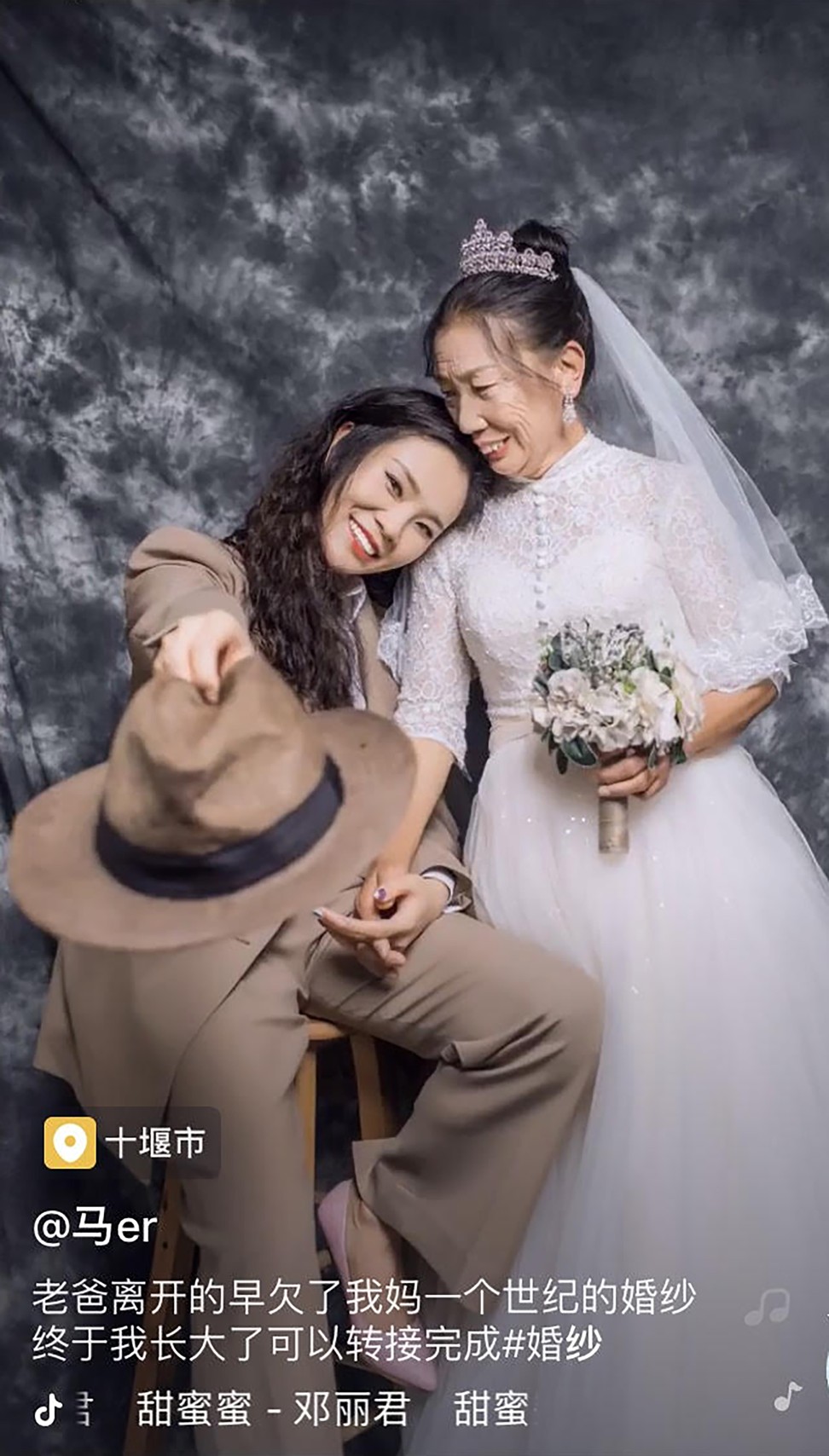 Ma Er uploaded several samples of the wedding photos on TikTok, a short-video social platform, this month and received more than 1,300 likes.
But the article by Shiyan Evening News received more than 100,000 views and over 45,000 likes just an hour after People's Daily re-posted it on its account at WeChat, a smartphone-based social app, on Thursday morning.
"Both the mother and the daughter's deeds are very touching," one person wrote on WeChat.
"I am a man and I can't help crying after reading this article," wrote another user.
One internet user on Weibo wrote: "These are the most beautiful wedding photos I've ever seen."
"This reminds me to take my parents to complement their wedding photos," said another.