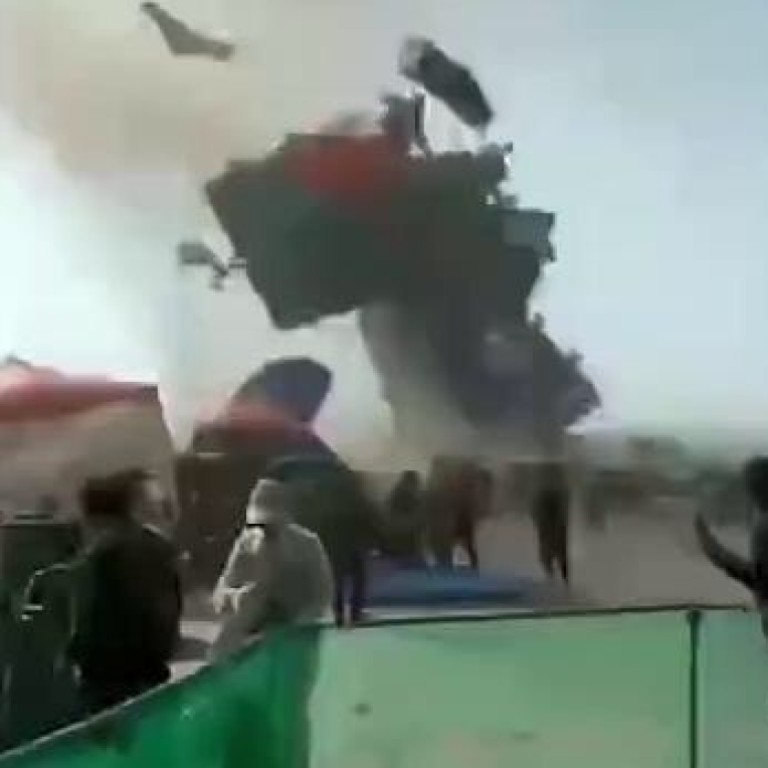 Two children killed after bouncy castle is swept into air by 'dust devil' in central China
Freak weather event similar to a tornado lifts up inflatable structure before dumping it on ground at tourist attraction in Henan province
Eighteen children and two adults are being treated for injuries in hospital
Two children were killed and 20 people were injured when they fell from an inflatable bouncy castle as it was swept into the air by a tornado-like "dust devil" in central China on Sunday.
The freak weather event lifted up the bouncy castle before dumping it on the ground at a tourist attraction in Yucheng county, Henan province that was packed with visitors at around 3pm, local authorities said in a statement on Weibo.
Shi Jinghan, an official with the county government, said the two children died at the scene, but he did not have further details about them.
"The nature of this accident is also not yet known, as it is still unclear whether … it was an incident partly caused by human factors," Shi said.
Eighteen other children and two adults were injured in the incident. All were sent to hospital, with one of the children in serious condition while the others were being treated for minor injuries, local authorities said.
A video of the incident on Thepaper.cn shows a chaotic scene as a vertical whirlwind, similar to a tornado, whips dust and debris into the air at the tourist site.
One onlooker is heard shouting, "There's a child falling", as the bouncy castle is blown into the air.
An official from the town of Tianmiao, where the scenic spot is located, told the news website it was "a natural disaster". "The wind came from the southwest and suddenly gathered strength as it reached the site," said the official, who was not identified.
Zhang Xia, a senior weather forecaster with the provincial bureau, confirmed that the weather phenomenon was a dust devil, not a tornado.
She told Dahe News that the conditions were not right for a tornado at the time of the accident – with no unstable air mass and there was no chance of a thunderstorm.
Zhang said dust devils occurred on sunny days, often in deserts or dry riverbeds, while tornadoes, which are more intense, formed on rainy days. Dust devils can be as big as 10 metres wide and more than 1km in height and last for three to four minutes.
This article appeared in the South China Morning Post print edition as: Two children killed after wind lifts inflatable castle