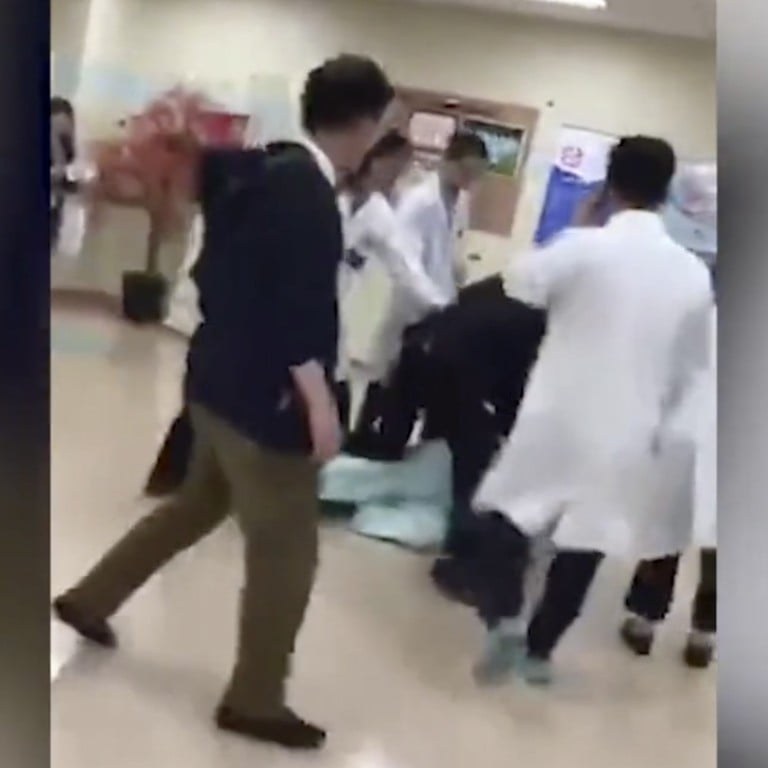 Chinese doctor dragged away in handcuffs after fight with patient's husband
Dispute broke out when surgeon refused to deal with queue-jumping spouse who walked away from clash with a broken rib
Police say they had no choice but to cuff doctor after he refused to cooperate
Video footage of a Shanghai doctor being handcuffed and taken for questioning by police after a dispute with a patient has reignited a debate about the often fiery relationship between medical professionals and the public in China.
In the film, Zhao Xiaojing, a 48-year-old thoracic surgeon at Renji Hospital, can be seen tussling with officers before being wrestled to the ground, cuffed and taken away for questioning.
The incident happened on Wednesday after the husband of one of Zhao's patients apparently tried to jump the queue on behalf of his wife and entered the doctor's treatment room. When Zhao refused to see him and asked the man to leave the situation turned ugly and the pair ended up fighting.
The police said in a statement issued on Friday that Zhao's patient was a 52-year-old woman called Chen and her husband was a 60-year-old surnamed Han. Han was reported to have broken a rib in the scuffle, while Zhao suffered bruises to his arms and neck.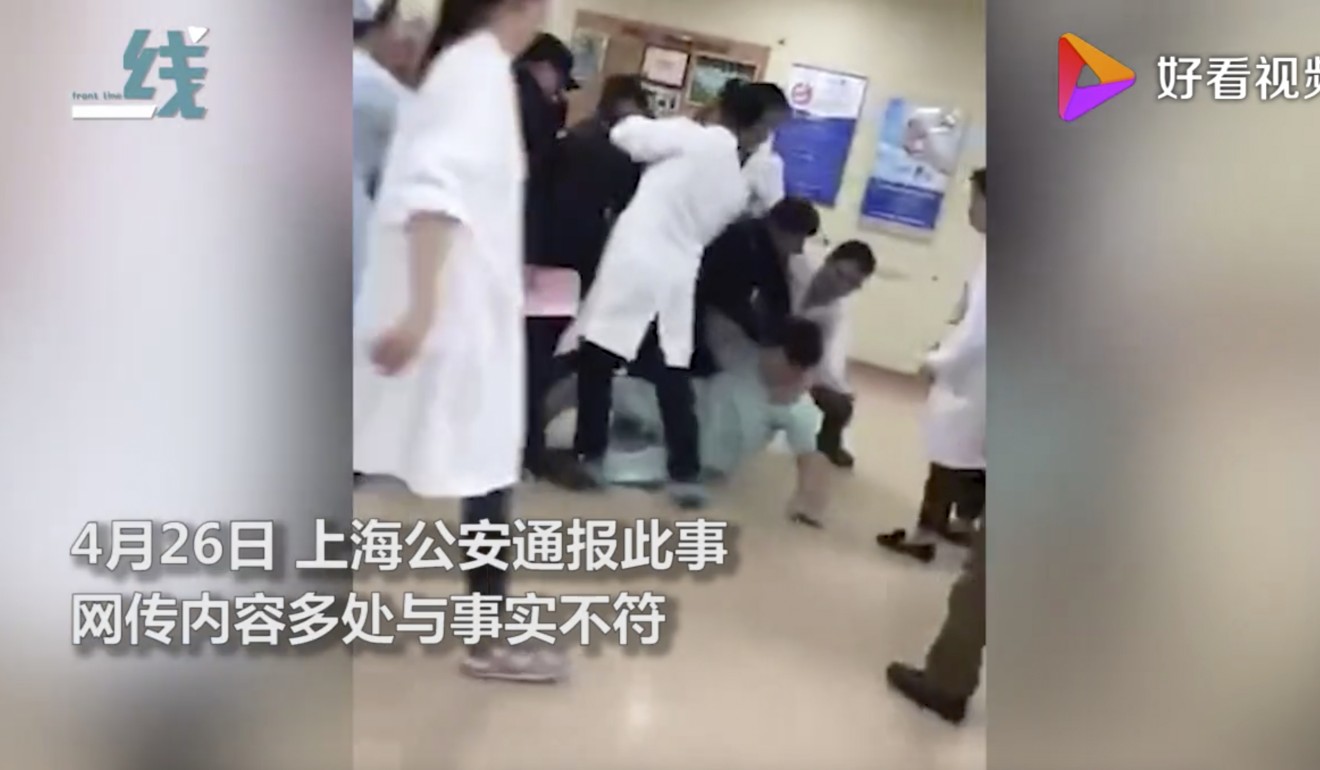 In the video, several other patients are heard criticising the police's strong-arm tactics and complaining about how they had travelled from outside the city to see Zhao and would be unable to if he were taken away.
The doctor was taken to the nearby Tangqiao police station for questioning but released 15 minutes later so he could return to work. He later went back to the station to give a statement, news portal Thepaper.cn reported.
Police defended their use of force, saying that after being called to the hospital Zhao refused to go with them for questioning on the grounds he had patients to see.
They said they allowed him 20 minutes to arrange a replacement doctor but when he still refused to cooperate after that time they resorted to the use of handcuffs, which was in line with procedure.
The incident sparked debate online and in the press, with groups on both sides expressing their views.
In a statement issued on Saturday, the Chinese Medical Doctor Association said doctor-patient conflicts should not be treated like other civil disputes.
"White gowns and blue police uniforms are both the signs of trusted professions. They should support and cooperate with each other," it said.
"Respecting health care workers should not be just a slogan but demonstrated in law enforcement actions. Police should be discreet in their use of handcuffs on medical staff out of respect."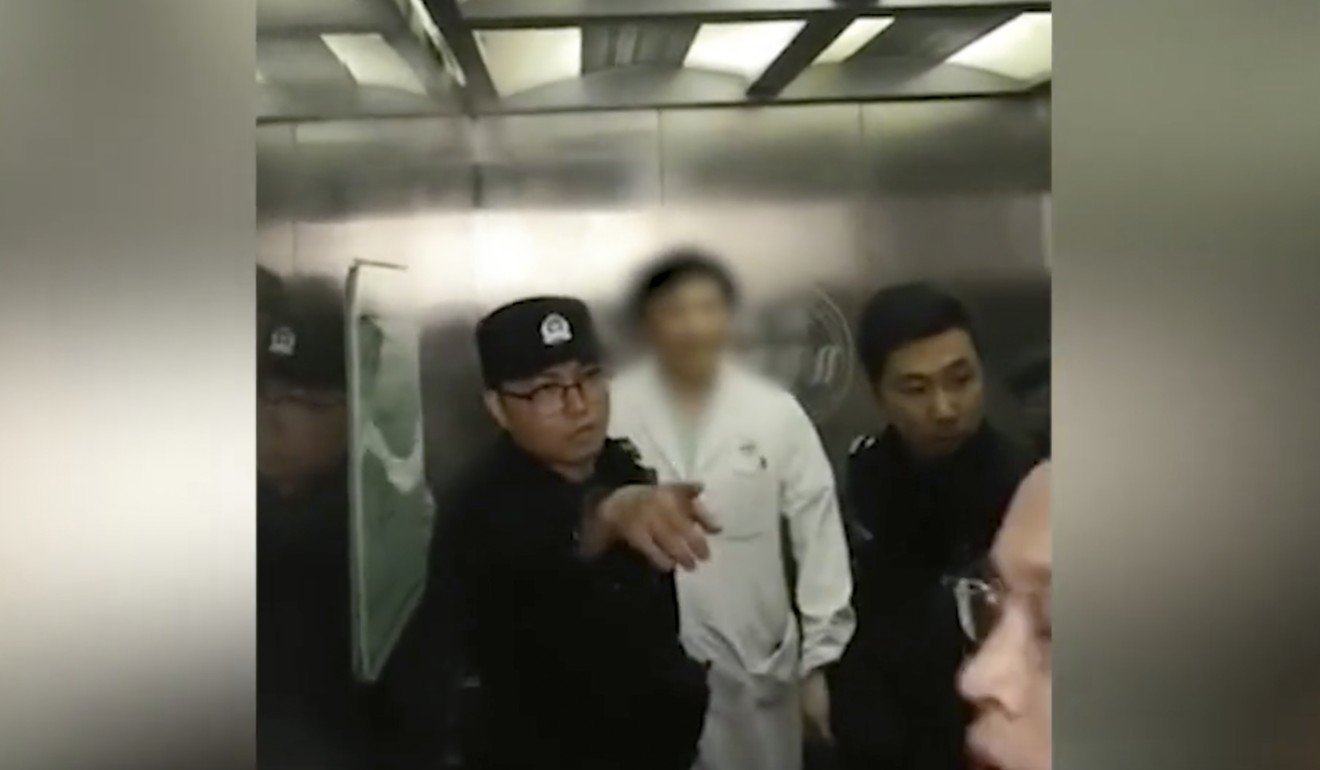 Huang Bo, director of Tangqiao police station, was quoted in the online news report as saying the use of handcuffs was legal, but "not quite reasonable".
"How to balance law and reason, stubborn and flexible, is what we must reflect on and improve in our work," he said.
Communist Party mouthpiece People's Daily said on Weibo, China's Twitter-like platform, that both sides in the dispute had room to improve.
"If the patient had an awareness of obeying rules, the doctor understood law enforcement procedures, and officers sympathised with the doctor's hard work, the result wouldn't have been like this."
Doctors, unsurprisingly, voiced their support for their colleague.
"Why did the police handcuff the doctor? This is ridiculous!" wrote a surgeon on Dxy.cn, China's top medical website.
"If every patient doesn't queue up, won't it be a mess? What's wrong with this doctor trying to maintain order in his workplace? I feel we, as doctors, almost don't have any basic rights."
Another wrote: "The group most hurt by this incident is the doctors, then the police officers and lastly the patients. I think it's necessary to punish this couple and make their names public."
Not everyone agreed. On news portal 163.com a person wrote: "However good a doctor you are, you can't turn a blind eye to the law."
"Everybody, including doctors, is equal in front of the laws. I support the police," said someone on WeChat, China's top messaging app.