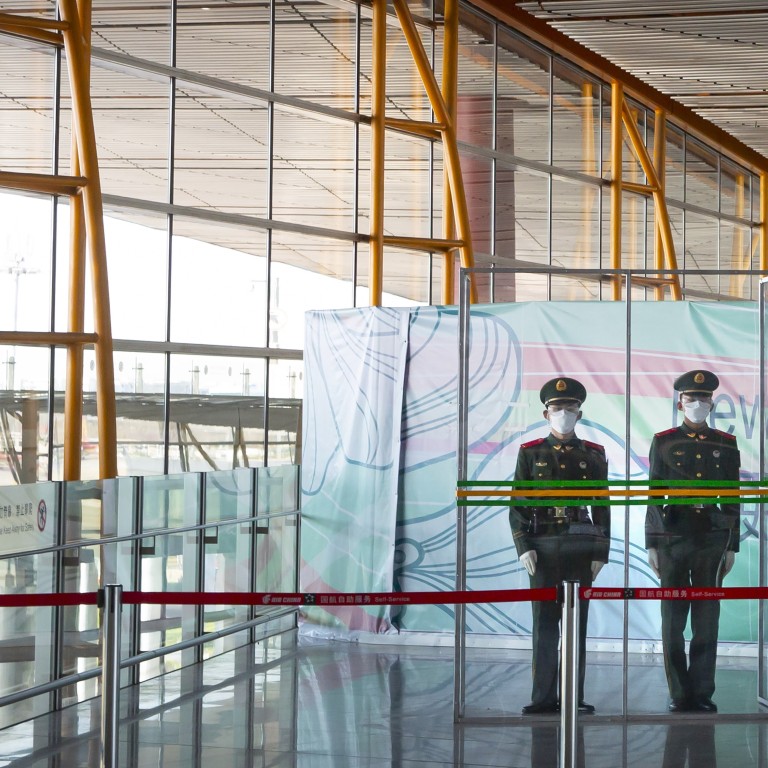 Chinese man jailed for breaking quarantine rules and lying about travel history
The man from Henan province had visited Italy and France at the start of March and then went back to work
The 29-year-old is the first case of someone being jailed for breaking China's quarantine rules
A man in central China has been jailed for 18 months for travelling to Europe and breaking
coronavirus quarantine rules
after returning home.
The man, surnamed Guo, was sentenced on Friday by Erqi District People's Court in Zhengzhou, according to a statement by the Supreme People's Procuratorate.
Guo was the first person to have been jailed for breaking quarantine rules.
According to the statement, Guo, 29, travelled to Italy in early March when the epidemic there was starting to spiral, because he wanted to watch a soccer match.
He took a train from Zhengzhou to Beijing on February 29 and flew to Abu Dhabi on March 1, before taking another flight to Milan the next day, the statement said.
After finding the match was cancelled in Milan, Guo flew to Paris on March 3 and again flew to Milan the next day.
He boarded a plane from Milan to Abu Dhabi on March 6 before arriving in Beijing on March 7. He returned to Zhengzhou from Beijing by train on the same day.
Zhengzhou municipal government has issued rules stipulating that people who have travelled abroad must be quarantined for 14 days and report their travel history to the authorities. But Guo went to work two days after his return.
On the afternoon of March 9, he developed Covid-19 symptoms such as fever and a sore throat. He bought some medicine at a chemist without consulting a doctor.
When police checked later if he had travelled abroad, both Guo and his mother initially tried to cover up his movements and only confessed after the officers presented evidence to show that they were lying.
Guo was sent to an isolation centre and was confirmed to have contracted Covid-19 on March 11.
His was the first imported case in Henan and more than 40 people who had been in close contact with him have been placed under medical observation.
Guo was indicted late last month after he recovered and was discharged from hospital. The statement did not say if his mother has been indicted.
He was among the most-viewed topics on China's social media after his case triggered outrage. People accused him of breaking the province's record of having no new confirmed patients for 12 consecutive days.
His case also forced local authorities to postpone their plan to ease restrictions on public transport, resume production and reopen schools.
The prosecutors also said a man surnamed Ding who returned from Iran in February would face trial.
He is accused of failing to report symptoms when he arrived at Shanghai Pudong airport and travelling by train to Gansu and Ningxia.
After he was diagnosed with Covid-19, more than 200 people from three cities had to be put under quarantine as they have been in close contact with him.
The procurators said a man surnamed Hu from Linxia in Gansu would also be charged; he is accused of failing to follow quarantine procedures after travelling to Egypt.
Hu was subsequently confirmed to have contracted the coronavirus, leading to the isolation of around 130 people.
Sign up now and get a 10% discount (original price US$400) off the China AI Report 2020 by SCMP Research. Learn about the AI ambitions of Alibaba, Baidu & JD.com through our in-depth case studies, and explore new applications of AI across industries. The report also includes exclusive access to webinars to interact with C-level executives from leading China AI companies (via live Q&A sessions). Offer valid until 31 May 2020.