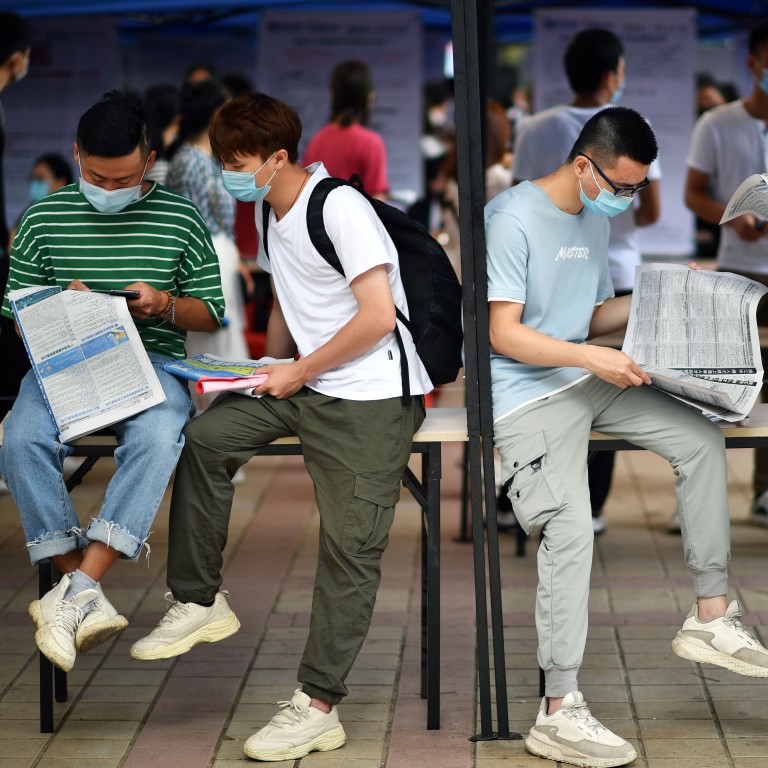 China starts campaign to help new graduates find jobs as economy slumps
Initiatives include recruiting more teachers, expanding army enlistment, more hiring by state-owned firms, and more subsidies for small businesses
China is facing daunting economic problems as a result of the coronavirus pandemic, with GDP contracting 6.8 per cent in the first quarter
Beijing has kicked off a campaign to help graduates entering the labour market as the country faces growing pressure to reboot the sagging economy and tackle unemployment.
Ten initiatives were announced to find jobs for this year's 8.74 million new graduates in an online launch on Wednesday by officials from the labour, education, human resources, and industry and information technology ministries.
The "100-day" campaign – highlighting the urgency for young people to find work – includes more graduate degree programmes for universities, hiring an extra 400,000 graduates as teachers, expanding army enlistment, increased hiring by state-owned enterprises, more subsidies for small businesses, and encouraging graduates to start their own businesses.
It comes as China's economy is facing daunting economic problems resulting from
the coronavirus pandemic
. The country's economy shrank 6.8 per cent in the first quarter this year – an unprecedented GDP contraction.
Employment is high on the government's agenda – preferential job creation measures to support businesses were discussed early this week at a cabinet meeting chaired by Premier Li Keqiang.
Cheng Yuhong, an associate professor of economics at Jinan University in Guangzhou, said the coronavirus pandemic had hit China hard and would make it tough for Beijing to maintain a stable job market.
"In a globalised world, it is difficult for China to escape unscathed even though the Chinese government has tried various means to keep the economy going," Cheng said.
"With the United States and Europe still fighting the pandemic, it will
affect the export sector
and put pressure on China in terms of creating jobs.
"But I also believe that some of the measures taken by the government – such as subsidising people to start their own businesses and offering more graduate programmes – could help ease the pressure."
A report published by recruitment website zhaopin.com last month said more than half of the most recent crop of graduates had not yet found jobs.
Of those who had received offers, almost half said they had been hesitant to take the job because the salary was lower than they expected and it was not in line with their career goals.
But the main reason graduates had not found work was because there were fewer jobs available. The report gave the example of online gaming, an industry that had been burgeoning in recent years. But now, job ads by online gaming companies were down by about 70 per cent while the number of applications went up 14 per cent, the report said.
Li Xin, a spokeswoman for the website based in Xian, told Shaanxi Metropolis News that competition was tougher than ever.
"University graduates who aren't good at demonstrating their abilities are less likely to find jobs," she said. "So they need to lower their expectations for future jobs, be realistic about career success and pay more attention to getting experience as an intern.
"But at the same time, society should give these graduates more support because this year is different," she added.
Additional reporting by Kristin Huang