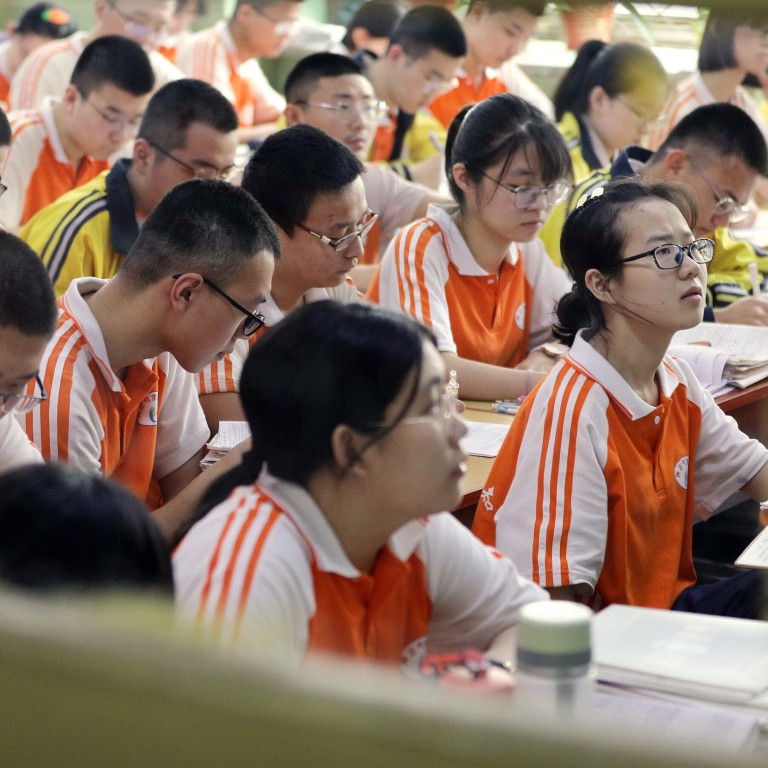 China's gaokao exam fraud: victims learn the worst after cheats steal their grades and university places
Students denied college admission after seemingly doing poorly in the entrance test learn that others used their identities to gain degrees
Investigation last year revealed 242 instances of such cheating in eight academic years in one province alone
Gou Jing wondered whether something was amiss when she took China's university entrance exam, or gaokao , in 1997 and got a surprisingly low mark.
A student from a peasant family in the town of Jiezhuang, in the eastern province of Shandong, Gou sat the test again the next year and – despite having been ranked fourth out of tens of thousands of students in a mock test not long before – she again did mysteriously poorly, and was sent to study at a tertiary technical college in Hubei, in central China.
It remained a mystery until 2003, when Gou's former form teacher sent her a letter in which he admitted tampering with the marks and asked for Gou's forgiveness, news portal ifeng.com reported on Wednesday.
The teacher, surnamed Qiu, had arranged for his own daughter to be given Gou's mark so that she could go to university in Beijing, the report said. It was not clear whether Gou's result or identity was used to gain admission for someone else in the second year.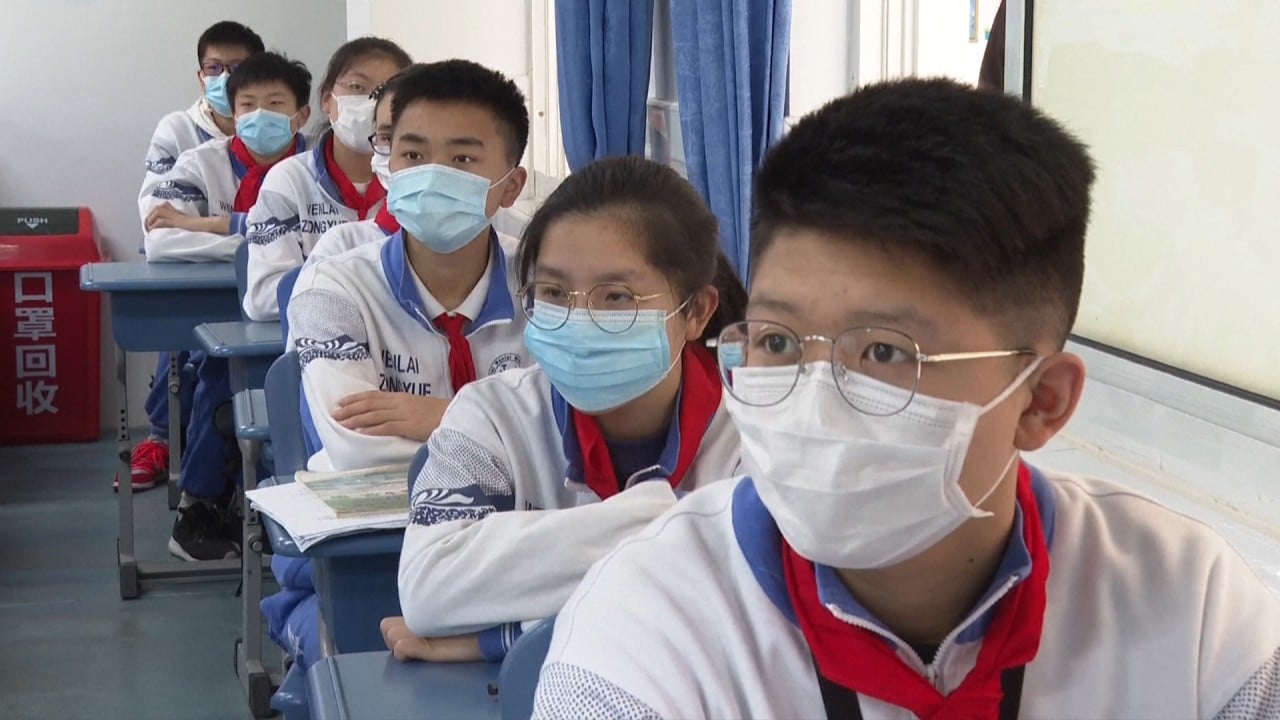 01:58
Coronavirus: More schools reopen in China for students preparing for university entrance exams
Coronavirus: More schools reopen in China for students preparing for university entrance exams
Gou decided to go public about it on Chinese social media platform Weibo after reading a recent trending news article about a woman who had the same thing happen to her.
"I still can't figure out much of the mystery surrounding my two gaokao experiences," she was quoted as saying in ifeng.com's report. "I came to accept my fate a long time ago. I don't need apologies or compensation.
"What I want to know is the truth of how they passed someone off as me, and who was involved in enabling this."
The
gaokao
is notoriously gruelling, and regarded as the most important exam for most people in mainland China, since it plays a
decisive role in shaping a student's future
. For many rural families, the exam is the only way for children to alter their future.
Gou said her family lived in poverty, but her father insisted on supporting her schooling, hoping that she could one day study at university. She said his anger that the opportunity had been stolen from her remained until his death two years ago.
After technical college, Gou became a migrant worker before working her way up to be a senior manager at an e-commerce firm in Hangzhou.
In an investigation completed last year into university degrees in Shandong province, the education authority identified 242 imposters who had received degrees between 2002 and 2009, the Southern Metropolis News reported. Some top universities, including Ocean University of China, in Qingdao, were implicated in the scandal.
Wang Hongcai, a vice-dean at Xiamen University, said he was shocked by the number of cases.
"Farmers are generally kind and honest, and could never imagine this kind of cheating happening to them," Wang told the South China Morning Post.
"Many of [those cheated out of a university place] just thought they failed in the test and it was their fate. They would not ask their high school or local education authority whether there was anything wrong in a student's score or the enrolment process."
Other instances of cheating in Shandong have recently come to light. Chen Chunxiu, a 36-year-old woman, discovered last month from a website listing the details of Chinese university students that someone else seemed to have used her name and identity number to study at a university she applied to 16 years ago, state broadcaster CCTV reported.
When Chen and her husband checked with the student recruitment department at Shandong University of Technology, it was confirmed that someone else had claimed her place on the course.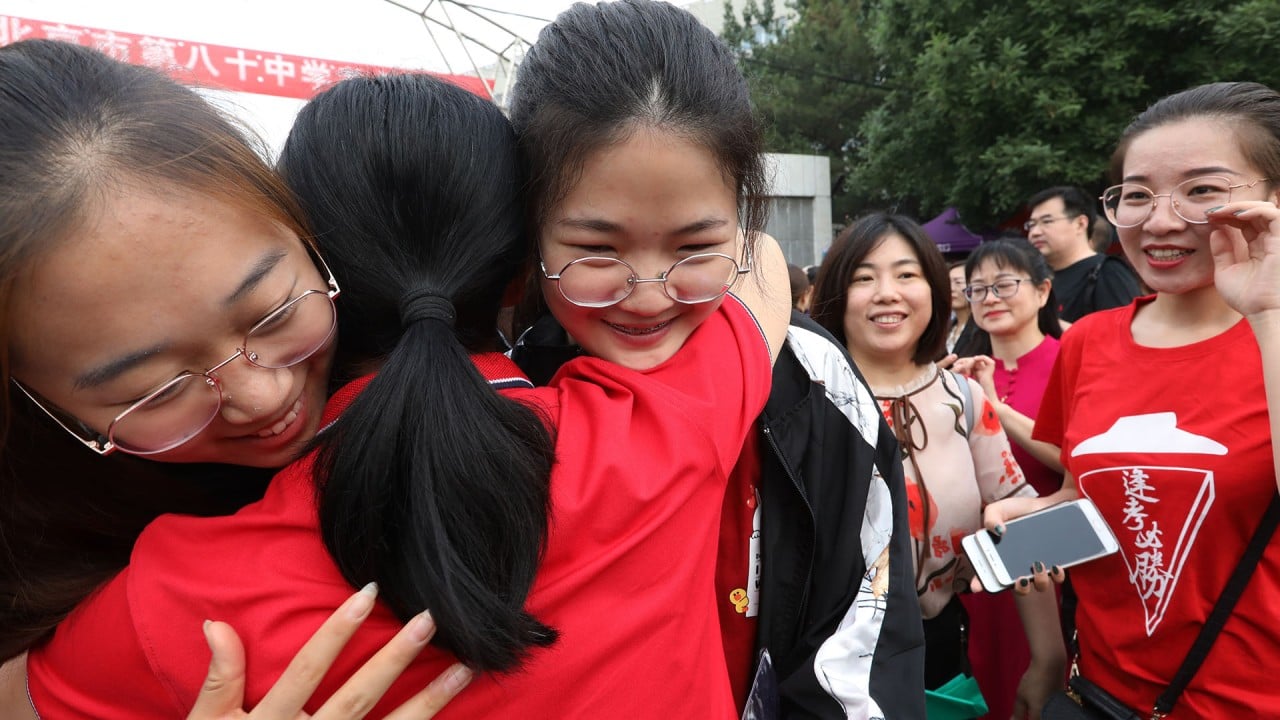 02:05
Chinese students in nervous wait for results of 'make or break' gaokao university entrance exams
Chinese students in nervous wait for results of 'make or break' gaokao university entrance exams
"When I heard that, I was overwhelmed. My brain was empty," she told CCTV, sobbing.
"I'll never forget how hard my father worked to support my studies. He couldn't afford to buy clothes for himself or eat good meals."
Chen left education after the 2004 gaokao, while a woman who had pretended to be her to obtain a degree had gone on to work as a civil servant. When the deception was exposed this month, she was suspended from her job and her name was removed from the university's roll of students.
Admitting she was an imposter, the woman, named Chen Shuangshuang, said her aunt found her an agent who helped her to steal Chen Chunxiu's name.
The real Chen Chunxiu asked the university to allow her to enrol this year, in recognition of the error. Having initially refused, the university, facing public pressure, announced on Weibo on Monday that it had decided to grant Chen's wish.
Li Tao, an academic in northeast China, said the fact that cheats had prospered in China's exam system showed "the corruption and arrogance" at various levels of the education authorities.
"Without common access to the internet, Chen's case would not have been revealed," he told the Post.
"These problems have existed for a long time. The cheats were unscrupulous because there was no channel to help the victims."
This article appeared in the South China Morning Post print edition as: Victims of gaokao exam cheats searching for answers