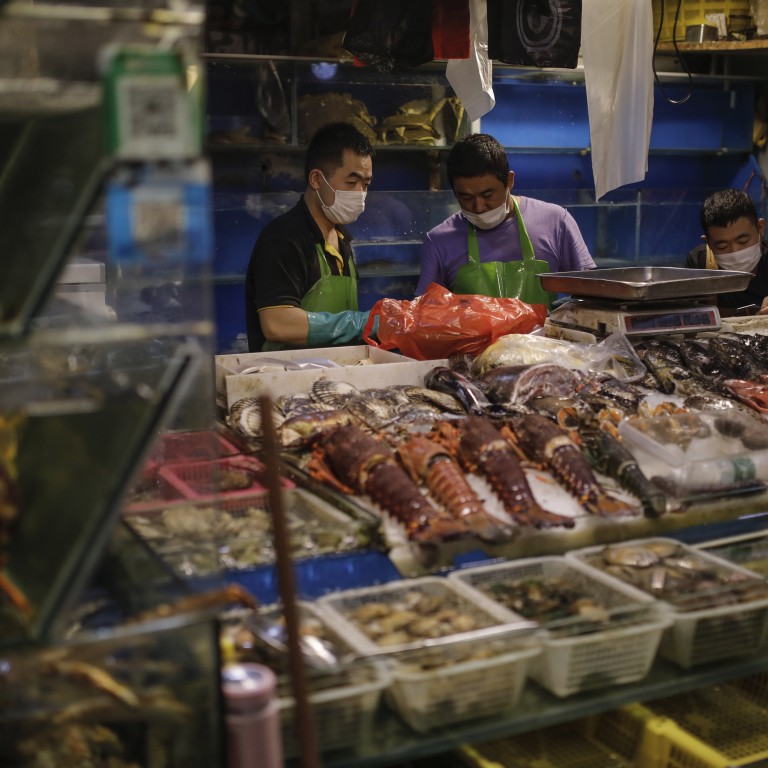 Chinese county sealed off after coronavirus spike linked to Beijing market
About 400,000 residents in Hebei province have been placed under severe restrictions reminiscent of earlier lockdowns
There have been 13 cases in Anxin, just 140 kilometres from the capital where the latest outbreak began
A county in northern China has been "sealed off" with its 400,000 residents placed under tight restrictions after more than a dozen
Covid-19
cases were reported – all linked with the
Xinfadi market cluster in Beijing
.
The draconian measures affecting every village, residential community and building were announced on Saturday by local authorities in Anxin county, Hebei province, with immediate effect. Since the start of the latest outbreak in Beijing two weeks ago, there have been 13 cases in Anxin, with another five people found to be asymptomatic carriers of the virus, Shanghai newspaper Jiefang Daily reported.
The county's new coronavirus-handling work team said the situation was "extremely severe" and the restrictions were necessary to prevent the virus coming in from other regions as well as from spreading within Anxin, about 140km (87 miles) from the capital.
The measures were described as "sealed-off management" but are reminiscent of the complete or partial
lockdowns
imposed by a number of Chinese cities when the coronavirus pandemic was at its peak earlier in the year. Unless they need to go to hospital or are engaged in epidemic prevention work, people will not be able to leave their homes.
No non-residents or vehicles will be allowed to enter villages, communities or buildings and each family will have to assign one person to go out just once a day, with an entry pass, for necessities. People will also be required to register with their identity cards and have their temperatures checked each time they pass through village, community or building entrances.
Cadres at various levels and Communist Party members have been urged to "manage well" their families and friends and to persuade them "not to go out, go to the streets, visit each other, receive guests or get together". Cadres and party members are also required to patrol their neighbourhoods for anyone violating the rules.
The coronavirus work team said residents should monitor each other and the police authority would punish those breaching the rules. The local government is also urgently recruiting 80 epidemic prevention volunteers who must be university students or hold a degree.
An internet user on the microblogging site Weibo, who claimed to be a local resident, denied there was a serious outbreak in the region. "We are just adopting stricter measures to stop the virus spreading," he wrote. Another local internet user said: "The upgrade of the prevention policy does not mean the epidemic is out of control, but that we must end this battle soon. This is a decisive moment."
According to a local government circular, the county began imposing temporary transport restrictions on June 18 to "reduce the contagion route".
Cui Xiaobo, a professor of public health at Capital Medical University, said there was no need for great concern.
"I don't think [the situation in Anxin county] is that scary; there's no need to panic," Cui said.
"[Anxin] is not as densely [populated] as Beijing – those places are relatively sparsely populated. As long as people do not engage in large gatherings, there should be no big problem."
Cui also warned that lockdowns had a big impact on the economy.
"Economic and social recovery is a process," he said. "Once the city is locked down, the process is stopped, and it gets more difficult to turn the wheels again."
This article appeared in the South China Morning Post print edition as: Anxin county's 400,000 residents under lockdown