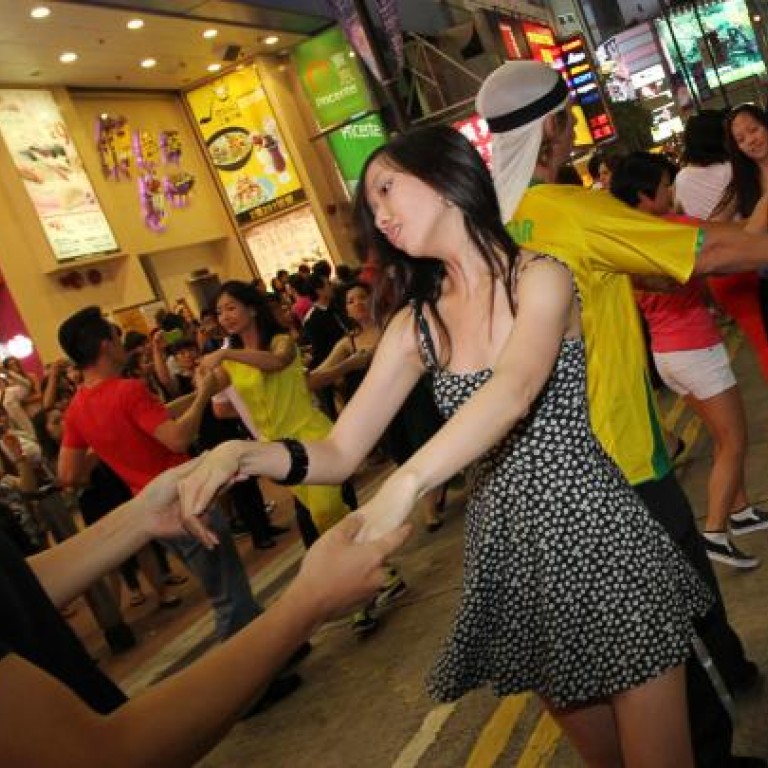 Causeway Bay joins International Zouk Flash Mob dance for unity
Participants in Causeway Bay are among 3,000 in 99 cities performing the zouk
While footage of anti-Japanese riots played on big screens in the background, a group of about 60 dancers came together on a Causeway Bay street for a performance representing unity among the nations of the world.
They were part of the International Zouk Flash Mob and were among 3,000 participants in 99 cities carrying out the same choreography at the same time.
"The aim is to unite people with the universal language, which is dance," said Joyce Chung Siew-bee, co-ordinator of the Hong Kong chapter.
"Especially today, with the anti-Japanese protests and all - do we really need that conflict in our lives? Our message is to come together."
And come together the crowds did. The anticipation was palpable as people from around the world filtered onto the brick-paved street. They milled around Great George Street waiting for the clock to strike 8pm.
As the first bars of Rihanna's came from the loudspeaker, husband and wife duo Emily Ma and Marcos Fonseca twirled and gyrated gracefully, and were soon joined by 60 others. Crowds cheered their appreciation of the smooth Brazilian dance zouk.
Zouk, Chung says, is the perfect dance form to represent relationships between people of different backgrounds as it requires flexibility to adapt to a dance partner's style.
"The flash mob is good for a place like Hong Kong which is struggling for creativity," said Loy Lee, an IT specialist who was in the crowds to support Chung.
Zouk literally means "to have a good time" in West Indian creole. The Brazilian form of the dance evolved from the lambada in the early '90s and is also influenced by salsa and tango.
Yesterday's flash mob took in 37 countries. Part of the popularity of zouk, Chung says, lies in its unregulated style, as dancers have to add their own interpretations to the movements.
"Hong Kong has the biggest number of participants in the Asia-Pacific region," she said.
This article appeared in the South China Morning Post print edition as: HK joins global dance for unity