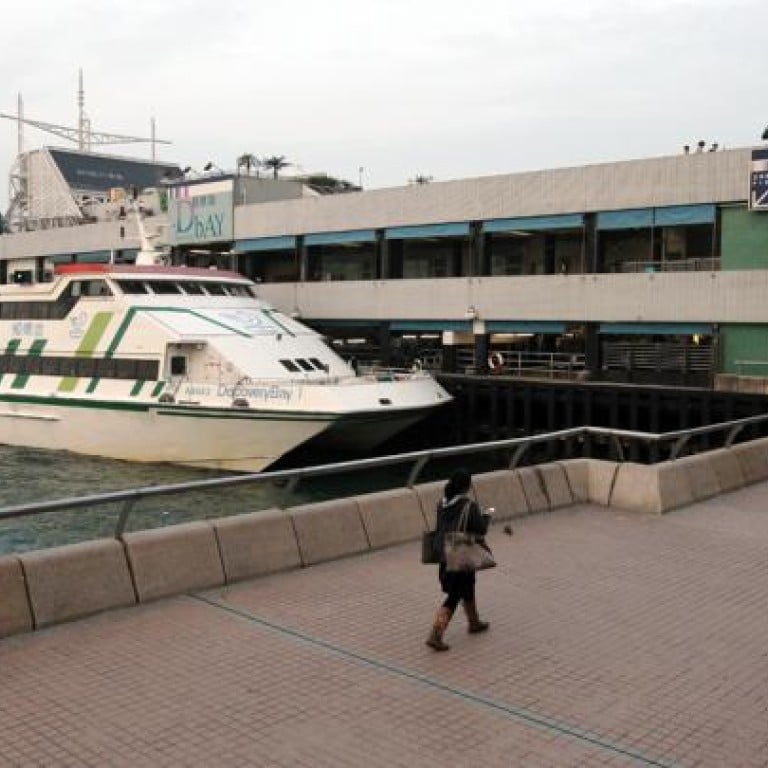 Calls for Discovery Bay developer to reveal finances
Lantau developer that wants to charge 9.5 per cent more in transport fares is urged to be transparent in the wake of losses from ferry fire
The transport operator that serves Discovery Bay is facing calls to make its financial records public, as it emerged that the company lost a HK$9.8 million ferry to a fire a few years ago.
That fire was followed by an average increase in ferry fares of 7.5 per cent in 2011.
Now, doubts are raised as the resort's developer, HKR International, again seeks approval from the Transport Department for a fare rise of 9.5 per cent on ferries to and from Central and buses around the Lantau development.
Amy Yung Wing-sheung, district councillor for the area, noted HKR did not mention the multimillion-dollar ferry that burned down in its 2011 application.
"Why should we bear the costs of their mistakes?" Yung asked yesterday. "The fact that the insurance company has not made payment even three years on says there's something wrong with their management."
The vessel is mentioned in HKR's 2010-11 annual report as being damaged beyond repair. Yung said it had been undergoing repairs at a shipyard when the blaze broke out during the financial year ended March 31, 2010.
In response to the criticism, HKR called it "groundless speculation" to say the insurer was unwilling to pay up. It said it met all accounting standards as required by the government.
The operator also said it was in elaborate discussions about the scope of repairs.
HKR has applied for the latest fare rises citing higher petrol, staff and maintenance costs. A spokeswoman for the company said earlier that its ferry operations were in the red, with a HK$6 million loss in 2011-12 despite the 2011 increases.
Cheaper tickets for seniors, children under 12 and students also hurt revenue. "It is estimated the loss in future years will exceed HK$20 million annually," she said.
In 2009, ferry fares went up 15 per cent for day services and almost 70 per cent for overnight services. About 18,000 people live in Discovery Bay, where cars are banned.
Yung said she conducted an e-mail survey of roughly 180 households. About 90 per cent opposed the latest fare rise, 9 per cent had no comment, and 1 per cent said they were fine with the proposed increase.
One survey respondent, whose name Yung did not divulge, said: "Until there is an independent audit of [the] books verifying the said losses are indeed directly attributed by relevant and inflationary costs, and not mismanagement or inter-group company collusions, we as residents cannot accept such a unilateral fare increase, especially when the last increase was only in 2011."
This article appeared in the South China Morning Post print edition as: Calls for DB firm to reveal finances