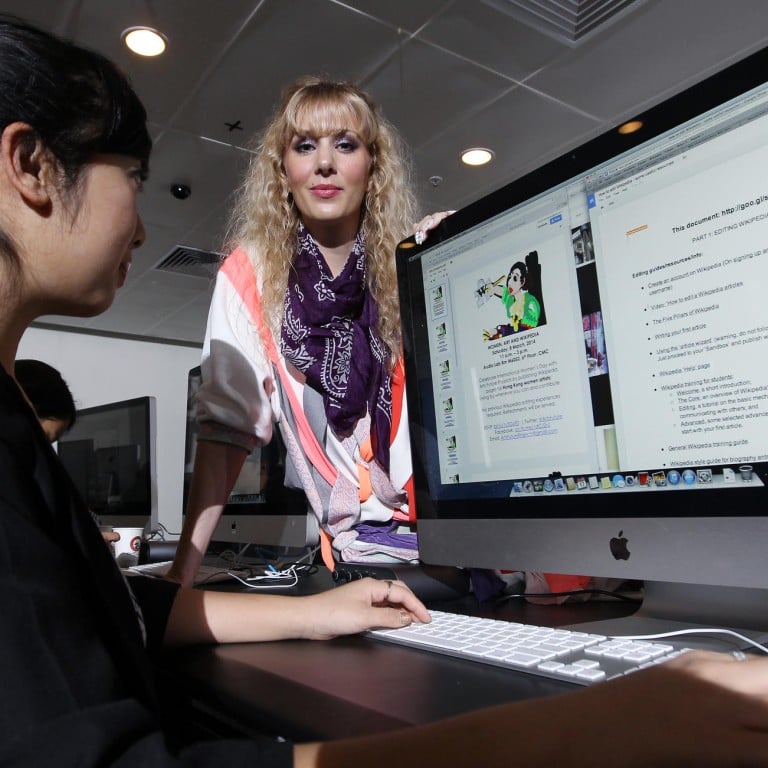 Hong Kong women artists have Wikipedia entries compiled
Group at City University compiles Wikipedia entries for 11 female arts figures
Hong Kong's women artists have been given their place in history thanks to an enthusiastic group of volunteer Wikipedia editors at City University, who marked International Women's Day yesterday.
Based on concerns that women and art history were both under-represented in the popular online encyclopedia, a group of about 20 volunteers came together to create and edit 11 entries for female artists who have made their mark on the local arts scene.
"The history is already there. You're just digitising it," said Vennesa Yung Chi-wei of the school of creative media.
The group worked off a list of significant artists compiled by art historian David Clarke, gleaning information from CVs, artist and gallery websites and books.
"The female artists I know prefer to remain low-profile. But if you're not recorded, you're not going to change what's going to happen in the future," said Ruby Lin Ka-tung, a human resources consultant.
Their efforts were part of a global push to have more women join the army of volunteers responsible for the creation and maintenance of the resource used by millions of people.
"It's as though if you're not on Wikipedia you don't exist," said Shannon Walsh, filmmaker and assistant professor at the school.
The Hong Kong event took inspiration from an art and feminism meet-up in New York last month, at which about 150 participants came together to improve the Wikipedia entries of women artists.
Yesterday's editing session formed part of the Arts Futures Project, an initiative looking at new ways to present and record art history at City University organised by Charlotte Frost, a visiting assistant professor.
"The way we write about art is changing, with Twitter, Tumblr and other platforms. We as art historians need to be better prepared," Frost said. "As an art historian my job is to look forward at the future, not just the past."
Lin agreed that the event was an opportunity to promote change. "People here complain a lot, but with the internet it's so easy to make a difference," she said.
This article appeared in the South China Morning Post print edition as: Women artists get place in history