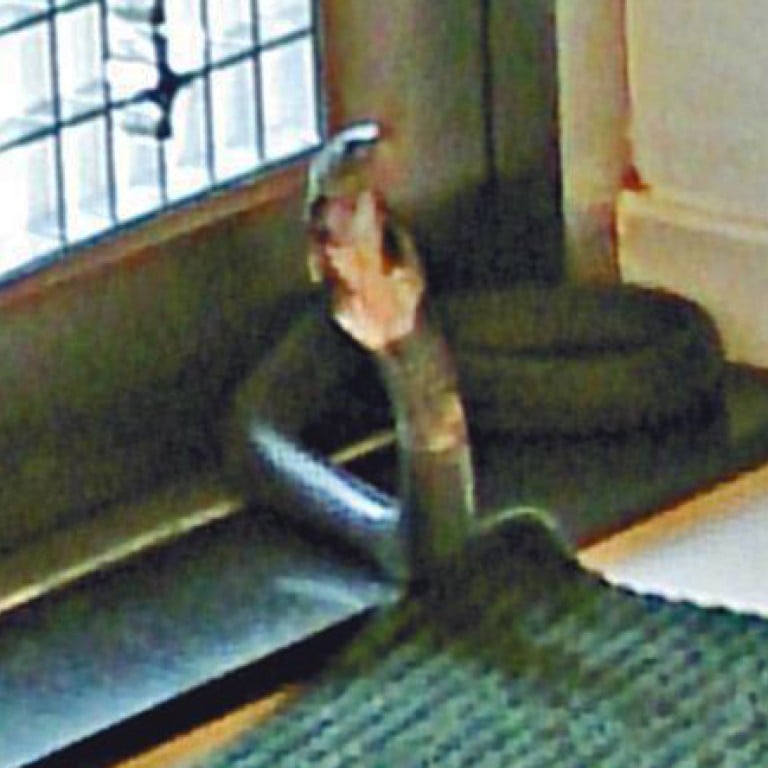 Look who popped in for lunch: Cobra makes Sai Kung house call
Lawyer, wife and guests unhurt as family's dog gets venom in eye … but snake comes off worst
A lawyer told of the moment an unwelcome guest was spotted slipping into his home yesterday. The intruder was a cobra.
Barrister John Wright, 61, said he stayed calm but his wife and two friends were in shock as the serpent slithered through the front door of the house in Hoi Ha village, Sai Kung.
His wife slammed the door shut on its tail, but most of the metre-long snake was trapped inside the house.
Their dog Sunny bit the creature in the neck and had venom spat in his eye.
Veteran snake-catcher David Willott was called to the scene - deep inside the Sai Kung West Country Park - by police shortly after the intruder was reported at 12.30pm.
Wright, who has encountered many cobras, said: "I was pretty calm but my guests were freaking out … and my wife was very afraid."
Sunny's eye was immediately bathed with water and Wright said the dog's eyes were just a little red.
The cobra was not so lucky.
"The backbone had been broken [by the door] so it was paralysed… [but] it was still quite aggressive," said Willott, 47, a Briton who has lived in the city since the age of 10.
He captures about 50 snakes per year in residential areas and releases them far away from people.
This time, however, the snake's injuries meant it had to be put to sleep.
Willott said cobras were common in Sai Kung and are particularly active during the summer.
Wright, a civil lawyer at Pacific Chambers who has lived in Hong Kong since the 1980s and chairs conservation group the Friends of Sai Kung, said he was sorry that the snake had to be put down.
Separately, a 60cm cobra sneaked into a village house in Tseng Tau Tsuen, off Sai Sha Road, at about 3pm. A catcher removed the creature, said to be a three-year-old female.
Last month, a pet dog was crushed to death in front of its owner and her two children in the second attack by a python in Sai Kung West Country Park in less than a fortnight.
In the first incident, a couple fought off the python that attacked their dog.
Hong Kong is home to more than 50 species of snake, ranging in size from tiny "slug" snakes to pythons.
Some 14 species are poisonous - and eight of them can kill humans with their venom.
Official advice from the Agriculture, Fisheries and Conservation Department is to call police on 999 immediately if a snake enters your home. People bitten by snakes should be taken to hospital at once.
This article appeared in the South China Morning Post print edition as: Shock in Sai Kung as Cobra makes house call