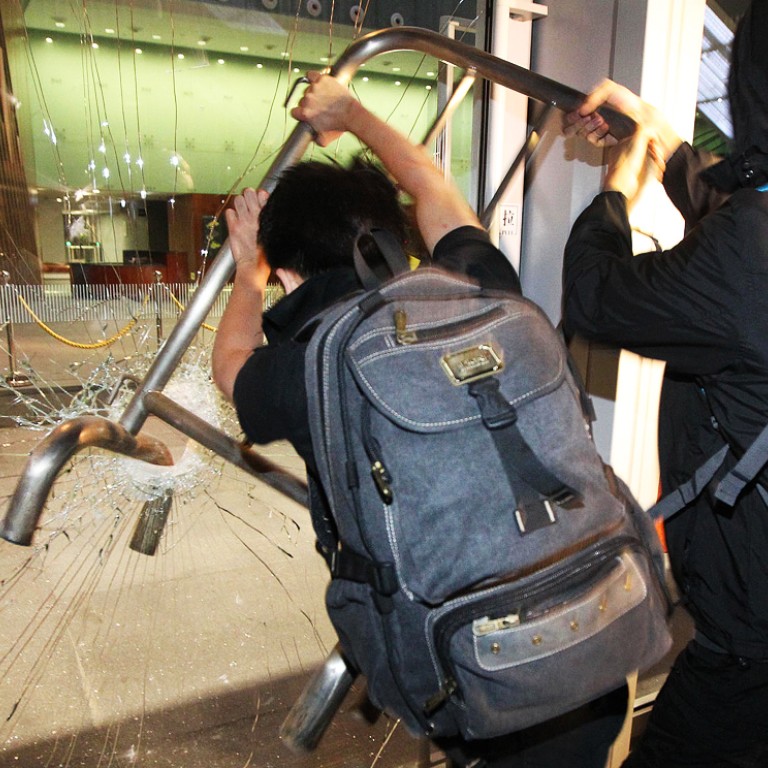 Update
Six arrested after masked crowds smash Legco glass doors, clash with police
Police on Wednesday strongly condemned a "mob" of protesters who stormed the Legco building last night, which resulted in three police officers being injured and led to the arrest of six men aged between 18 and 24
Police on Wednesday strongly condemned a "mob" of protesters who stormed the Legco building last night, attempting to break in through a window, which they smashed using an iron barricade.
Hui Chun Tak, chief superintendent of Police Public Relations Branch, said that six men aged between 18 and 24 had been arrested for criminal damage and for assaulting police officers during the incident.
Three police officers were injured in scuffles at the scene and Hui said there may be more arrests pending further investigations.
Equipment belonging to the police also went missing last night's clash – a baton, a helmet and two shields – and police urged people who knew their whereabouts to return the items to police.
Regarding the protest site in Mong Kok, Hui said police would assist bailiffs in carrying out the injunction order to remove barricades there and confirmed they had met with the plaintiff and bailiffs today to discuss how to implement the removals.
Hui said a large-scale confrontation could easily take place as many protesters of opposing camps have gathered tehre. A man aged 52 was arrested last night for common assault, Hui added.
The police urged people not be incited by radical individuals and urged protesters to remove the obstacles and leave the protest zone in an orderly and peaceful manner as soon as possible.
The surprise flare-up of violence, which led to the deployment of pepper spray and police baton-charging protesters, took place barely one day after a clearance operation had been carried out at one of the main pro-democracy protest sites in the district.
The Legco meeting and Public Works Subcommittee meeting scheduled for Wednesday were cancelled hours after the clashes broke out.
Watch: Clashes as alleged Hong Kong protesters attempt parliament break-in
At around 1am, a group of masked people, many of whom appeared to be teenagers, used metal barriers and various objects including broken bricks to try to crack open the glass doors outside the canteen at the Legco complex.
Lawmaker Dr Fernando Cheung Chiu-hung, who had arrived at the scene earlier, tried in vain to stop them.
Scores of police officers carrying shields moved in shortly afterwards, deploying pepper spray to fend off the attackers. Officers later spread out and guarded the entrance of the building after the crowd retreated.
Waving yellow, then red warning flags, police told the masked group not to charge again.
The stand-off continued for hours as more protesters flocked to the area and police reinforcements were called in.
Some protesters said they were furious at seeing the barricades in the occupied area around Citic Tower being removed by bailiffs on Tuesday.
"We want to use this action to pass on our voices, across onto those over on the other side of the glass," said a protester, who refused to be named.
Another protester, who said she had been staying in the protest zone in Admiralty since the class boycott in September, said the "main stage" people, who organised the Occupy Central sit-in, were doing nothing and just waiting for the government to come clear them out.
"At least we need to fight to abolish functional constituencies ... Universal suffrage is a far-off dream, but this we need to fight for because it's the first step," she said. Not all "pushing-forward" actions were bad, she insisted.
Both said they were there when the glass doors in the Legco complex were broken by rocks, and said there were three people still inside the building.
There is a split in the Occupy camp over whether protests should remain peaceful or not, said Kuroros Li, 23, who was among those who stormed Legco. He said that some demonstrators were wary of political parties using the Occupy movement to leverage support.
"I'm not afraid to say that we already disagree with most political parties; it's just that we wanted to unite at first, but that'll change after last night. We may go our separate ways," he said.
"Our aim is to attract Occupiers in Admiralty who still insist that peace can change everything, and not the people on the outside.
"When the clearances started yesterday, they were extremely cooperative and even helped move their stuff away, which felt strange to me: why are you playing along with the government?"
He said some protesters have talked about taking over government buildings and key locations, like Admiralty Centre and Lung Wo Road.
"It's not a matter of which government building or landmark we occupy, but if we do nothing, then we're just waiting for this movement to end," he said.
Lawmaker Cheung, who tried to stop the protesters from smashing the glass doors, also said there might be at least one protester who had snuck into the complex.
"What they [the masked attackers] did was not helpful to the matter as a whole," he said.
Cheung was not injured but at least one suspected blood stain was seen on his shirt. He said he suspected someone might have been cut by broken glass.
Cheung called the protesters' action a "dark spot" for the Occupy movement.
"The opposition will definitely use what happened last night to smear our entire movement, and that might deal us a fatal blow in a referendum," he said.
"For the past 50 days now, the government has remained an inaccessible wall and hasn't responded to very reasonable demands from citizens.
"I'm afraid this will give the government and pro-government lawmakers an excuse to put up more walls in Legco."
At 4.30am, protesters regrouped and clashed with police again. Officers used pepper spray and baton-charged the crowd, who were again forced to retreat, with dozens mounting a wall and fleeing into the adjacent Tamar Park.
Earlier on Tuesday night, at around 10pm, dozens of masked people attempted to storm the Legislative Council through the side gate but could not enter the building because the gate was locked. Some of them then suggested occupying Lung Wo Road which is adjacent to the complex, before they were stopped by other protesters at the site.
Some masked protesters claimed they were trying to obstruct the amendment to the copyright law that addresses the issue of user-generated content. This is, however, not on the agenda of the Legco meeting on Wednesday.
Federation of Students secretary-general Alex Chow Yong-kang said on Wednesday morning that storming Legco was pointless. He denied that the Occupy protests had gone out of control but admitted that there was "room for improvement" in coordinating among protesters.
Scholarism convener Joshua Wong Chi-fung said the protesters' action would endanger other demonstrators.
"In a civil disobedience campaign participants have to shoulder their legal responsibilities and ensure the safety of all other participants," he said.
"Those storming the Legco and then leaving the scene immediately afterwards would pose danger to other protesters behind them."
Eddie Lee, Jennifer Ngo, Danny Mok, Lai Ying-kit, Alan Yu