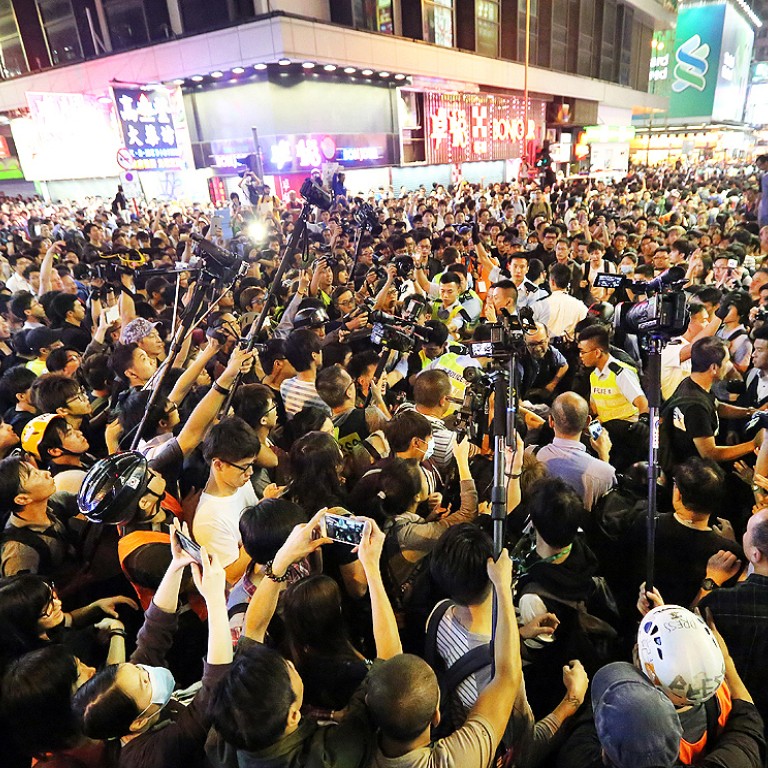 Update
Stand-off ensues between protesters and police in Mong Kok
Traffic grinds to a halt in Mong Kok again as police attempt to break up crowds
Crowds of protesters are involved in stand-off with police in Mong Kok after officers earlier took control of the junction of Shantung Street and Sai Yeung Choi South Street by forcing people back on the pavement.
Despite repeated appeals from police asking people to leave peacefully, the crowd responded by chanting "I want universal suffrage" and "I want shopping".
This was a response to Chief Executive Leung Chun-ying's call earlier today asking people to go shopping in the area that was earlier occupied.
Lan Lau, who works for a cake workshop, caught the crowds attention in Mong Kok by raising a sign that read: "I want Nathan Road" outside the Bank Centre Mall.
"The occupation has to be continued, as everyone here agrees. I want to see results, such as an end to functional constituencies," she said.
Shortly before 9pm, scores of police officers armed with shields and helmets forcibly pushed crowds on the junction of Shantung Street and Sai Yeung Choi South Street back on the pavement.
Police were appealing to crowds gathering in the area to disperse peacefully and not to cause trouble.
Several hours after police removed demonstrators' barricades had resumed along Nathan Road, traffic in Mong Kok was brought to a standstill once again as police attempted to break up crowds forming a suspected illegal assembly.
At around 7pm, outside the Bank Center Mall on Nathan Road, police officers suspected several people of taking part in an illegal assembly and tried to push them back to Nelson Street.
A commotion then erupted, and scores of police officers soon called in to deal with the situation. At least two people were taken away. Red flags were raised telling the crowds not to charge at police or they would use force.
Plain-clothed police officers were also deployed, shouting at pedestrians to tell them to leave the area as officers formed a long cordon along the south lane of Nathan Road. Two of the three lanes were at one stage closed to traffic.
Chaos also spilled over into Sai Yeung Choi South Street later, after a large crowd demanded "open roads".
More police reinforcements, geared with helmets and shields, then arrived forming a long cordon along the street to maintain order and many shops in Sai Yeung Choi South Street closed their shutters.
A form five student Rachel Leung said she didn't understand why police had to be there.
"It is not necessary to have so many police here, no one is charging," said Leung, who came after school.
A section of the Sai Yeung Choi South Street was also closed temporarily.
Pro-democracy protesters vowed to return to Mong Kok tonight after hundreds of police officers demolished barricades and reopened Nathan Road to traffic following weeks of occupation.
The operation to clear the barriers and tents from the thoroughfare got underway just after rush hour this morning, watched closely by police officers carrying tanks full of pepper spray solution and hand pumps.
Several protesters were detained, including prominent activists Joshua Wong Chi-fung from Scholarism, Lester Shum from the Federation of Students, Szeto Tze-long from Chinese University's Student Union and the League of Social Democrats' Raphael Wong Ho-ming. 
"We're planning to continue our civil disobedience action when the plaintiff and police officers come, and then we are ready to get arrested," Shum told the SCMP shortly before his arrest on Wednesday.
Watch: Scenes from police action in MongKok, arrests
Raphael Wong wrote on Facebook that he was being held at Kwai Chung Police Station with Shum and Joshua Wong.
"We have been charged with the crimes of criminal contempt of court and obstructing a public officer. Bail may not be granted tonight, and [we] will be mentioned in a magistrate court tomorrow," Raphael Wong wrote at about 3.40pm.
Once underway, police met little resistance as they forced demonstrators back along Nathan Road, clearing the street as they went, before ordering them to disperse. All six lanes of Nathan Road were reopened to traffic just after 3.30pm, with a stream of taxis wasting no time in using the road.
But protesters promised to return.
University of Hong Kong ecology student Hau Cheuk-yu said he would be heading out again tonight.
"I am sure more people will be come back out tonight," said Hau, a volunteer.
"I will rest and maybe grab something to eat first and then tonight I'll join them wherever they are ... I still have no idea what the next step will be."
He managed to salvage one bag of supplies from the protest ground before police moved in to clear the area.
Protester Kumi Lam said it was essential that the movement kept Mong Kok as a bargaining chip.
"I will come back later. We cannot lose Mong Kok no matter what," she said.
Online activists, the Hong Kong Vendetta Group, called for protesters to gather at Nathan Road to "go shopping" at 8pm tonight in a Facebook post.
The group was apparently referring to remarks made previously by Chief Executive Leung Chun-ying, who appealed for people to go shopping in areas of Mong Kok affected by Occupy protests.
"See you tonight, Mong Kok warriors. Take back our homeland," a banner on the group's Facebook page said.
The action came on the 60th day of Occupy protests, with demonstrators pressing Beijing for democracy.
Journalists, who appeared to outnumber protesters, were warned not to get in the way of police carrying out their duties as officers pushed south along Nathan Road, removing tents as they went.
Following the clearance police moved on to dismantle the last remaining barricades in Mong Kok, at the junctions of Portland Street and Argyle Street, and Shantung Road and Sai Yeung Choi Street - roads not included in the court order.
A police spokesman said the additional clearance would be carried out under the Public Order Ordinance.
One protester, surnamed Lee, said she was frightened by an early surge from police, who swarmed towards protesters as the operation began. "I saw a group of officers suddenly push in. It could have caused a stampede," she said.
As Nathan Road was cleared of tents and barricades officers said that warnings would not be given before arrests were made. 
Student Wil Mak said he believed Hong Kong's rule of law had been trampled, accusing police of abusing the judicial system.
"If they want to clear us, they could announce we're illegal and make arrests. There is no need to use the injunction order to hide their intention," he said.
"There was not a bailiff involved [in the clearance] from the very beginning," he added.
Hong Kong's Secretary for Security, Lai Tung-kwok, urged protesters to leave Nathan Road immediately.
Speaking on the sidelines of the Legislative Council this morning, Lai said: "I call on all those who are taking part in unlawful assembly and occupying roads to leave immediately, stop obstructing … police officers from exercising the court's injunction, and stop charging the police's [cordon]," Lai said.
"If anyone is obstructing roads or disrupting public order, the police will take action decisively to resume public order and to protect public safety. I reiterate that the police are determined and capable of strictly enforcing the law, and to completely restore the traffic and social order in the district," he said.
A legal scholar said today the fresh detention of Joshua Wong, 18, was unlikely to impact on the fact he is on police bail following his detention in late September.
"A police bail, unlike a court bail, is rather powerless. It cannot impose conditions on the bailed person," said Eric Cheung Tat-ming, a principal lecturer at the University of Hong Kong's law faculty.
Just before 9am about a dozen bailiffs, flanked by plain clothes police officers, arrived on Nathan Road and read out the injunction granted by the High Court following an application by the Taxi Alliance, giving permission for the clearance of all barricades between Argyle Street and Dundas Street.
According to the injunction anyone who obstructs the court order could be arrested for contempt of court.
A group of civilians wearing red hats and T-shirts sporting the slogan "I love HK" moved among the crowd with the bailiffs. They are believed to be cleaners who will help with the clearance and include some familiar faces from taxi driver groups who have been calling for the protest to end.
The bailiffs refused to answer questions on whether people were considered to be "obstacles" for removal.
Before he was hauled away by police, Joshau Wong said officers were using the court operation as a smokescreen that would serve as cover for the removal of protesters. He also slammed the bailiffs, accusing them of failing to properly explain the court order.
"Many people arrived in Mong Kok last night because they were unhappy about police overstepping their mark," he said, adding that demonstrators needed to "hold the fort" in in Mong Kok and Causeway Bay"..
Protesters this morning cleared up tents and supplies in anticipation of the police moving in.
This morning's action comes following a nighttime stand-off between protesters and police, after the arrest of scores of demonstrators. Police said today that 116 people had so far been arrested in the Mong Kok clearance, for unlawful assembly, obstructing police and possession of weapons.
On the 59th day of the occupation, yesterday's removal of barricades from Argyle Street in enforcement of an injunction had been expected to go smoothly. But displaced protesters quickly moved to Portland Street and the one-way street, where barricades were cleared last month, was once again blocked.
By nightfall, protesters had been pushed back to Nathan Road at the junction of Portland and Changsha streets.
"I was outraged. I was on the footpath, with my feet not touching the road," said student Alfred Wong, 18, who was pepper-sprayed.
About 7,000 police officers, split into two shifts, were sent to assist in the operation yesterday.
Bailiffs took more than five hours to clear some of the barricades listed in the court injunction, opening up at least one lane of traffic on Argyle Street.