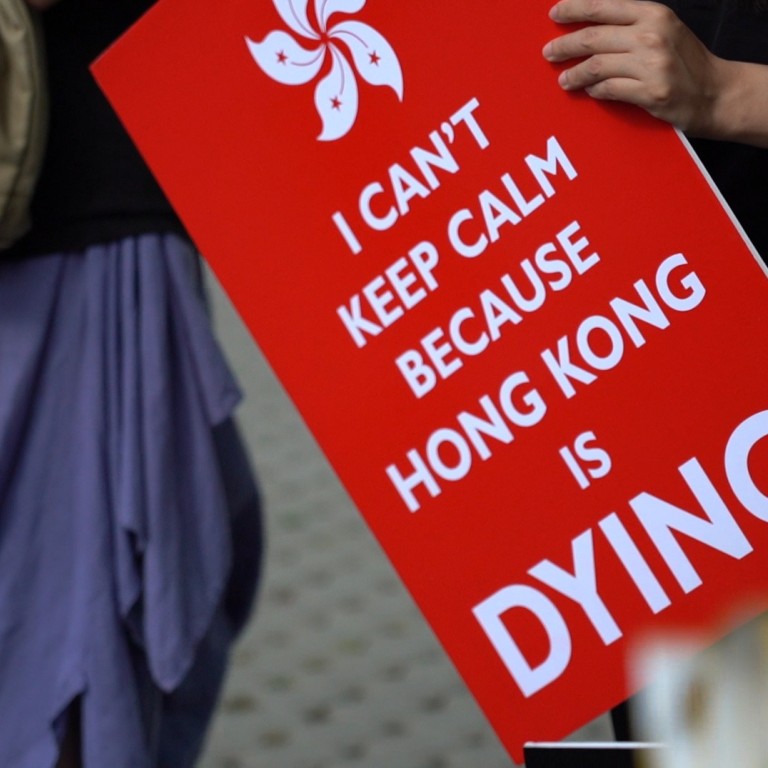 US-based Hongkongers ask United Nations to help resolve extradition bill crisis
Group of 10 students and professionals gather outside UN headquarters in New York
Crowdsourced letters say rule of law has broken down in the city and call for international intervention
Hongkongers in New York on Wednesday hoped to turn global attention to the escalating violence that has increasingly marred protests in their home city by trying to deliver a letter to the United Nations Security Council.
Dressed in black on a hot muggy day to show solidarity with the protesters, a group of 10 Hongkongers – students and professionals, most of whom had never met each other before – gathered in front of the UN headquarters in Manhattan and shouted "Stand with Hong Kong!"
Then they entered the building with variations of a letter calling for aid they hoped would find their way to the Security Council, as well as the Office of the United Nations High Commissioner for Human Rights, and the Office of the Committee Against Torture.
"The breakdown of the rule of law – guaranteed to us by the Sino-British Joint Declaration and the cornerstone of any functioning society – means that we can no longer rely on our political institutions to provide effective remedies. As such, we urgently request assistance from the international community to address the situation," the letter to UN High Commissioner for Human Rights Michelle Bachelet, shared with the South China Morning Post, said.
Hong Kong has been rocked by a spate of protests since early June over the government's now-abandoned plan to pass a bill that could see criminal suspects transferred to jurisdictions the city does not have extradition agreements with, including mainland China.
The relationship between police and the public has also been soured by clashes with protesters, who have accused officers of using excessive force and have called on the government to set up an independent inquiry.
The letters were crowdsourced via a Google doc from about 30 people around the world, one member of the New York group estimated. Fearful of being infiltrated by authorities, whether in Beijing or Hong Kong, the group in New York said they worked using encrypted chat rooms and aliases to protect themselves.
The group, which has no formal name, signed the letters: "Yours faithfully, A group of concerned Hongkongers".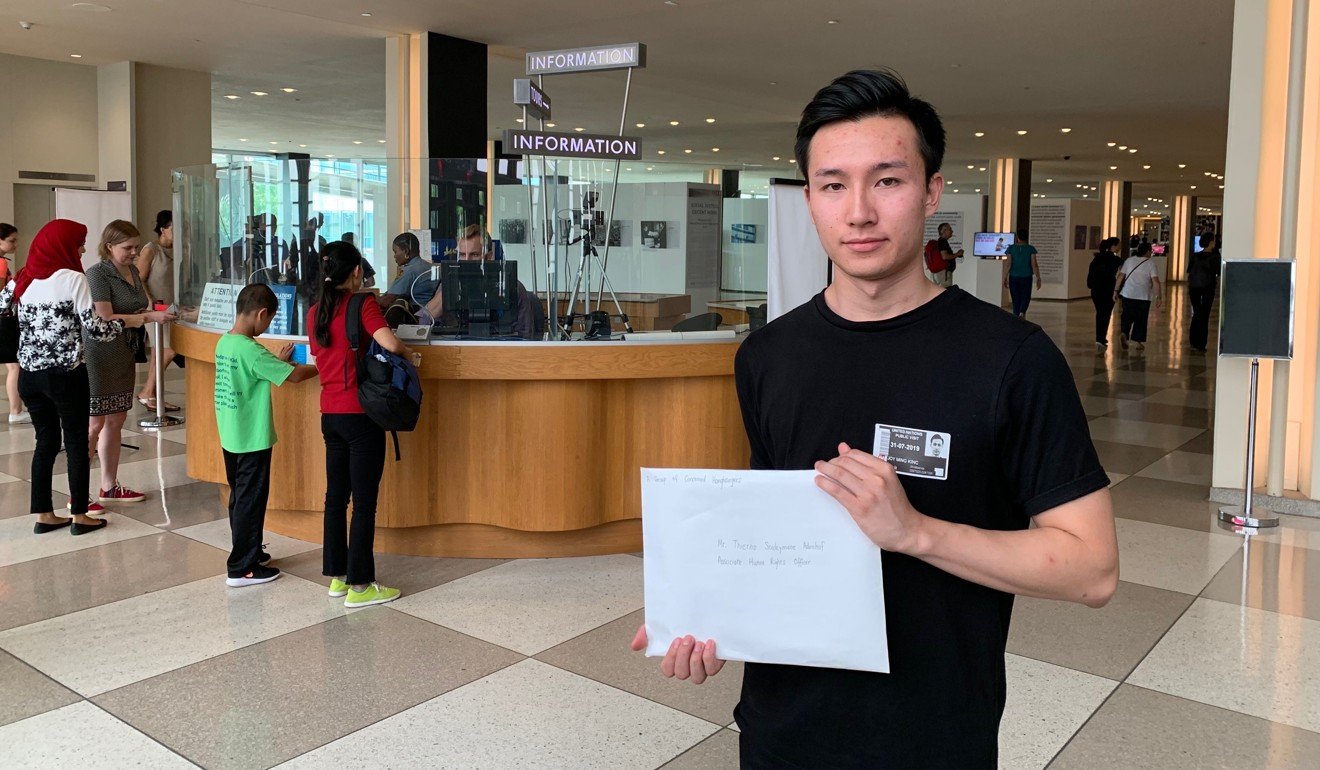 More photo opportunity than a real delivery, Joy Ming King, a 22-year-old student at Wesleyan University in Connecticut, tried to hand the letters to a UN security guard at the headquarters' information booth.
Before the group left, another member persuaded a UN employee working in the main reception hall to accept the packet of letters addressed to human rights officer Thierno Souleymane Adenhof and place them into the UN mail system where they could be screened for security before delivery.
"I'm not an organiser, just one of many volunteers. We don't really know each other. We all work anonymously online and communicate through encrypted chat groups. That is how this entire movement has been organised," King said.
The group was not taking instruction from any person or group, but was in touch with people in Hong Kong as well as others around the world, he said.
King and others in New York said copies of the letters were also being hand-delivered by a compatriot in Geneva, Switzerland, to a UN official there. Attempts to reach the UN press office in Geneva via email and phone calls to confirm receipt of the letters were not immediately successful.
The New York protesters, some of whom requested their last names not appear, said they were concerned for their own safety but also the safety of family members in Hong Kong.
"The people leading this movement in Hong Kong are young, they are all born after the handover and all they know is life with Beijing influence. And yet, they still want to fight for freedom and democracy," said Brian, a 41-year-old who moved to New York for school 20 years ago.
The protests showed circumstances had reached a tipping point in the city's history, requiring activism, he said.
"The Hong Kong DNA is to work hard, cause no trouble and look at social justice as a high-water mark," he said. However, "it is no longer enough to be a quiet 'good citizen'".
Toni, who said she was a college student in New York, said: "I'm not an activist, I'm just a common citizen who never imagined herself taking part in this kind of movement."
Still, "there is a huge fear of the 'white terror', which is why I don't want my full identity revealed because officials in Hong Kong are starting to prosecute people, and there are threats made against protesters", she said.
Toni described white terror as the fear of reprisals by armed gangs or the police, arrest or threats of violence. This fear has grown after gangs of men in white shirts indiscriminately assaulted anti-government protesters returning from a mass rally as well as bystanders and even terrified train passengers in the Yuen Long subway station on July 21.
Frontline police officers have also been accused of using excessive force while dispersing protest crowds and clashing with radical demonstrators in recent days.
Katherine Baldenius, a television commercial producer based in New York, said she was concerned about freedom in Hong Kong. She and her family left in 1987 because they were concerned about the city's eventual handover from Britain back to mainland China, which took place on July 1, 1997.
"Like everybody else, I'm just heartbroken by what is happening in Hong Kong. I felt helpless and wanted to be involved somehow," she said.