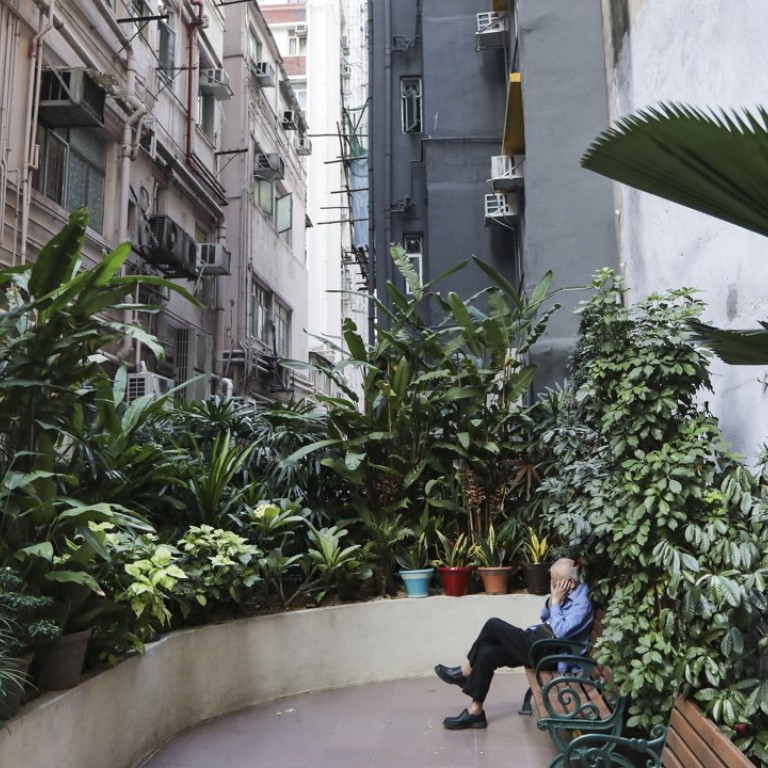 Will a lack of open space damage generations of Hongkongers?
Experts worry about the mental health impact of 'hostile design measures' in public parks, in a city where schools must book space for pupils to run
In a crammed city like Hong Kong, where flats can be astonishingly small, residents struggle to find wide open spaces amid all the people and buildings, and that could bring a negative long-term impact, town planning experts warn.
They contend that poor urban planning and limited access to outdoor public spaces affect both mental and physical health, and fear the ripple effect could be felt for generations.
Open space is regarded as any land with minimal building structures, existing for the use and enjoyment of the general public, according to the Town Planning Board. It could be parks and gardens, playgrounds or sitting-out areas managed by the government or private developers.
"It's very important to our community," says Ian Brownlee, managing director of Masterplan Limited, a local planning and development consultancy. "It affects the whole quality of the city and the whole quality of people's lives. And it also affects the environment in terms of ventilation."
A study last year by think tank Civic Exchange found that the average open space available for each Hongkonger was about two square metres – the size of a coffin or a toilet cubicle.
Although this meets the minimum standard set by the government, Hongkongers are enjoying far less open space than their counterparts in Shanghai. Residents there enjoy an average of four square metres of open space while Singaporeans have 7.5 square metres.
Brownlee says Hong Kong's problem stems from the government's failure to strike a balance between building high-rise buildings and providing open spaces for public enjoyment.
He suggests one solution is for officials to outsource the management of such spaces to sports groups or NGOs.
"I'm involved with a lot of sports bodies, and there's a shortage of open spaces for sports. We have a problem of young children being overweight, while members of the public don't get enough exercise."
It is not uncommon to see some
schools in Hong Kong
take their pupils off campus for sports lessons due to a lack of space and facilities. Although they often manage to find spacious outdoor locations to play team sports, limited availability and rental costs pose challenges. And ferrying students to such outdoor locations is time-consuming.
"You can't run more than 30 to 40 metres as a sprint because we just don't have that sort of space, but that's the nature of Hong Kong," observes Richard Lant, who heads up West Island School's physical exercise and sports department. The international secondary school is part of the English Schools Foundation.
"What we do to get around that is to hire other venues. We've quite a good relationship with the University of Hong Kong, which is quite close to our school. But obviously we're limited in terms of when we can get that venue and, of course, it costs money."
Apart from physical health, the city's regimented public spaces contribute to Hongkongers' low level of happiness, according to Christopher DeWolf, the author of Borrowed Spaces: Life Between the Cracks of Modern Hong Kong.
A UN global ranking of happiness last year saw Hong Kong drop three places to 75th out of 156 countries and territories surveyed. It was the city's
lowest ranking ever
in the UN survey.
"Intuitively you can see how the more a city has restricted public spaces, or overly regimented public spaces, the fewer opportunities its people have to unwind or express themselves in public space," DeWolf says. "That limits freedom of expression."
He criticised the city's restrictive public open spaces for not allowing users to have basic social interactions. These venues, he adds, are designed with "hostile design measures" such as small barriers on the benches to deliberately make people uncomfortable.
"I don't think it's a stretch to say that contributes to people's frustration with the city. We see Hong Kong has very low happiness levels, especially compared with other cities around the world. I think the quality of public space, of urban development here, must play a role in that."
Echoing DeWolf's views, psychiatrist Layla McCay, who studies the relationship between urban planning and mental health, describes many open spaces in Hong Kong as "concrete-based with very limited nature". Some also prohibit "quite a lot of activities" and so do little to help improve residents' mental health.
McCay, who directs the think tank the Centre for Urban Design and Mental Health, warns that if these issues are not addressed, more people will suffer from depression in the near future. But she claims many urban planners around the world are unaware of the seriousness of this problem.
"Mental health is not just about whether you have a mental illness or not," she says. "It is actually about people's well-being, their ability to cope with the stresses of life, work productively and fruitfully and be able to contribute to communities."
McCay explains that looking after mental health means being able to keep people as mentally well as possible, just as one would look after physical health. This approach helps reduce the risk of developing mental illnesses such as depression and anxiety.
"For people who have those problems, good urban design can help them recover," she adds.
Although country parks account for more than half of Hong Kong's land area, McCay points out there is no substitute for greenery in an urban area.
"With the wonderful country parks Hong Kong has, sometimes that could lead to a bit of a distraction because people think there are so many green areas already. But actually not that many people can get out to the country parks on a regular basis, so it's very important to invent greenery in the city as well."
In 2008, the public open area on the ground floor of Times Square shopping centre in Causeway Bay was found to have been rented out by a developer for commercial activities, leading to a series of protests.
Brownlee notes that Hongkongers now are more informed about relevant regulations and know how to exercise their rights to make use of more public spaces.
In a joint statement, the Development Bureau and Home Affairs Bureau said the government would make reference to the guidelines of the Hong Kong Planning Standards and Guidelines in addressing the issue, and would take into account other relevant considerations such as the utilisation rates of existing facilities and the views of district councils and relevant sports organisations, with a view to meeting the public's demands.
With such a small average living space per person in the city, Hongkongers have to be inventive. Creating a bit of green, or colour, can brighten up a tight space, regardless of whether you have an outdoor area or not.
Container gardens
For the majority of people who lack the space for a traditional garden, makeshift container gardens can bring the greenery inside your home or office. Growing plants, vegetables or herbs in any fit pot is a popular urban gardening, space-saving method. They are low-maintenance, mobile and you can create as many as you want.
One professional make, Nano Garden, allows those with a bit more indoor space to grow trays of greens on top of one another in their kitchen: a vegetable garden for the flat.
Designed by a team from South Korean carmaker Hyundai's engineering and construction division and South Korean design firm Gromo, conditions are controlled for providing just the right amount of water, carbon dioxide, light and nutrients.
Balconies
If you're lucky to have a balcony, there are many ways to maximise the space and make it a haven of creativity, from filling it with plants, to using it as a sunbathing spot or installing a table for year-round dinner parties.
Founded in 2010, Hong Kong Honey is an organisation of beekeepers, designers and architects who work with communities to install beehives and produce honey in outdoor spaces.
Rooftops
Rooftops in Hong Kong are another rare luxury shared between the residents of a block of flats, or reserved for those who live on the highest floor. Those put to use range from the common barbecue spot or makeshift bar, to mini playgrounds for children or even a private garden.
Skypark, a private rooftop park in the centre of Kowloon, was created to "break the walls" and encourage residents and neighbours to appreciate the natural environment around them among the city's urban density.
Another innovation, Hong Kong Farm, was created by Michael Leung, the founder of Hong Kong Honey, in 2012.
After working at the world's largest rooftop farm, Brooklyn Grange in New York, he was inspired to create urban agriculture based around the community in Hong Kong. Led by an organisation of farmers, artists and designers, food is grown on a network of rooftop gardens around Yau Ma Tei in Kowloon.
Kowloon Park
This 13.3-hectare green retreat is located in the dense shopping hub of Tsim Sha Tsui. From gardens to a museum, a bird lake and sport facilities, the northern part of the park is used for active recreational activities while the passive amenities area is mainly in the south, due to topographical and other site constraints. Its pool can house a maximum of 1,469 swimmers and has staged many international competitions. The park was officially opened in 1970 by Sir David Trench, the city's governor of the time.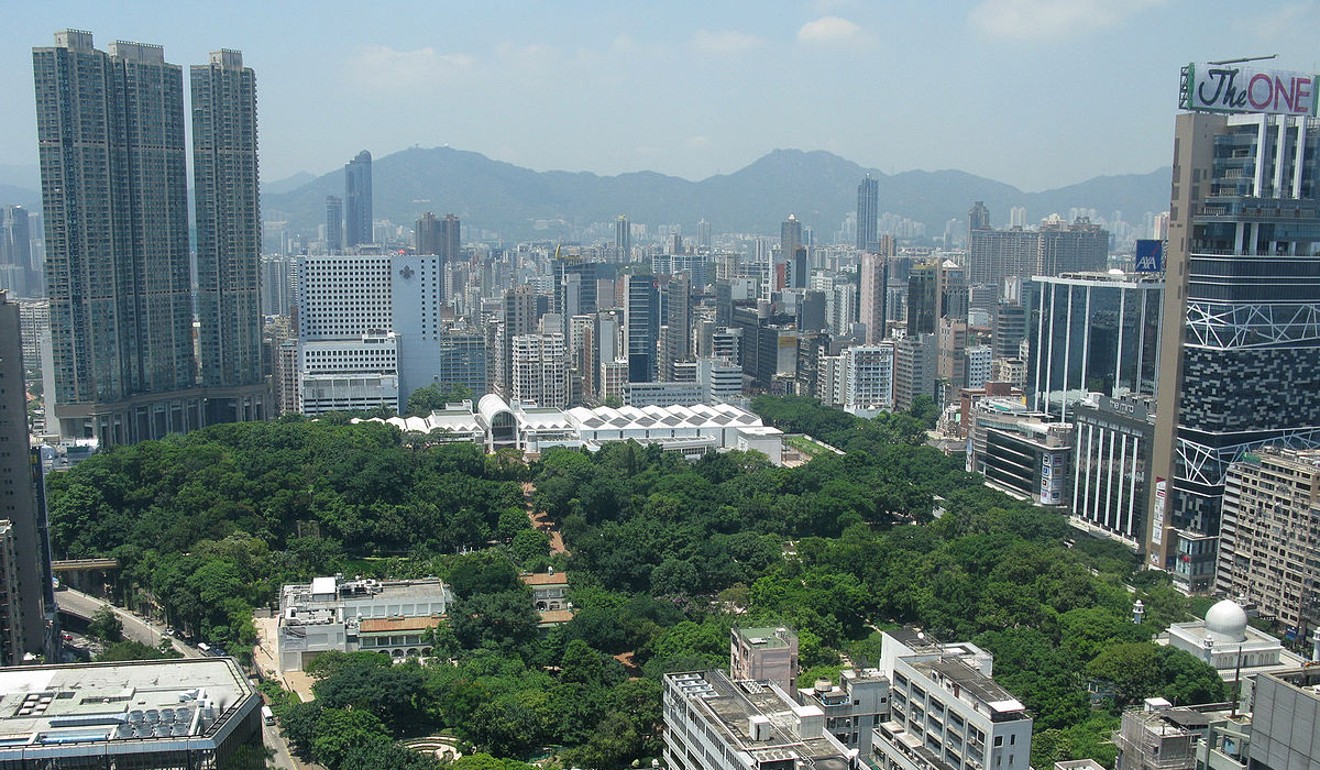 Hollywood Road Park
Built in a Chinese architectural style, it is located in a popular expat residential area in Sheung Wan. According to the Leisure and Cultural Services Department, this was where British soldiers landed and held a formal flag-raising ceremony to take possession of Hong Kong Island in 1841. The site was turned into a market, commonly known as tai tat tei in Cantonese (meaning a large piece of land). Nowadays it is an urban public park that provides a peaceful breathing space in the city centre.
Victoria Park
Situated in the bustling shopping area of Causeway Bay, this is the largest park on Hong Kong Island and covers more than 19 hectares. It provides a wide range of sporting facilities, such as swimming pools, tennis courts and soccer fields. The park is also known for its tennis stadium, which can accommodate more than 3,000 people. During Lunar New Year, the soccer fields are turned into a large-scale flower market. The park was opened in 1957 and named after Queen Victoria.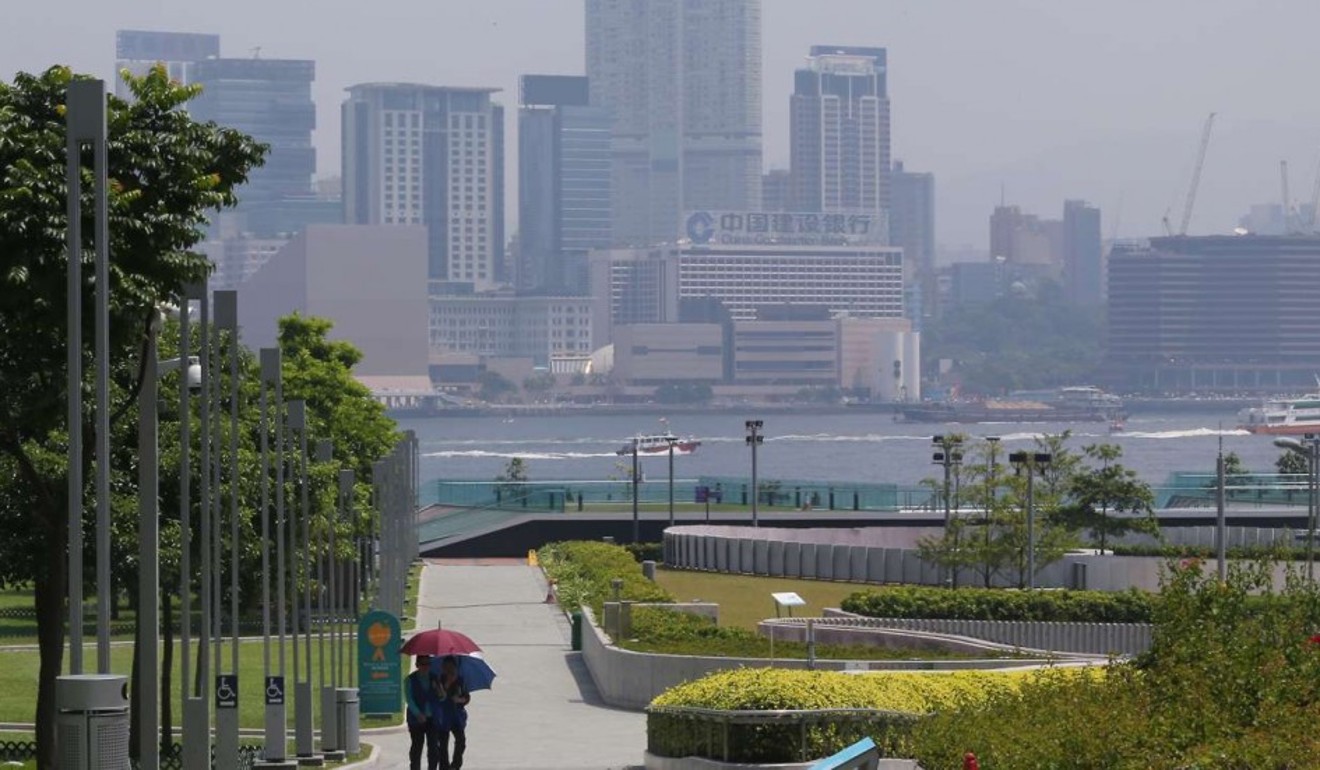 Tamar Park
With the design concept of "perpetual green", this urban park in the business district Admiralty has become a little seaside getaway for white-collar staff. The 1.3-hectare park is a great spot to admire Victoria Harbour. And unlike some parks in Hong Kong, visitors are allowed to stroll, sit and lie on the grass. An amphitheatre with a seating capacity for about 240 people is a major facility. It is open for booking by organisations looking to stage cultural and leisure activities as well as performances.