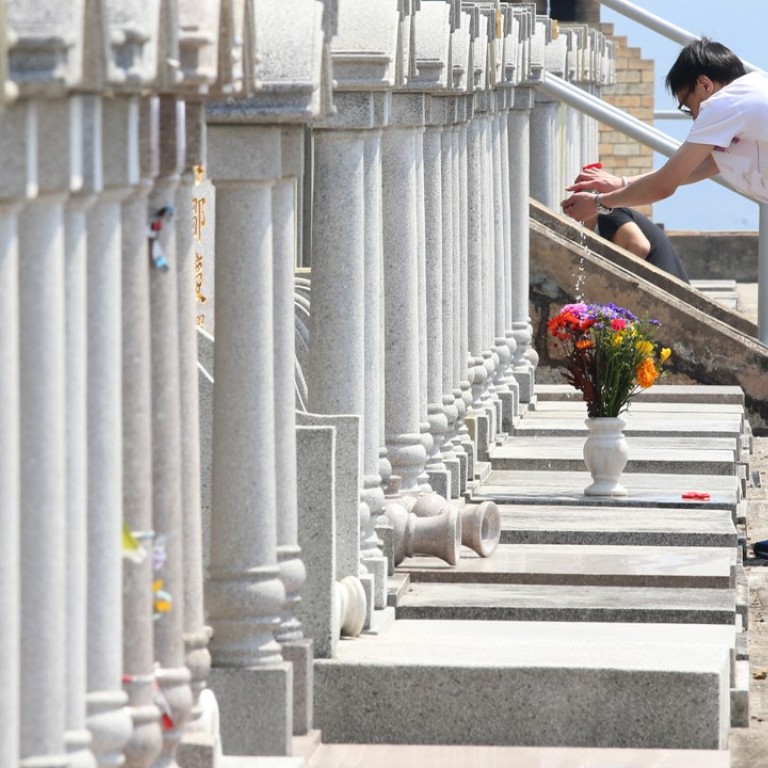 Why dying in Hong Kong is getting more complicated ... and expensive
People find it increasingly difficult to secure a burial space or funeral niche for a loved one in a land-starved city which now offers burial at sea or in gardens of remembrance
Hong Kong is becoming a city where dying is an increasingly expensive affair.
In the city, where land is scarce, there is a growing shortage of public spaces for placing urns holding cremated people's ashes, let alone burial plots.
More than 90 per cent of the city's deceased were cremated in 2013, but the city is still struggling to find spots for them in public columbariums.
In Chinese culture, it is important for a deceased family member to be buried close to his or her native place, so he or she can watch over descendants and they in turn can visit the grave or permanent resting place regularly to pay their respects.
Families can either bury a relative in a public cemetery or columbarium, or pay a bigger fee for a private one.
Due to the space shortage, even those who opt for a burial at a public cemetery must be prepared for the grave to be exhumed after six years so the body can be cremated.
But only about half of current private operators might meet the requirements under the new bill, meaning about 300,000 urns could be returned to families, industry workers have said.
The move to regulate the industry came after claims were made that the private market was exploiting people's desperation to store their loved ones' ashes.
In recent years, only two public columbariums have been built in Hong Kong, which is considerably short of the original target to build burial facilities in each of the city's 18 districts.
The government has been promoting alternative ways for families to preserve their loved one's memory.
There were over 4,000 cases in which ashes were scattered at sea and in the city's gardens of remembrance in 2015, accounting for 8.7 per cent of total deaths, a significant increase from 4.6 per cent in 2010. The trend continued last year, when about 5,000 people had their ashes scattered at sea or in gardens.
There are also government-promoted schemes allowing organ donations to support patients waiting for transplants, and body donation for scientific research organised by the University of Hong Kong and Chinese University.
What are the other options?
Sea: Increasing numbers of Hongkongers are opting to have their ashes scattered at sea. There is a free service offered by the Food and Environmental Hygiene Department to scatter ashes in three locations – east of Tap Mun, east of Tung Lung Chau and south of the West Lamma Channel.
Gardens: There are eight gardens of remembrance in public columbariums managed by the Food and Environmental Hygiene Department. They are Cape Collinson on Hong Kong Island; Diamond Hill in Kowloon; and Wo Hop Shek, Fu Shan, Kwai Chung, Cheung Chau, Peng Chau and Lamma Island in the New Territories. Some of these gardens have commemorative walls with plaques to remember the dead.
Aircraft: Those families with money to spend may choose to have loved ones' ashes scattered from a plane in Hong Kong's mountains. Family-owned funeral business Leung Chun Woon Kee arranges such a service at the Tsuen Wan Chinese permanent cemetery.
Keeping ashes: With increasing numbers of Hong Kong families opting for cremation, some are now deciding to keep urns at home to save costs.
What's the situation elsewhere in Asia?
Taiwan: In 2012, Taiwan opened its first "green columbarium" – a vault with 50,000 spaces to store funerary urns in suburban Taipei. This marked a move by Taiwan towards increased "green burials".
The Ministry of the Interior said there were 9,136 "green" burials in 2015, 3,910 in 2014 and 246 in 2006. This was seen as a positive development following the government's efforts to promote cremation. In 2015, 95.65 per cent of Taiwanese who died were cremated. Many of Taiwan's columbariums are designed as community centres, with coffee shops and children's play areas in the building.
Singapore: In 1998, the National Environment Agency officially limited the burial period to 15 years due to space constraints. Cremation would take place after 15 years.
There are three government columbariums and 57 private ones in Singapore. After cremation, relatives can store ashes at home, in a columbarium or scatter them at sea 2.8km south of Pulau Semakau, an island south of the main island of Singapore.
The city-state boasts "six-star" columbarium facilities, where the city's dead can live in luxury. Spaces in private columbariums are increasingly being booked by individuals before they die.
Japan: Japan has an estimated 5,100 crematoriums, but in Tokyo, which has a population of more than 13 million, there are only 26. Last year, 1.3 million people died in Japan, which marked a 35 per cent increase from 15 years earlier. The annual death toll is predicted to continue to increase until an anticipated peak of 1.7 million in 2040, according to predictions by the Ministry of Health, Labour and Welfare.
Japan has a long history of inheriting rural graves or urban cemetery plots. However, the cost of maintaining them is skyrocketing. There are now more hi-tech columbariums such as Tokyo's Ruriden Byakurengedo, where ashes are stored in LED Buddha statues. Japan's increasing death rate means sometimes it is necessary to wait a long time for crematorium services. This has in turn led to the development of "corpse hotels", where families can house the dead before cremation.