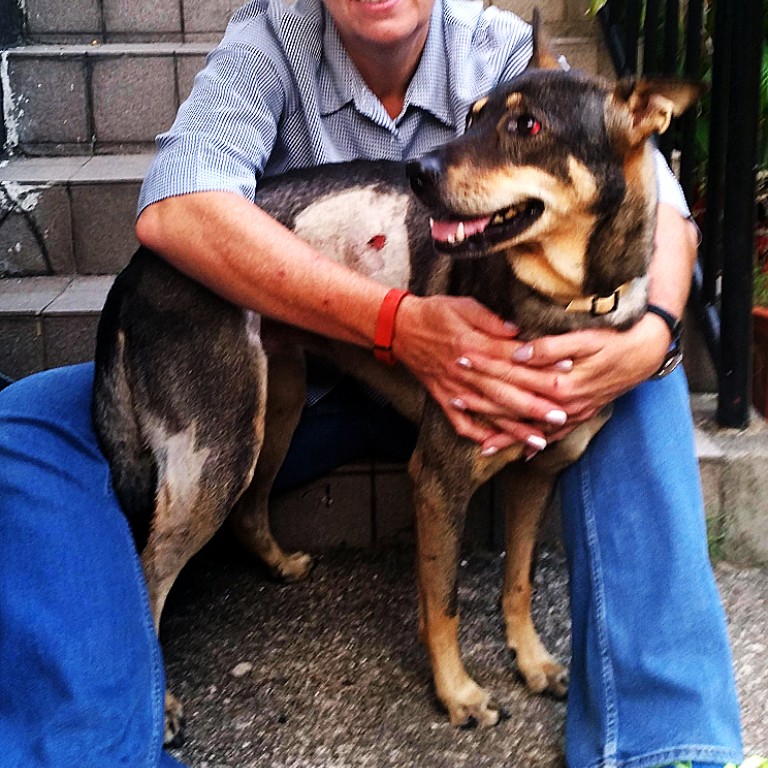 Two friends saved their dog from jaws of three-metre python after wrestling with it for half an hour on Hong Kong trail
Two friends battled a three-metre python for half an hour to rescue an 18kg pet dog from its grip in the Hong Kong countryside area of Sai Kung last week.
Two friends battled a three-metre python for half an hour to rescue an 18kg pet dog from its grip in the Hong Kong countryside area of Sai Kung last week.
The Burmese python struck out at five-year-old Pippa along a country trail, seizing the cross-breed dog in its huge jaws and coiling around it quickly.
Pippa's owner Stacy Tucker, 49, and her pilot friend Colin Dyson, 52, joined hands to wrestle with the hungry predator. Tucker sat on top of the snake as they prised open its jaws and tried to uncoil it.
At one point, she shoved a rock in the snake's mouth to prevent it biting the dog again.
"The python was so strong. I've never seen anything so big," said Tucker, a mother of two boys and owner of Ferndale Kennels and Cattery, also in Sai Kung.
Pippa suffered two puncture wounds in the abdomen from the fangs and broken blood vessels in one eye as a result of the snake's strong squeeze.
The python was believed to have been lying in wait for prey in an area close to a family country trail near Pak Tam Chung in Sai Kung Country Park – a spot where snakes had struck before.
Last year, art dealer Katie Heyring and her children Kaia, seven, and Kaspar, five, witnessed their mongrel Charlie being killed by a 4.5-metre python in the same area where Pippa was attacked.
Tucker said she was out walking her two dogs in the early evening when they bumped into Dyson and his two dogs.
"Pippa was running in between the big dogs and us. The snake must have been waiting at the side of the trail and ambushed us," she said.
"We heard this screaming, so we ran. When we got there, we couldn't see Pippa at all because the snake was coiled completely around her.
"[The rescue] seemed to go on forever. I was sitting on it with my whole weight and it still kept trying to wrap its tail around my leg. It was exhausting but I wasn't going to give up. Pippa is my baby. She is part of the family."
In the end, Tucker said, they freed the dog by flipping her over and prising her skin from the snake's teeth using a branch.
"Pippa ran off and Colin was left holding the snake. He just threw it down the bank. We watched as it lifted its head, looked around to orientate itself and slithered off."
She added: "I am so grateful Colin was there. I wouldn't have managed to free Pippa without him. He kept his cool throughout the whole thing.
Both Tucker and Dyson were bitten by the panicked dog as they tried to free her.
"Afterwards, the muscles in my arms were aching like I'd been lifting weights. I also had several bruises on my arms," Tucker said. "I felt like I had done a round in the ring with Mike Tyson."
Dyson, a 25-year veteran with Cathay Pacific, had praise for Tucker's toughness.
"She went straight in to locate the head," he recalled. "With time, we figured out how to slowly unwrap [the python]. We had to take a number of rests to regain our strength but we gradually made progress."
Pythons are Hong Kong's biggest natural predator and are protected by law. Captured snakes are weighed, assessed and microchipped at Kadoorie Farm and Botanic Garden before being released in remote areas.
Following his experience last week, Dyson raised the question of whether large pythons should be released at all.
"Whilst I respect they are superb creatures, there is a real risk to the Hong Kong public, especially small children," he said.
Tucker hoped other dog owners would take heed. ""It's not our territory; it's the snakes'. There were signs warning about pythons at the beginning of the trail. I guess it is my fault and I should have had Pippa on a leash."
The Agriculture, Fisheries and Conservation Department said 233 Burmese pythons were captured between January last year and August this year, mostly juveniles and young adults of 0.6 metres to 4.5 metres.
Of these, 229 were released while the remaining were euthanised because of ill health.