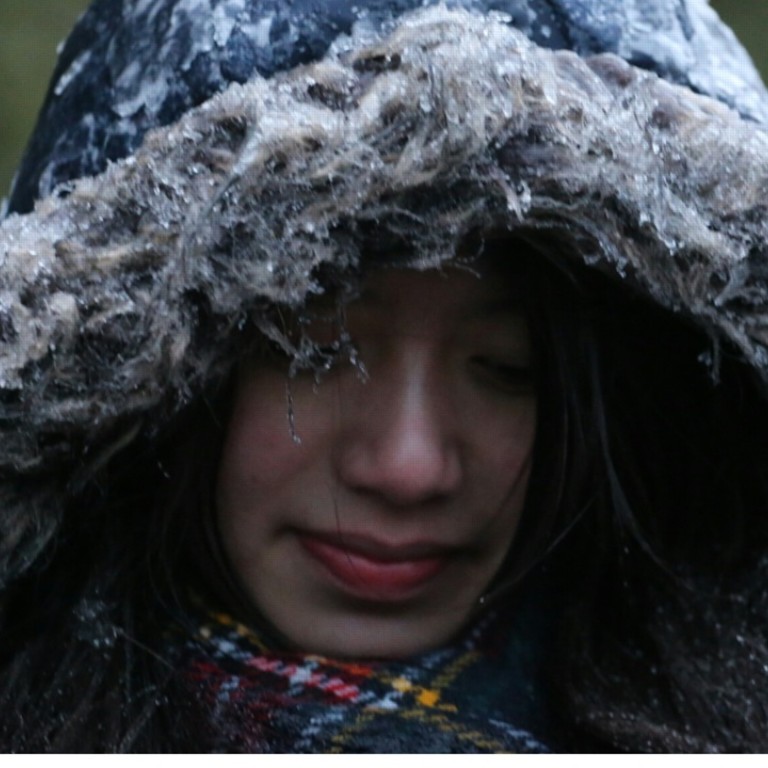 Polar vortex hits Hong Kong: record low temperatures close schools, hospitalise 45, injure 111, trap 130 on Kowloon Peak
New records set for Hong Kong with a low of 3.1 degrees, while Tai Mo Shan receives its coldest temperatures ever
Average temperatures dropped to 3.1 degrees on Sunday as a night of frigid, windy weather attracted hoards of frost chasers to the city's highest mountain hoping to get a rare glimpse of the freezing conditions.
Kindergartens, schools and those catering to people with intellectual or physical disabilities will close on Monday due to the cold, the Education Bureau said.
Motorists travelling up Hong Kong's highest peak, Tai Mo Shan, jammed the narrow road overnight. Some opted to get out and walk up the frost-covered asphalt, risking falls on the ice-covered roads.
As of 6pm on Sunday 111 people had been injured and 45 were hospitalised, some with hypothermia.
"Everything was frozen up there, even the roads," said university student Danny Yip, 23, who had hiked up to the highest accessible point of the 957m mountain.
It took him and three of his friends four hours to trudge to the top where it was reported to be -5.7 degrees at its coldest last night.
By early Sunday morning, many were stranded on the road but the blocked traffic only hampered rescue efforts. At least four ambulances and three fire trucks were blocked from reaching the top at about 9.30am.
Casualties rescued, hospitalised: authorities warn against frost tourism at Tai Mo Shan
By mid-Sunday afternoon, the Fire Services Department confirmed 85 injured people had been rescued from Tai Mo Shan on Sunday morning and another 130 were still trapped on Kowloon Peak.
New Territories South divisional commander Wong Ka-wing urged the public not to hike, walk or drive up the mountain due to the dangerous wet and slippery road conditions
At Tai Mo Shan, 43 people were rescued and sent to Princess Margaret, Prince of Wales and Yan Chai
hospitals. At least one was in critical condition, while 42 were being treated at the scene.
Most were suffering from hypothermia, but some also suffered injuries from collisions and sprains.
Wong said 141 firefighters, 26 ambulances as well as the civil and government flying services joined the rescue operation.
As rescue vehicles could not reach the peak due to the frozen roads, firefighters had to hike three to four kilometres to get to the victims.
"I would like to take the opportunity to tell the public: do not to go up the hill anymore," said Wong. "The cold weather has caused roads to be covered in frost. Whether it is vehicles or people, anyone passing through is likely to face slippery and dangerous conditions."
Schools to suspend classes
The Education Bureau announced Sunday evening that kindergartens and primary schools, schools for children with physical disability and schools for children with intellectual disability will be suspended on Monday due to the cold weather.
But the schools will remain open and adopt contingency measures to take care of students who need care.
Classes at secondary schools will be held, parents are reminded to equip children with sufficient clothing. They were reminded they may also need to consider curbing outdoor activities.
Meanwhile the Social Welfare Department advised parents to keep their children away from schools and kindergartens.
"Members of the public are advised not to take their children or family members to child care centres and day rehabilitation units, including sheltered workshops and day activity centres tomorrow (January 25)," the department said in a statement.
"These centres however, together with all elderly centres, will remain open to serve those whose families cannot provide alternative care."
Extreme conditions force fun run to be cancelled
The
Vibram Hong Kong 100 trail run was closed down
by organisers as runners met with ice and snow showers over Tai Mo Shan in the final kilometres of the race. Runners participating in a 100km trail run also struggled to finish the final parts of the Maclehose Trail that crossed paths with eager "frost chasers".
Just over half of the 1,400 runners were able to complete the race before organisers declared conditions were too dangerous and forced the event to an early finish.
"Due to ice on the descent from Tai Mo Shan the race is stopped," said the organiser's Facebook page at around 6am. "Runners are urged to get to the nearest [checkpoint], and to return to the city by any available means."
"The freezing conditions are creating carnage of all sorts. Currently trying to get runners off Tai Mo Shan. There's a lot of ice in the roads and it's treacherous from the top. Rescue services are working hard," reported a later update.
Despite the conditions, most of the competitors appeared to be in good spirits during and after completion of the race.
"It's too cold. Even if I wore more clothes it would still be unbearable," said one runner, shivering in a thin windbreaker. He said the organisers had warned them of "sub-zero temperatures", but he appeared unprepared.
By late Sunday morning, the mercury was still lingering at about four degrees in urban areas, while the Observatory said sub-zero temperatures on high ground was still causing freezing rain and icing.
There were also reports of rain with "small ice pellets" in other parts of the territory. Farmers were reminded to protect their crops from ground frost.
In Ta Kwu Ling and Lau Fau Shan, temperatures dipped to around two degrees at 10am on Sunday, while at Tsuen Wan's Ho Koon, the weather was just one degree above zero.
"Hong Kong will be affected by the intense cold front for a few more days," said Observatory senior scientific officer Lee Lap-shun. "The temperature … measured this morning was just 3.3 degrees."
He said only in the latter half of the week would temperatures see an uptick. The weather forecast for Monday is "very cold" and "windy". It will remain cold on Tuesday and Wednesday.
The Centre for Health Protection reminded the public, particularly the elderly and persons with chronic illnesses, to adopt appropriate measures to protect their health amid the cold weather.
A chilling day at the races
Hong Kong's famous horse racing industry also took a big hit during the big chill, with severely reduced numbers at the racetrack, with much discussion of the requirement for jockeys to wear silks instead of something more appropriate for the wintry conditions.
Hong Kong's cold sets new records
The Hong Kong Weather Observatory reported a low of 3.1 degrees was the third lowest temperature for Hong Kong, while the -5 degrees reported on Tai Mo Shan in the early hours set a record low.
Observatory assistant director Edwin Lai Sau-tak said while the record for lowest minimum temperature measured at the Observatory's head office in TST had not been broken yet – it dropped to zero degrees in Hong Kong in 1893.
While Sunday was not the coldest day on record – average minimum temperatures went down to 3.1 degrees according to the Observatory in the afternoon – it certainly was one of the coldest at its Tai Mo Shan station, where the minimum temperature recorded yesterday was -5.7 degrees.
The subzero temperatures recorded at Tai Mo Shan last night did however, break the record for coldest ever recorded. It was possible the mercury at Ta Kwu Ling had not reached its lowest point.
Lai said the intense cold surge was amplified by a strong wind chill which made it feel colder.
He said the cold front was an extreme weather phenomenon. Under climate change and global warming, such cold snaps would become increasingly rare in the future, he added.
WATCH: Unverified video of sleet falling in Yuen Long, in the New Territories
Reports of rain with "ice pellets" and "freezing rain", as the Observatory dubbed them, were reported in several parts of the territory including Yuen Long, Kam Tin, Sheung Shui and Ta Kwu Ling.
Meteorologically different from snow and rain, "freezing rain" occurs when snowflakes descend into a warmer layer of air and melt completely before refreezing on contact with the surface.
Similarly, "ice pellets", sometimes known as sleet, occur when snowflakes partially melt when they fall through a shallow layer of warm air and refreezes before hitting the ground. They usually accompany rain.
Earlier this week the Hong Kong Observatory had predicted a polar vortex would descend upon northern mainland China, affecting Hong Kong with an 'intense' cold surge.
The polar vortex normally circles the Arctic, but the
HKO weather blog
reported last year that a distortion of the vortex had occurred due to climate change, affecting the jet stream which normally pushes it around the northern regions of the planet and allowing the vortex to spread south.
A photo posted by Jacky Yiu (@jack_ykc) on Jan 23, 2016 at 6:24pm PST
"It is vital for all of us to aware that the impacts of global warming are imminent, even though perhaps the occurrence of a record breaking cold season may prompt some people to cast doubt on global warming," the blog stated.
The coldest temperature ever recorded in Hong Kong was in 1893, when temperatures hit zero – and has recorded snow falling on four separate occasions in 1967, 1971 and 1975.
And if you think that's bad, parts of Guangdong freeze as residents try to make snowman
China's national observatory on Sunday renewed its orange alert for a cold wave amid the coldest weather in decades.
The Guangdong region was predicted to approach, and in places drop below, zero degrees, the National Meteorological Centre told Xinhua.
Guangzhou taxi driver Wang Jun said he hadn't seen sleet in his 20 years working.
"I got up at 6am today to work, and there was small ice hitting the windscreen of my taxi. It stopped for a while, but happened again half an hour later. And then there was sleet at about 11am," he said. "I have been in Guangzhou for 20 years, and it is the first time I've see that. It is very beautiful."
And the 595.6 metre high Canton Tower caught enough sleet and ice to pull together a snowman, believed to be at the top of the tower.
Meanwhile other areas in central and eastern China were reportedly 6 to 8 degrees lower than the average historical level.
China has a four-tier warning system for severe weather, with red being the most serious, followed by orange, yellow and blue.