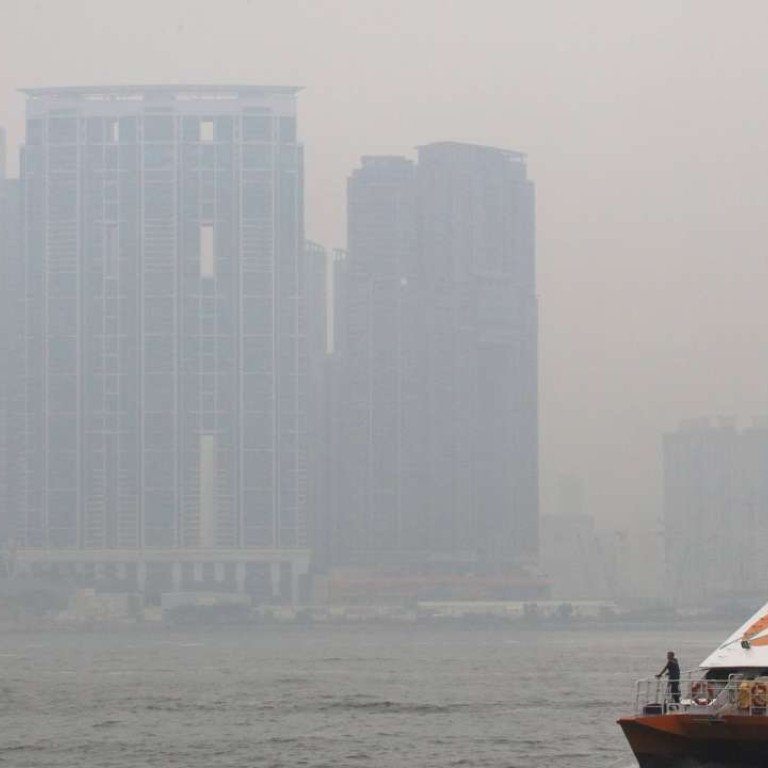 Update
Typhoon Nida: Hong Kong locked down by year's first No 8 storm
Centre of storm brushes past Hong Kong and is within 40 kms of the city on Tuesday morning; over 150 flights cancelled
Hong Kong was shut down by the first major typhoon of the year, as low-lying areas of Hong Kong were put on a flood alert after Typhoon Nida brushed past the city.
The year's first No 8 warning signal was raised at 8.40 pm on Monday. ­Typhoon Nida made landfall near the Dapeng Peninsula, Guangdong Province at 4 am on Tuesday as it showed signs of weakening by heading inland. The storm brushed past Hong Kong and was 40 kms northeast of the city.
While high winds persisted, the threat turned to flooding in low-lying areas of Hong Kong.
The combination of gales forcing water up from the South China Sea into Victoria Harbour and coastal areas of Hong Kong during high tide prompted flood alerts as the wind direction of the typhoon changed to a southwesterly direction.
Heavy rain prompted the Observatory to issue an amber rainstorm warning at 5.20 am on Tuesday after more than 60 mm fell in many parts of the territory.
"We will be affected by heavy rain, that's why I think all regions may have a risk of flooding due to the heavy rain, not just the high tide and storm surge," said Sandy Song Man-kuen, senior scientific officer at the Observatory.
"If an area is prone to high tide, is a low-lying area, it could be at risk, which is why we remind the public in these areas to take precautions."
Hong Kong-based storm chaser James Reynolds said Nida was the "biggest threat" to the city since typhoon Vicente in 2012, which triggered the first No 10 storm signal since 1999.
Trading in the Hong Kong stock market will be suspended on Tuesday if the signal No. 8 is not lowered by noon, the guidelines set by market operators Hong Kong Exchanges and Clearing said.
As of 3 am on Tuesday, the authorities were aware of 14 trees knocked down across all parts of the city from Tuen Mun, Sai Kung and to Kowloon Tong. No injuries, flooding, landslides or power cuts had been reported.
Nida – a traditional Thai woman's name – was expected to intensify on its expected track, west-northwest towards the vicinity of the Pearl River Estuary at a speed of 25 kms per hour.
The Observatory said as Nida edges closer local winds would strengthen rapidly. Strong winds were generally prevailing over the city, with gale storm winds seen on higher ground.
Reynolds, who is observing the storm from the harbourfront in Kennedy Town, said the storm had been tamed somewhat.
"I think the storm lost a lot of energy as it scraped the coast to the east of Hong Kong," he observed. "The storm was looking pretty strong and if it passed 50 kms further south would have hit Hong Kong very hard."
After the No 3 warning signal was issued on Monday, the city started battening down the hatches, as windows were taped, public schools shut, public functions called off and 156 flights cancelled, leaving passengers stranded at the airport.
A No 8 signal means gale or storm force winds are blowing at sea level with sustained speeds as high as 117 kms/hr, and gusts of up to 180 kms/hr.
Winds began strengthening after dusk on Monday accompanied by rain, and stirring up increasingly choppy seas. Storm surges, coupled with high tide, were expected to cause flooding in low-lying areas, and drainage officials said they would have emergency relief measures in place at black spots.
On Monday night, the government ­activated its interdepartmental emergency monitoring mechanism, anticipating squalls, heavy rain and rough seas.
Observatory senior scientific officer Queenie Lam Ching-chi would not rule out the possibility of raising the alarm beyond No 8.
"The need for an even higher storm warning will depend on the intensity and location of Nida, as well as the wind conditions in Hong Kong when it comes close," she said.
Alternative forecaster Weather Underground put the odds of a No 10 signal at 50 per cent.
There were long queues at airport counters as frustrated air travellers scrambled to get their flights sorted out.
On Monday, the Airport Authority said 156 departing and incoming flights had been cancelled.
Cathay Pacific and Dragonair announced at noon that all flights between 10 pm on Monday and 2 pm on Tuesday would be suspended as a precaution. The carriers urged passengers to postpone or scrap non-essential travel as additional flight cancellations, diversions or delays were expected, possibly until Wednesday.
Hong Kong Airlines and HK Express have also suspended flights until Tuesday afternoon.
In the city, businesses in flood-prone areas were taking no chances.
"I've seen floods drown our shop in previous years in almost waist-deep water," a Chinese medicine seller in Sheung Wan said, as he prepared to move all his stock out of harm's way.
Across the border, Guangdong province was also taking no chances. The authorities said high-speed train services to other provinces and the through-train to Hong Kong would be suspended on Tuesday. Shenzhen airport cancelled all flights from midnight until Tuesday afternoon.
Additional reporting by Danny Mok, Alice Yan and Josh Ye
This article appeared in the South China Morning Post print edition as: Hong kong locked down by year's first No 8 typhoon