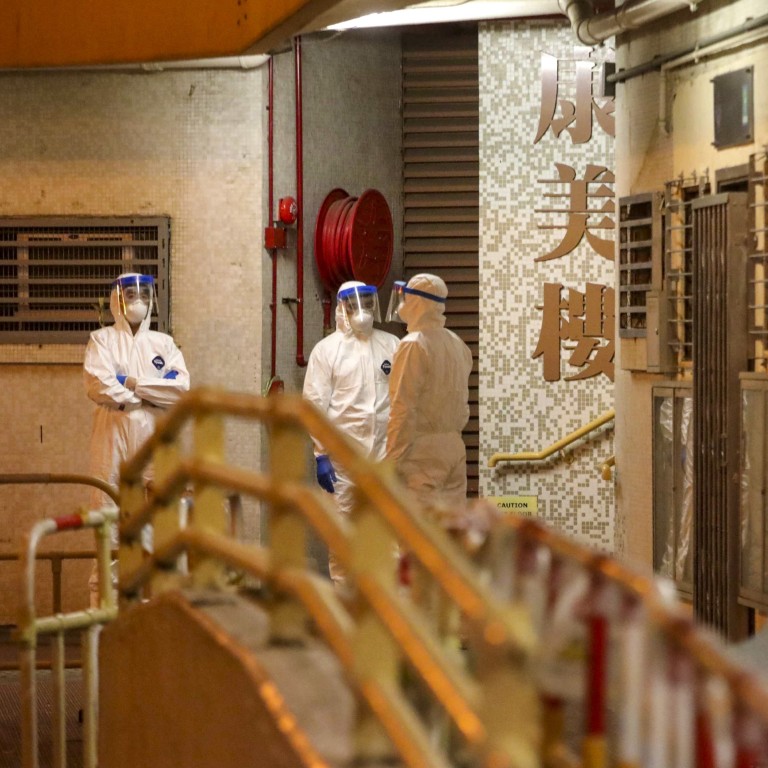 Coronavirus: More than 100 Tsing Yi residents evacuated as Hong Kong health authorities confirm two cases from same block
Precautionary move sparked by case of woman who lives on third floor of Hong Mei House at Cheung Hong Estate
A string of newly confirmed cases citywide reported from Monday evening into the early hours of Tuesday brings local total to 42
More than 100 residents in 35 households at a public estate in Hong Kong were evacuated in the early hours of Tuesday after two people in the block were confirmed to have contracted the coronavirus.
The precautionary move was sparked by the case of a 62-year-old woman in flat 307 on the third floor of
Hong Mei House at Cheung Hong Estate
. She was Hong Kong's 42nd and latest case as of 1.30am on Tuesday.
She was found to have lived 10 floors directly below a man in flat 1307, who was confirmed earlier to be Hong Kong's 12th case.
Yuen said a vent pipe, which connected to a discharge pipe in a bathroom was not properly sealed and could have carried the virus –
present in faeces
– into other toilets by extraction fans.
"When a person turns on the exhaust fan inside the toilet, the air inside the drainage system can enter via the ventilation pipe," he said.
As a precaution, Yuen said all flats numbered seven on every floor had to be vacated so their piping could be inspected.
"We have reasons to worry that airborne transmission is a possibility," Yuen said, adding that authorities were not ruling out other routes, such as contact.
Residents whose flats had the same piping issue would be quarantined for 14 days, even if they showed no symptoms, he added.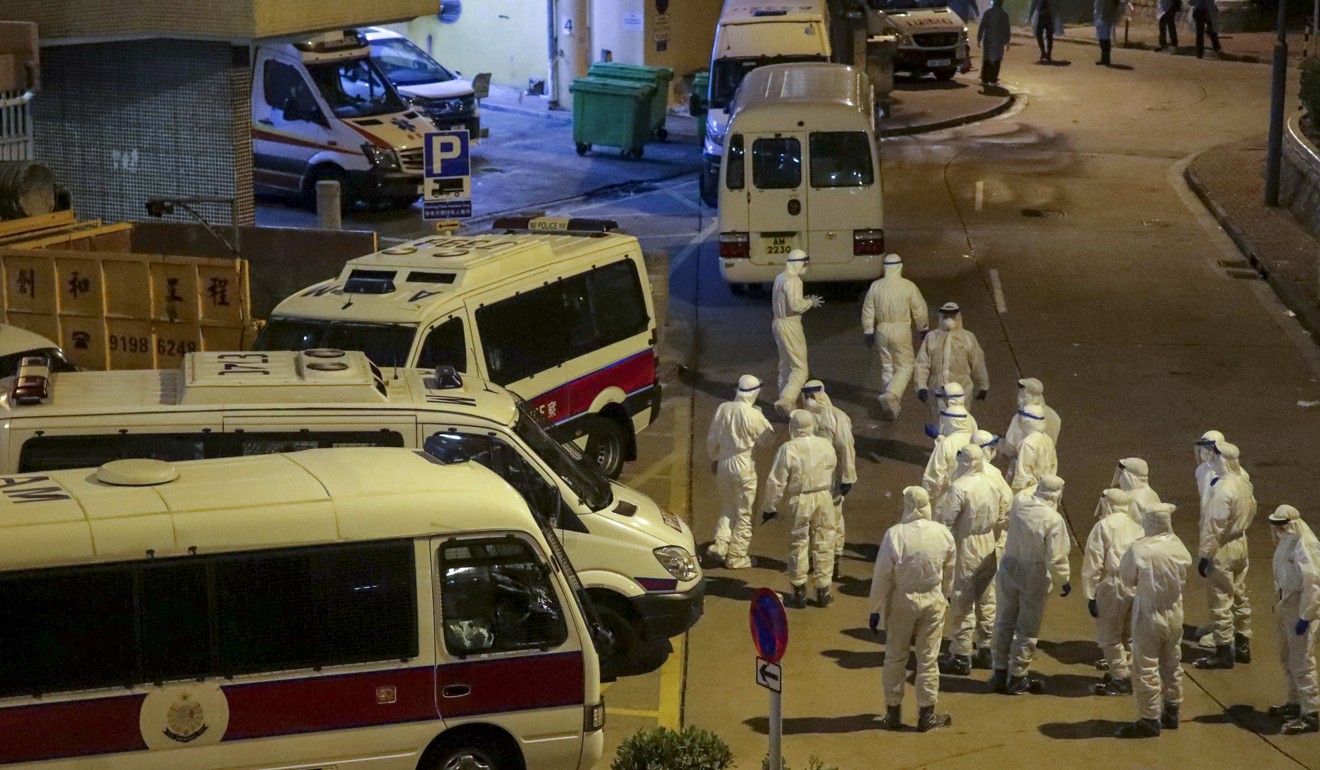 In the 2003 case, it was reported that a U-shaped plumbing design in the drainage system of flats allowed the Sars virus in, with transmission throughout the block mainly through this channel.
Amoy Gardens recorded 321 infections with 42 deaths.
In Tsing Yi, residents living in 35 flats linked to the drainage system were evacuated overnight and put on medical surveillance, as building inspectors moved in.
Dr Wong Ka-hing, controller of the Centre for Health Protection, said the evacuation was a "safety precaution".
"We are not sure what was the exact route of transmission … It could still be through the usual method of droplets or contact," Wong said.
He added that residents could move back soon if inspectors found the piping in their residences to be in order, adding he did not know the exact number of people evacuated. Police put an initial estimate at 110.
Microbiologist Yuen
said it was not possible to evacuate more than 1,000 residents in the building over two confirmed cases, and that the priority was to ensure the safety of the affected flats.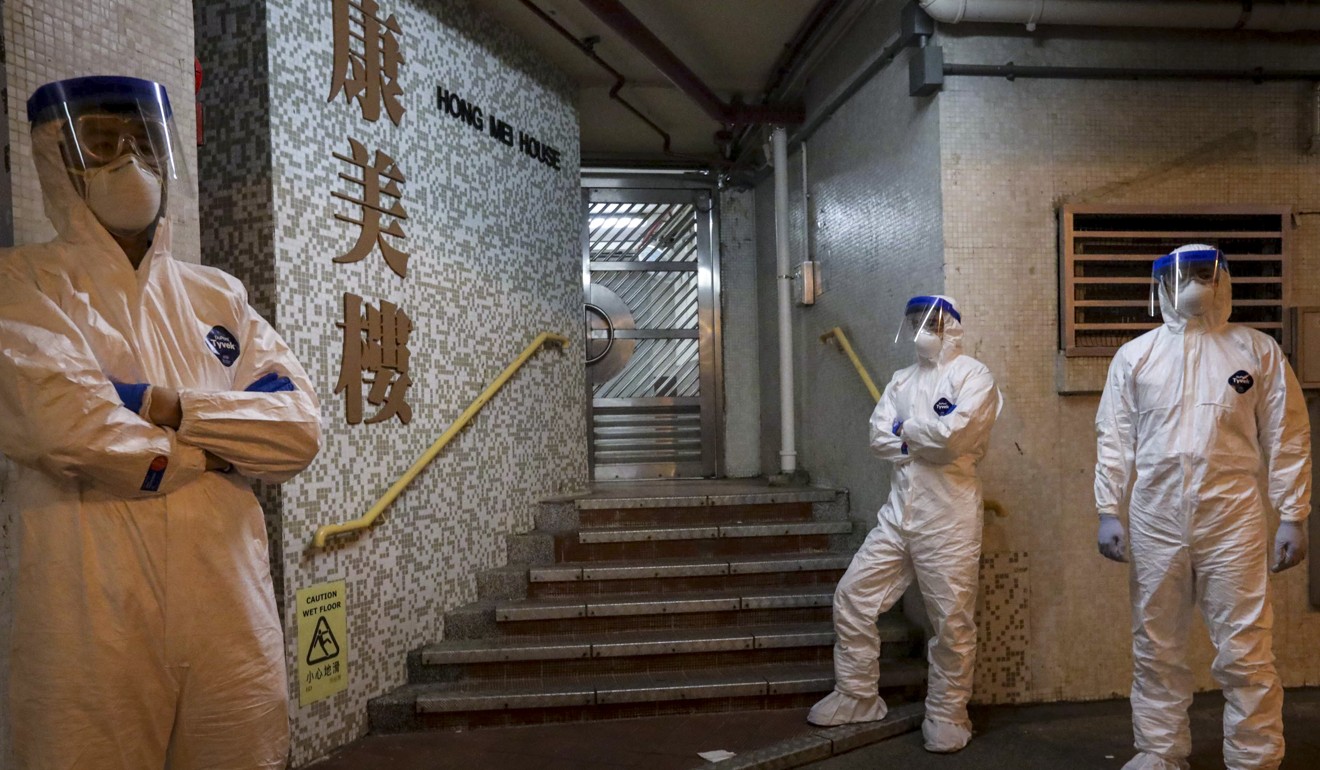 According to health authorities, the woman at the centre of the incident developed a cough on February 3 and consulted a private doctor three times between then and February 7.
She then sought treatment at Princess Margaret Hospital on February 9 where she was isolated after she tested positive for the coronavirus. She is in stable condition.
The woman's records showed she visited Macau from January 18 to 19. Her son and daughter-in-law who lived with her also displayed symptoms and were sent to hospital. Her husband and grandson, who are asymptomatic, will be quarantined.
The taxi driver who drove the patient from her home to the hospital at around 2pm on February 9 is urged to call the Centre for Health Protection's hotline.
Residents from the Tsing Yi block will be sent to one of four
quarantine centres
operated by the government. Those showing symptoms will be sent to hospital and tested for the virus.
The late-night revelation raised concerns that Hong Kong was facing a community outbreak of the pneumonia-like illness that originated in the mainland city of Wuhan.