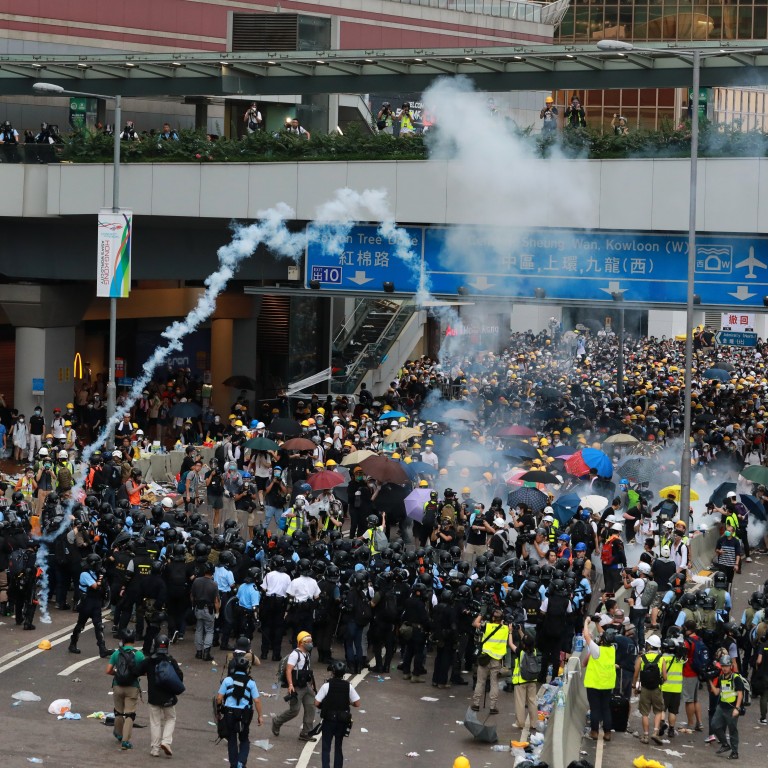 Teacher from well-known Hong Kong school among four arrested in public hospitals after clashes with police at anti-extradition protests
Three of the men were injured and one was accompanying a friend; all had told staff they attended Wednesday's protest
All four were arrested on suspicion of rioting
An injured teacher from Hong Kong's well-known Diocesan Girls' School and three other local men were arrested in public hospitals for rioting on Wednesday evening, hours after clashes between anti-extradition protesters and police outside the legislature and government headquarters.
The four were among 11 people arrested after the protests for offences including disorderly behaviour in a public place, illegal assembly, assaulting police and other riot-related offences.
The teacher, named as Raymond Yeung, who had an injury above his right eye, was picked up along with two others at Queen Elizabeth Hospital in Yau Ma Tei and the fourth suspect was arrested in Kwong Wah Hospital, according to a law enforcement source.
"The three wounded told medical staff they had been injured during the clashes and the unhurt suspect said he had also been in Admiralty to take part in the protest," he said.
Writing on his Facebook page late on Thursday, Yeung apologised for causing many people to be worried, but insisted he did the right thing.
"From beginning to end, I acted in accordance with my conscience, I have no regrets," he wrote.
Clashes broke out between hundreds of protesters and police on Wednesday when the demonstrators occupied roads near the Legislative Council to stop lawmakers resuming the debate on the government's extradition bill.
The bill, if passed, would allow the transfer of fugitives to jurisdictions Hong Kong does not have an extradition deal with, including mainland China, where, critics say, suspects would not be guaranteed a fair trial.
In addition to the teacher, those arrested included a university student and an IT worker.
Detectives, including anti-triad officers from Yau Tsim police district, were called in after medical staff notified police.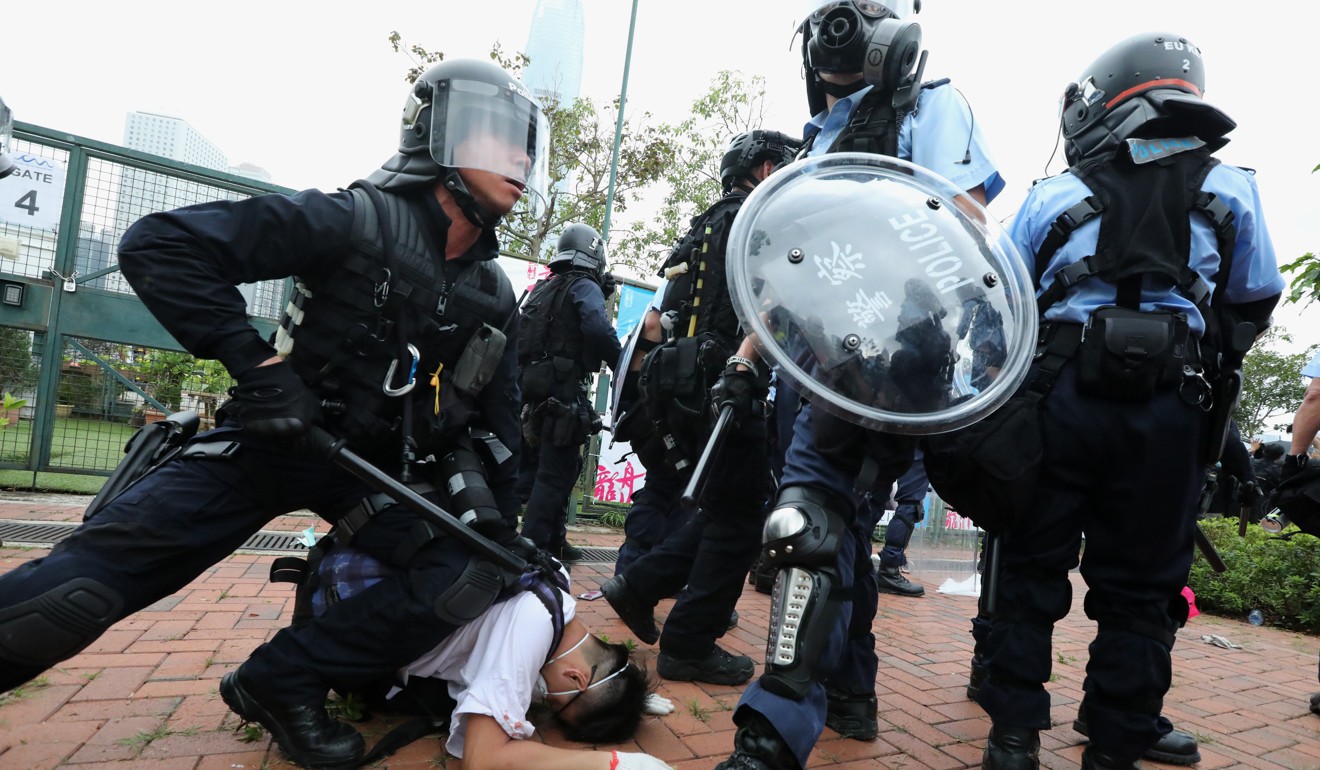 Officers arrested the four men on suspicion of rioting. "But the four suspects remained silent during the interview with police," the source said.
Police said on Wednesday that the clashes between the officers and protesters around Admiralty after 3pm that day were classified as a riot.
The four were being held for questioning on Thursday afternoon and were likely to be released on bail, the source said earlier.
A spokeswoman for Diocesan Girls' School confirmed that a liberal studies teacher, Raymond Yeung, who has taught there for about two years, suffered an eye injury during the protest on Wednesday.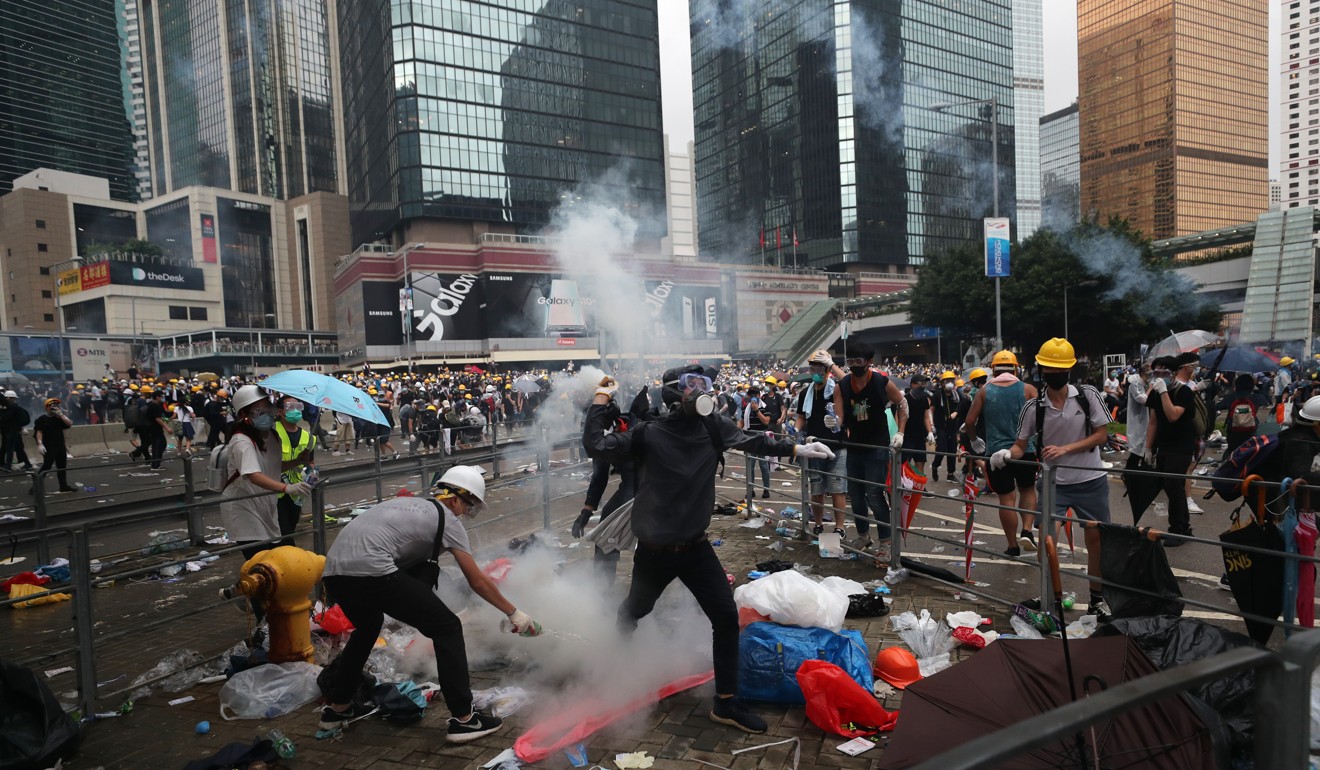 She said Yeung's family called the school on Thursday, saying the teacher, who was still in hospital, had received initial treatment and his situation was stable.
The school has yet to reply to the Post's questions about the arrest of Yeung, who refused to be interviewed after being released on bail.
The two other protesters arrested at Queen Elizabeth Hospital were a student at City University and a 27-year-old male alumnus of Baptist University, according to the student unions of the two schools.
The City University student said he was apprehended by police when he was collecting medicine at Queen Elizabeth Hospital on Wednesday. The officers said he was arrested for rioting.
"I was suspected from the minute we paid the bill, because of what we were wearing, casual all-black sportswear," the man said.
He recalled that police officers tried to overhear his conversation with a nurse about how he got hit with a hard object and arrested him soon after.
A spokesperson for City University said it was very concerned to learn about a student was being arrested and that the university hoped to contact students who were arrested or injured to provide help.
The alumnus from Baptist University said he had just accompanied the City University student to the hospital. "We are not even carrying an umbrella," he added.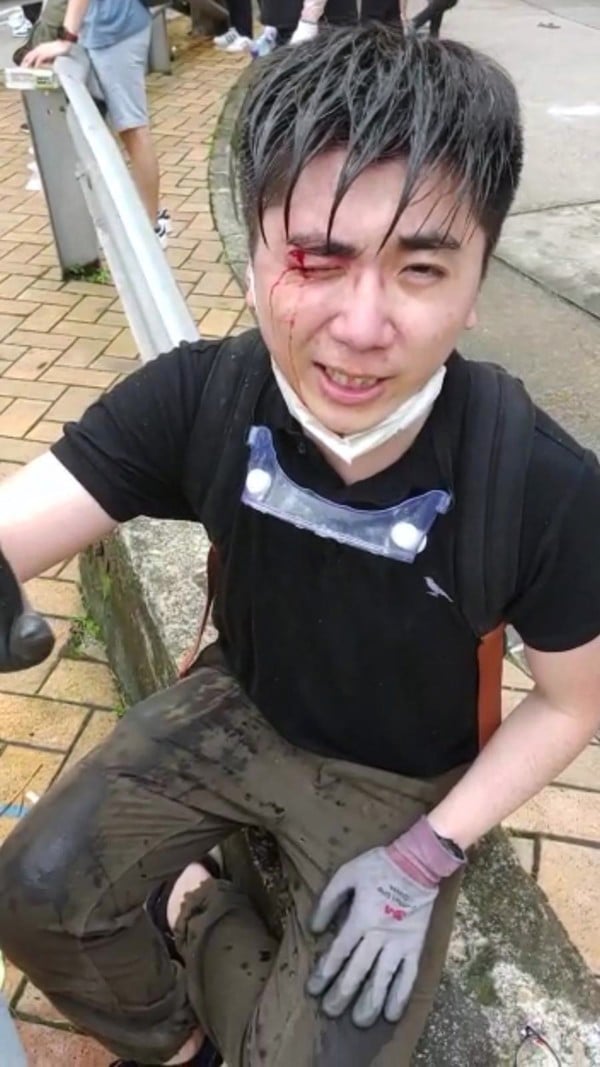 A Baptist University spokesman said the university has not received any request for help from current students and urged students to express their views in a peaceful, reasonable and lawful way.
Two students from the University of Hong Kong (HKU) were arrested for loitering, and one of them was invited by the police to consent to a search of his dorm, according to another HKU student, who wish to remain anonymous. But the student in question did not sign the document, he added.
The Post has contacted HKU for comment.
Meanwhile, Jacky So Tsun-fung, president of Chinese University's student union, said a male student, who was in second year, was detained as he was delivering resources for protesters on Hong Kong Island.
The Post has contacted the school for comment.
On Thursday, Rocky Tuan, vice-chancellor of Chinese University wrote to students, expressing deep concern over the "recent incidents" in the city.
He noted some of his students were injured and detained, and strongly urged all pupils to avoid high-risk sites and pay heed to their own safety as well as that of others.
"Your well-being has been and always will be our primary concern," he said.
Chan Lung-sang, principal of HKU SPACE Community College, also expressed concern over students' safety while also praising them.
"For those of you taking part in the protest, while I appreciate your sincerity and respect the path of action you have chosen to take, please also be aware of the possible consequences that may result," he said in an email to students.
In a separate development, an audio recording of a phone conversation between a concerned mother and a secondary school principal was being circulated on the internet on Thursday.
The mother claimed her son had been encouraged by his teachers to take part in a boycott of classes, which was initiated by pupils in at least 72 secondary schools, in protest against the extradition bill.
The principal clarified that the school had only mentioned the bill in its morning assemblies, and told teachers not to encourage pupils to take part in the boycott.
In the wake of Wednesday's clashes and ahead of major strikes expected next week, Secretary for Education Kevin Yeung Yun-hung issued a letter to all head teachers and school supervisors, expressing the government's "resolute opposition" to any class boycott.
He said schools should warn or even take action against those teachers participating in class boycott.
"The school, as an employer, has a duty to manage and supervise teachers," Yeung wrote in the letter penned on Thursday.
"If an individual teacher was absent from class or duty during working hours without the school's permission, the school should clearly point out that is inappropriate and handle the matter according to ordinances, employment ordinances, and school policy."
Yeung called on schools to remind students and parents that some disobedience campaigns could be illegal and students should not take part in them.
"Students should also be vigilant about the messages they circulate online, and give priority to their own personal safety, and do not go to places could be potentially dangerous," he wrote.
An Education Bureau spokesman said operations in local schools were in general normal on Thursday. But some schools in Central, Western and Wan Chai districts experienced more students being late or absent due to traffic disruption and four secondary schools postponed exams.
He noted some students sat silently before classes or exams, adding that teachers should warn students against taking part in illegal activities.
Describing a "riot" situation at Admiralty, Police Commissioner Stephen Lo Wai-chung said on Thursday that police fired more than 150 rounds of tear gas, several rubber bullets and about 20 rounds of beanbags against protesters during the clashes. He denied accusations they had used excessive force.
According to the police, rioting is a serious offence that carries a maximum sentence of 10 years' imprisonment.