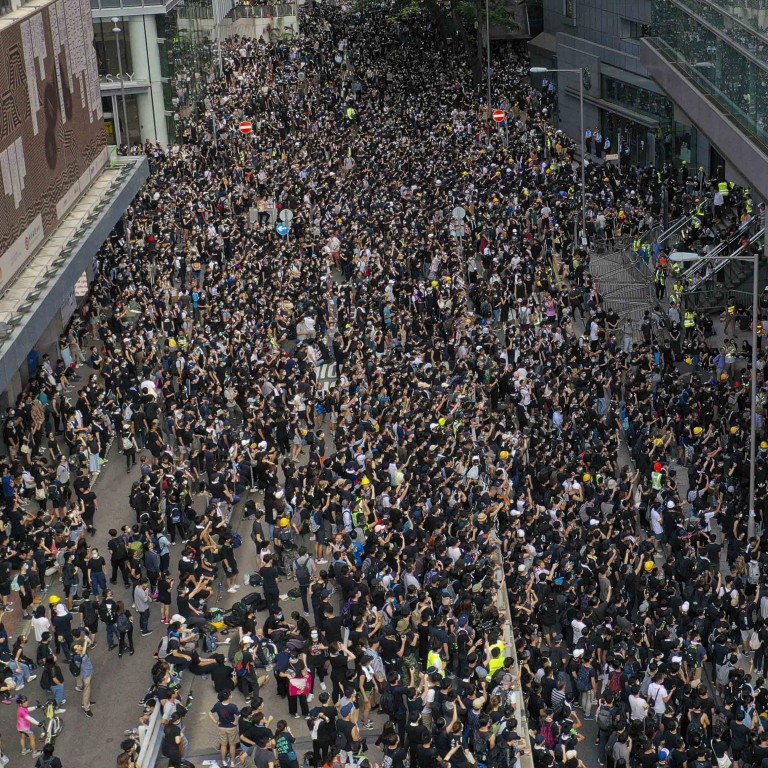 Hong Kong police take no action as anti-extradition bill protesters blockade headquarters with chief Stephen Lo inside
No violence as 4,000 riot police ready for possible unrest
Officers with riot shields stand guard with police chief Stephen Lo known to be inside building
Thousands of protesters besieged Hong Kong police headquarters on Friday, jamming doors, erecting barricades and blocking all street-level passageways in and out of the building. Police took no action to disperse the demonstrators.
Dozens of officers armed with riot shields stood guard at entrances of the Wan Chai complex, with Commissioner of Police Stephen Lo Wai-chung and his deputy, Chris Tang Ping-keung, known to be in the command centre inside the building.
A law enforcement source said about 4,000 riot police were prepared for possible unrest or violence. "They are in police headquarters and in other police stations," he said.
The source said late on Friday night that there were no plans to disperse the protesters unless they stormed police lines.
Earlier, several demonstrators threw eggs at the building, and others used umbrellas to cover surveillance cameras. Insults and verbal taunts were directed at police officers who filmed the protesters with video recorders.
At about 7pm, the crowd blocked officers from leaving the Arsenal Street headquarters and booed when anyone tried to exit.
The protesters had gathered to demand an apology from police for what they felt was the excessive use of force in recent mass protests against the government's extradition bill. Protest leaders were also seeking a meeting with Lo.
Soon after the protesters started to surround the complex, at around noon, a team of police negotiators appealed for them to depart.
"We want to emphasis that this is not a clearance operation," said Yolanda Yu Hoi-kwan, senior superintendent, at a press briefing also around noon.
"We respect the citizens' rights to express their views in a peaceful manner."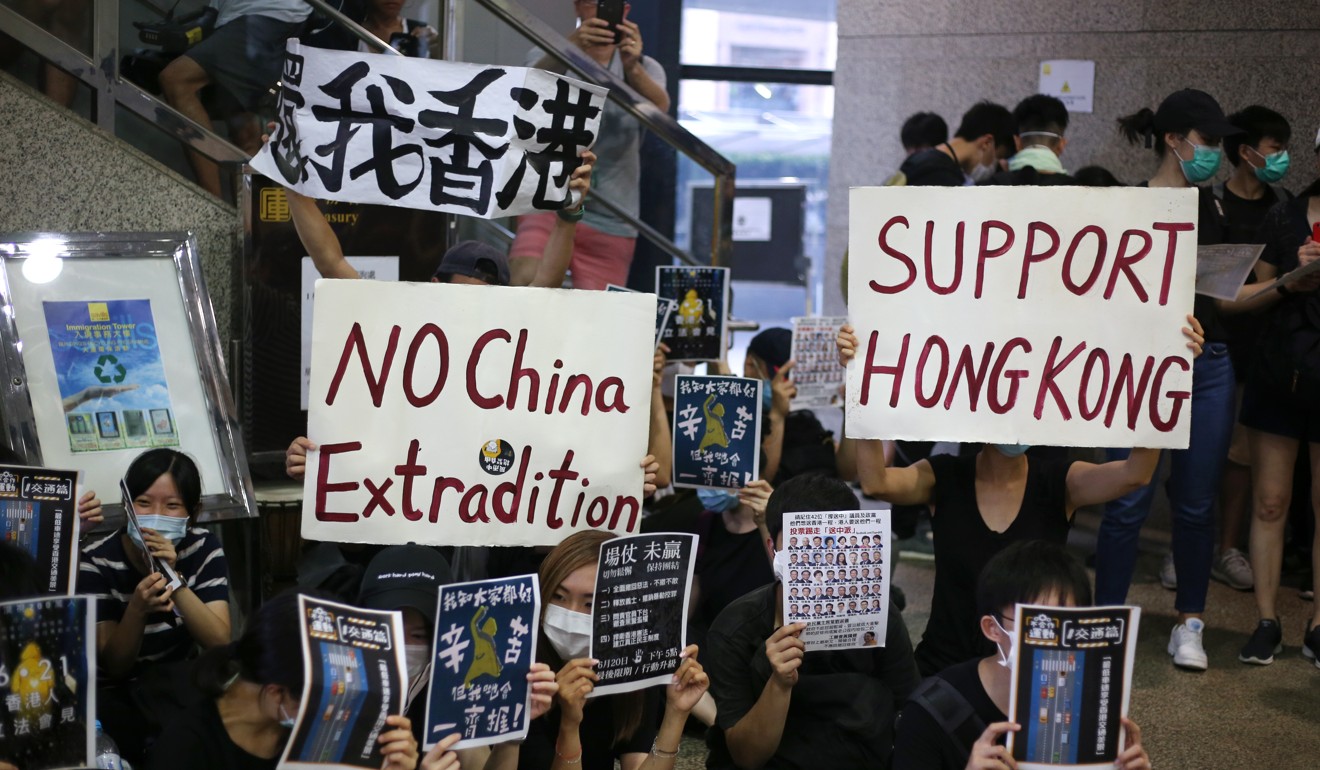 No officers attempted to stop or remove demonstrators who blocked major thoroughfares, including Harcourt Road, and occupied the ground-floor lobbies of Revenue Tower and Immigration Tower in Wan Chai.
Several officers were trapped in a patrol car for about three hours after it was surrounded on Harcourt Road at about 11am and prevented from driving the short distance to headquarters.
At about 2pm, tension mounted when officers from the Police Tactical Unit rushed from the building to help a vehicle enter the complex.
The post on the police Twitter account said: "The protesters refused to maintain dialogue with Police Negotiation Cadre. The patrol car finally returned to police headquarters with the assistance of Police Tactical Unit."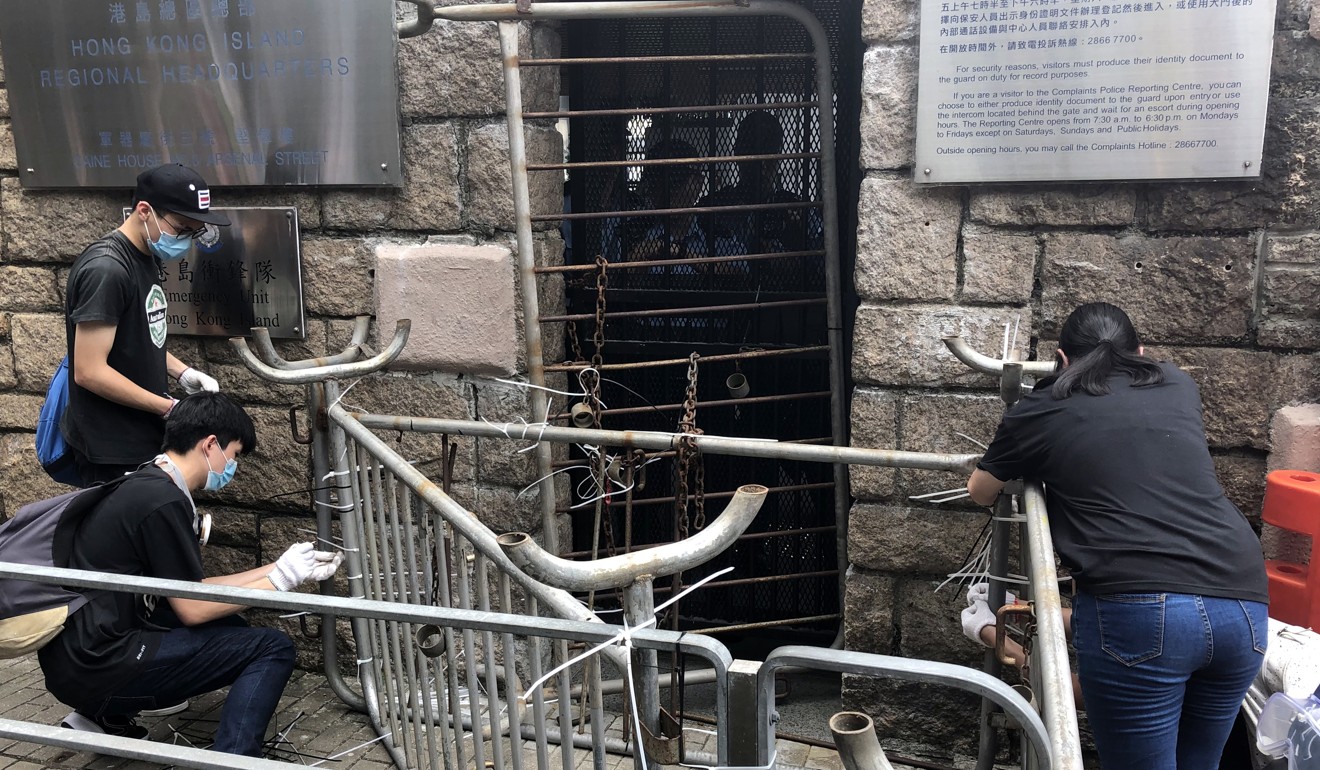 Later, as officers unfurled a banner that read "Police Cordon: Do Not Cross," some protesters stopped them from closing a security gate. The confrontation lasted about five minutes.
The road blockade forced some services inside the complex – including the emergency calls for Wan Chai police station – to be suspended. As of 7pm, police said 46 calls to the emergency hotline 999 could not be immediately responded to.
The force also postponed its commencement parade at the police college in Wong Chuk Hang on Saturday.
Lam Chi-wai, chairman of the 20,000-member Junior Police Officers' Association, said the union "strongly condemned" the protesters' siege of headquarters. He said the demonstrators had neglected the safety of people inside the complex by blocking the entrances.
"The union respects their freedom of assembly – but they are going too far," Lam said.
He added that some of his colleagues were asked by protesters to disclose whether they were police when they left the site.
A police source said officers were told to avoid confrontation and remain calm.
"In response to the expected protest, a lot of food, like noodle cups and energy bars were stocked up at headquarters," the source said.
The restrained, even tolerant, approach to the protesters appeared to be part of the force's new "softly-softly" approach for avoiding confrontation after being criticised for firing tear gas and rubber bullets at protesters last week.
The strategy was adopted after the government announced on Saturday that it would suspend the extradition bill, which would have allowed fugitive transfers with jurisdictions where Hong Kong does not have an extradition deal, including mainland China.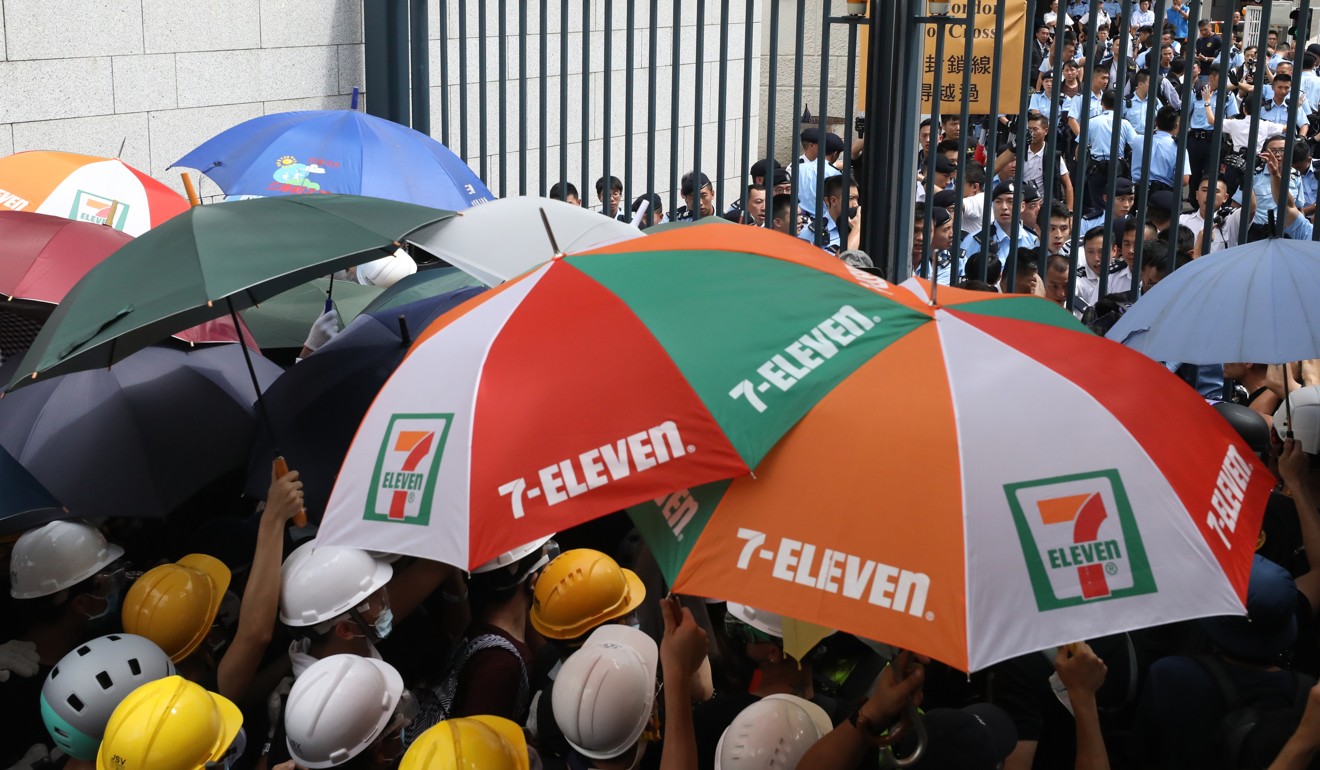 Public outrage over the bill led to huge demonstrations on June 9 and June 16. In violent clashes that erupted over the bill on June 12, demonstrators used sharpened metal poles, bottles, bricks and barriers to storm police defence lines.
In turn, police fired 150 tear gas canisters, 20 beanbag rounds and rubber bullets at demonstrators who occupied roads near the Legislative Council.
After being accused of using excessive force, officers kept a low profile during the June 16 march, which was attended by an estimated 2 million people, almost double the 1.03 million said to have turned out for the June 9 march.
This article appeared in the South China Morning Post print edition as: Police hold back after protesters call for apology