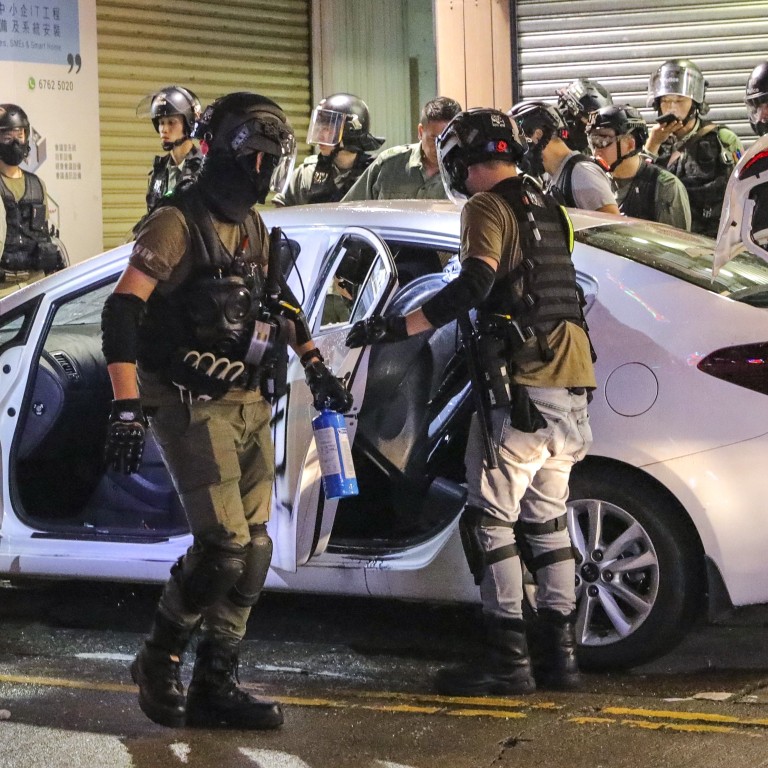 Hong Kong protests: home-made bomb aimed to kill or maim police officers, force says as it condemns weekend of intensified violence and attacks
Assistant commissioner allows officers to carry pepper spray off-duty, a month after extendable batons were issued for the same purpose
Only officers trained in the use of pepper spray will be eligible to carry it during off-hours, and its use will be governed by the force's guidelines
Radicals detonated a home-made explosive remotely on Sunday with the intent of killing and maiming police officers, the force revealed yesterday as it condemned the weekend's escalation of protest violence, during which an officer was also slashed in the neck and two others severely assaulted.
Deploring the "life-threatening, reckless and ruthless" acts of violence unleashed on the city's officers, the force also described the explosive attack as being "similar to terrorist acts around the world". No one was injured in the incident.
At a press conference, Superintendent Suryanto Chin-chiu of the Explosive Ordinance Disposal Bureau, who compared the attempt to terrorism, said the intensity and range of such devices were hard to estimate and could cause serious injury. "This is an escalation of the use of explosives, with only one motive, which is to kill and maim officers in the field," he said.
A police source told the Post the device comprised of a mobile phone, a circuit board, a battery and some high-powered explosives, the ingredients of which still needed to be examined.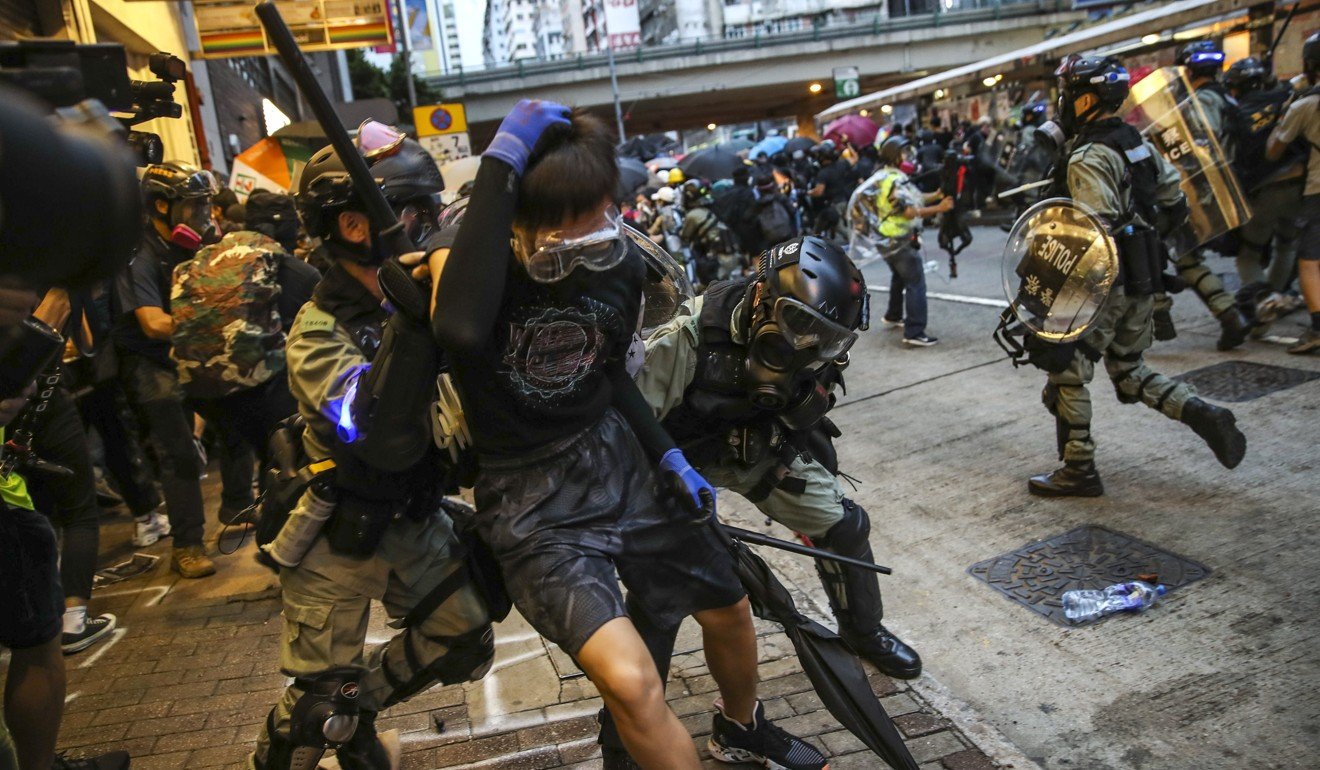 The use of a mobile phone showed the bomb was targeted at police, as the culprits could control the timing of the detonation. 
"We are worried that this was only an experiment, as the damage caused this time was small. If you want to target a police van, you wouldn't have caused just a loud bang. They may use a larger quantity of the explosives next time," he said. 
He added the bomb was believed to be an improvised one made through the mixing of raw materials, as it was difficult to get such a device into the city.
Suryanto said the explosion took place shortly after 8pm on Sunday in a roadside flower pot at the intersection between Fife Street and Nathan Road in Mong Kok. Police officers were there to clear roadblocks set up earlier by protesters.
They left their vehicle and walked about 10 to 15 metres, before they heard a loud bang and found the explosive device two metres away from the police van. The explosion left a big hole and burnt marks in the flower pot.
Suryanto said a similar device was last found during a police raid in Tsuen Wan in July, but there was no evidence the two bombs were related.
"The intensity of this explosion was not that great," he said. "It only requires a basic level of understanding of chemicals and electrical components, but a longer time of experimentation to make it."
Hong Kong has been gripped by more than four months of increasingly violent street protests sparked by opposition to the now-withdrawn extradition bill. Demonstrations have now morphed into a full-fledged anti-government movement, focusing on alleged police brutality and lack of democracy.
On Monday night, a peaceful rally attended by tens of thousands was held at Chater Garden, a rare respite from the violent clashes between protesters and police that had become more frequent and more vicious. Mobs had over the weeks attacked officers with petrol bombs and bricks and lately, begun hitting them.
Riot police have fired tear gas and rubber bullets in response and earlier this month shot an 18-year-old boy in the chest, and a 14-year-old in the leg after they were attacked.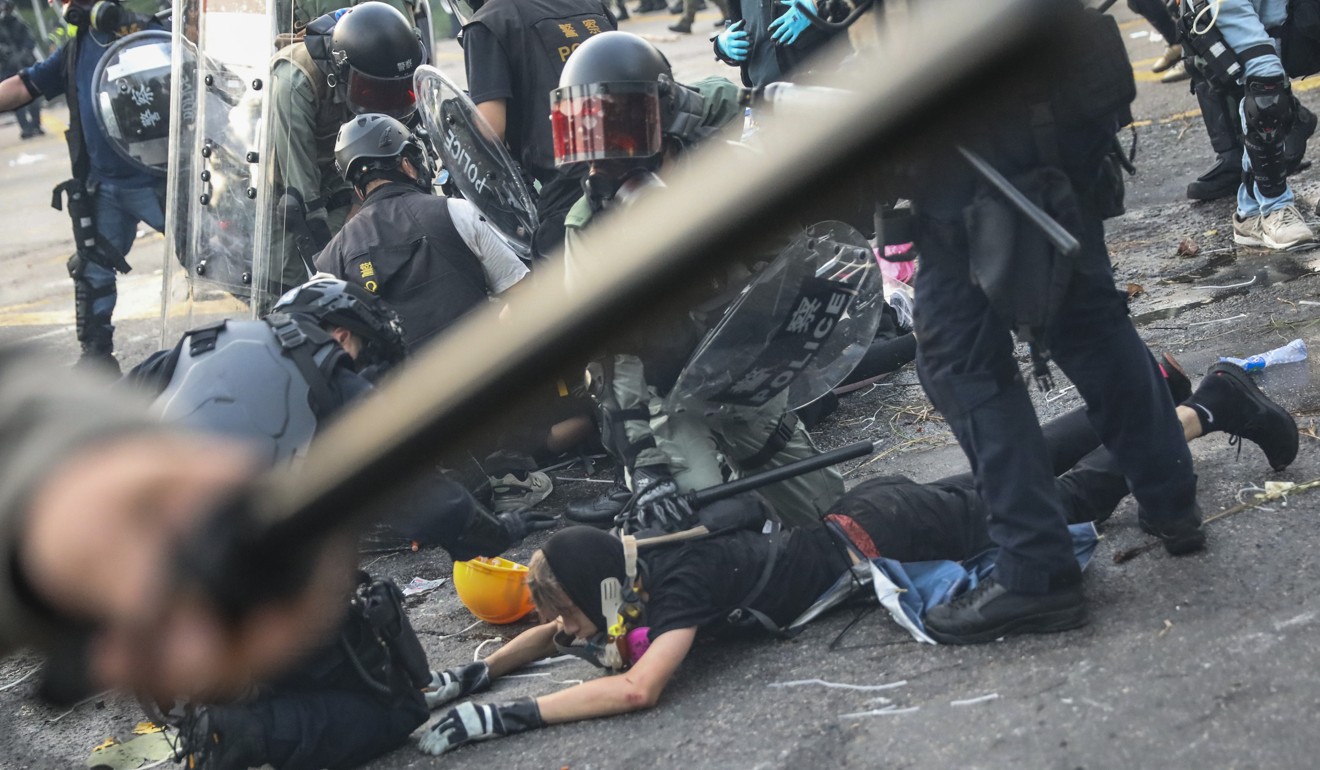 On Monday, police top brass confirmed that 201 people between the ages of 14 and 62 were arrested from last Friday to Sunday, for unlawful assembly, arson, criminal damage, possession of offensive weapons, among other offences. A total of eight rounds of tear gas, 10 rounds of rubber bullets, 26 beanbag rounds and seven sponge bullets were fired.
Deputy Commissioner of Police Chris Tang Ping-keung hit out at the "life-threatening level of violence by rioters", condemning the knife attack in Kwun Tong and the assault on officers in Tseung Kwan O on Sunday.
In Kwun Tong, a sergeant was slashed with a box cutter by a protester, and left with a 3cm (1.2in) wound to his neck. The officer had been deployed to Kwun Tong MTR station at about 5.30pm, responding to reports of criminal damage by a group of men wearing black.
The group had left the scene by the time the sergeant arrived, but a black-clad protester suddenly emerged from the crowd and stabbed him with the cutter, injuring his jugular vein and nerve.
On the social media platform Telegram – which protesters use regularly – at least one post could be found yesterday showing the anatomy of a human neck. "If a knife is stabbed at carotid arteries [indicated by blue lines], the bleeding will not stop," the post said, urging users to "share this with radical protesters".
In the Tseung Kwan O incident at about 7.30pm, protesters sought out two plain-clothes officers and beat them with hard objects, the force said.
One officer was seen saying sorry to the assailants as blows rained on him. The pair suffered multiple injuries and were left bleeding on the head and bodies. Both were sent to Tseung Kwan O Hospital and were reported to be in a stable condition yesterday.
In a toughening stance against the protesters, the Department of Justice also applied to the High Court on Monday for two injunction orders to ban any attempt to damage and obstruct access to all 21 police officers' quarters and to trespass, damage or deface the premises, including the use of laser lights. It won an interim order banning protests near these areas pending a full hearing.
The court would see whether any objections are raised by any parties in the next 14 days. The next hearing is on October 25. A DOJ spokesman said the injunction bid was to protect public interest and the residents of the quarters.
On Monday, the police also announced that off-duty police will from Tuesday be given pepper spray to "execute constabulary duties" amid the increasingly violent clashes with anti-government protesters.
The crowd-control device has been commonly used for public order policing in Hong Kong.
An internal memo said only officers trained in the use of OC Foam would be eligible to carry it during off-duty hours, and its use would be governed by the force's guidelines.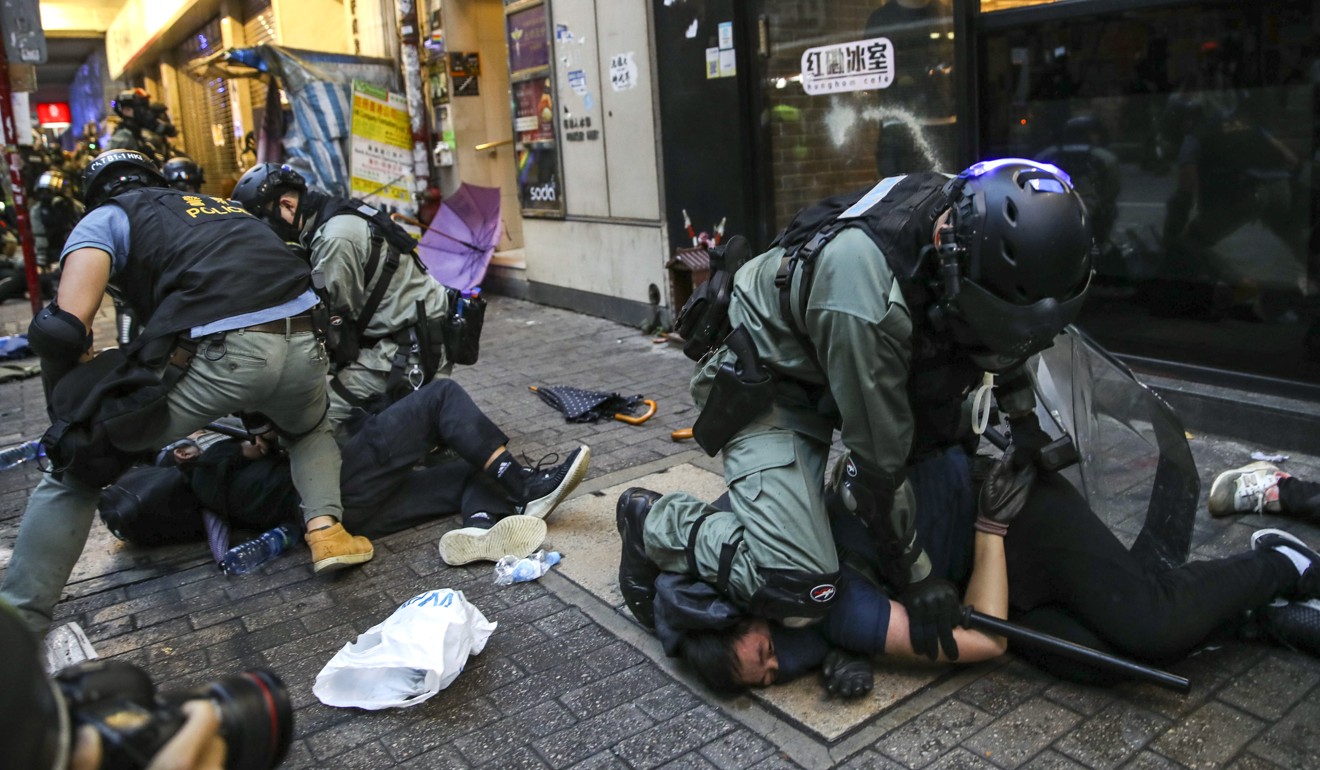 But on Monday, police also came under heavy criticism for firing a beanbag round at a Now TV station driver, then allegedly beating him inside Mong Kok Police Station early on Monday, leaving him with nine wounds on his body.
Acting Chief Superintendent Kelvin Kong Wing-cheung, of the public relations branch apologised for the incident, saying he had been taken in for his own safety as clashes were happening. The force promised an investigation.
Meanwhile, on Monday, Basic Law Committee vice-chairwoman Maria Tam Wai-chu said in an interview with Xinhua news agency that Hong Kong should consider setting a special court to deal with cases related to the recent social unrest.
Tam said many overseas countries also set up special courts to tackle rioting-related cases and Hong Kong should follow suit in order to speed up the judicial process.
In response, Civic Party lawmaker Dennis Kwok criticised the suggestion, saying it was "unwise" and would only create more fear in society and could probably result in judicial reviews to challenge its legality, and put the court under even greater political pressure.
But Professor Simon Young, a legal scholar at the University of Hong Kong, warned radical protesters that their violent destruction of MTR stations could be considered terrorist acts and they risked life imprisonment.
Citing the United Nations (Anti-Terrorism Measures) Ordinance, Professor Young said: "Intentionally bombing an MTR station with intent to cause extensive destruction of the station and likely to result in major economic loss is punishable by life imprisonment."
"Protesters need to realise that they have already achieved a lot, and the results will be seen in the upcoming District Council and Legislative Council elections. Any further protest and disobedience is only of marginal utility," he said, adding an independent inquiry was needed.
"What government needs to work on now is restoring people's trust in the police and government."
This article appeared in the South China Morning Post print edition as: radicals tested Home-made bomb