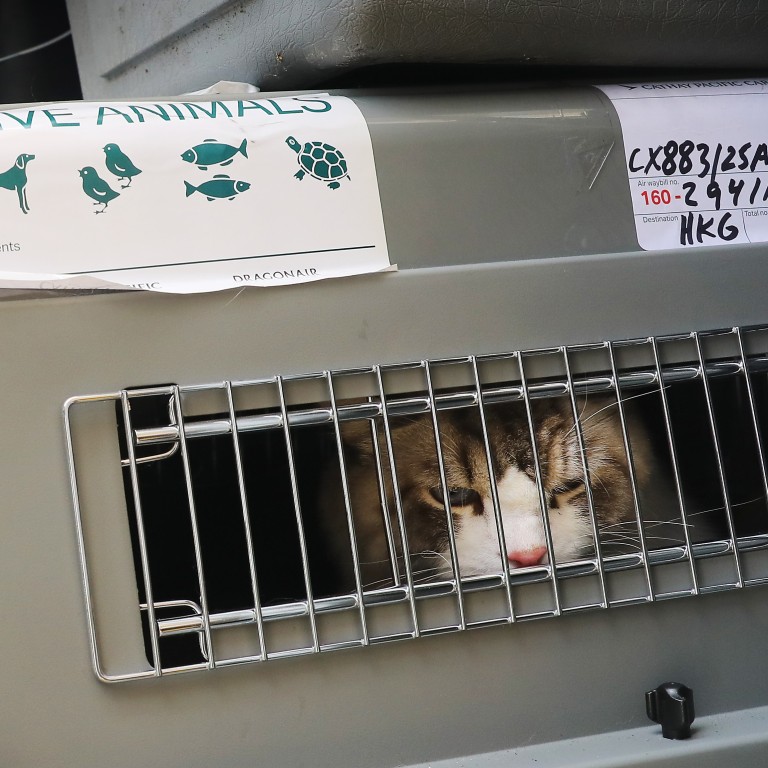 Hong Kong police arrest three more in latest swoop linked to grisly pet-smuggling racket
Police raid animal facilities in Kowloon and New Territories during operation targeting those illegally transporting animals
Probe took a dark turn last week when crates of dead cats and dogs found washed up on Hong Kong beaches
Hong Kong police have made three more arrests as part of their probe into a suspected smuggling racket with possible links to the carcasses of 15 dogs and cats found washed up on beaches and reports from dozens of mainland China pet owners of dead or missing animal companions.
The pet owners had entrusted agents to ship their animals from overseas to the mainland via the entrepot of Hong Kong after completing studies or postings abroad.
A man and two women, aged 44 to 56, were detained on Monday when officers from police, customs, the animal welfare authority and a charity raided an animal hotel, PetPet360, in Mong Kok and two village flats in Yuen Long which might have provided pet care, the Post has learned. No animals were seized.
The latest arrests came after authorities swooped on Pet Oasis in Tuen Mun on Friday and detained a 29-year-old woman and a 54-year-old man, while removing 22 pet dogs and 26 cats. Pet Oasis and PetPet360 have denied any involvement in smuggling activities.
Police arrested the five suspects on suspicion of animal cruelty and conspiracy to smuggle.
The animals at Pet Oasis were thought to belong to mainland owners who on their return home engaged the services of transport agents – who say they run legal businesses – to retrieve their pets from abroad.
The raids were launched after 12 surviving pet dogs in four crates were seized among goods worth HK$37 million (US$4.8 million) on a speedboat in Mui Wo on Lantau Island on August 21. Two mainland men were arrested.
The saga took a morbid turn last Wednesday when a crate containing the badly decomposed bodies of three microchipped dogs was found washed ashore near St Stephen's Beach in Stanley, in southern Hong Kong Island.
On Thursday, another two crates holding 12 dead cats were found on a Lamma Island beach. Law enforcement officers suspected the animals were either thrown overboard by smugglers to destroy evidence or fell out of the boat as officers gave chase.
It is thought parties involved in the pet repatriation process may be resorting to illegally transporting pets over the border into the mainland. Owners were believed to have paid 30,000 yuan (US$4,378) to 60,000 yuan for shipping.
Pet owners raised complaints against some of the raided venues to Hong Kong police or the Society for the Prevention of Cruelty to Animals.
The Post found that more than 40 mainland pet owners who had been studying or working in the United States, Britain, Australia or New Zealand had made such reports.
Police have already told some of them that their pets had been found dead, with the number of people affected climbing daily, according to a mainland owner who gave her name as Rachel.
PetPet360, one of the targets of the authorities on Monday, was said to be housing the pets belonging to some of those owners while awaiting customs clearance so they could be legally transported over the border.
Rachel said earlier an agent called Jessie she met on WeChat recently in the United States, where she had been studying, had urged other owners to ask friends in Hong Kong to collect their pets on Saturday morning, warning that authorities could soon move in and seize the animals.
A visit to the Kowloon venue by the Post on Saturday found the hotel appeared to be operating normally. A Hongkonger sent by a friend was on the site to pick up a cat transported from Britain.
The male operator of PetPet360 said on Tuesday it had housed a number of pets in the case. Mainland pet owners had contacted him directly and arranged delivery themselves for when the animals were checked out and he was not involved.
Superintendent Dickey Kwan Chun-ting, of the marine police regional crime unit, said the venues raided had suspected connections to the animals, both living and dead, in the case. "How much they were connected, and whether they worked as a syndicate will be our direction of investigation," he said.
Investigators had yet to find out how long they had been operating and the number of local agencies that might be involved, he added.
Kwan said his team would also find out whether the pets were smuggled to the mainland for sale but the information collected had shown no such signs.
He said further arrests were possible.
On Monday night, the Post contacted a woman assigned to retrieve the animals when they reached Hong Kong, according to information from owners.
"Teresa", from Nam Hang Tsuen in Yuen Long, repeatedly denied she was involved in animal transport before quickly hanging up.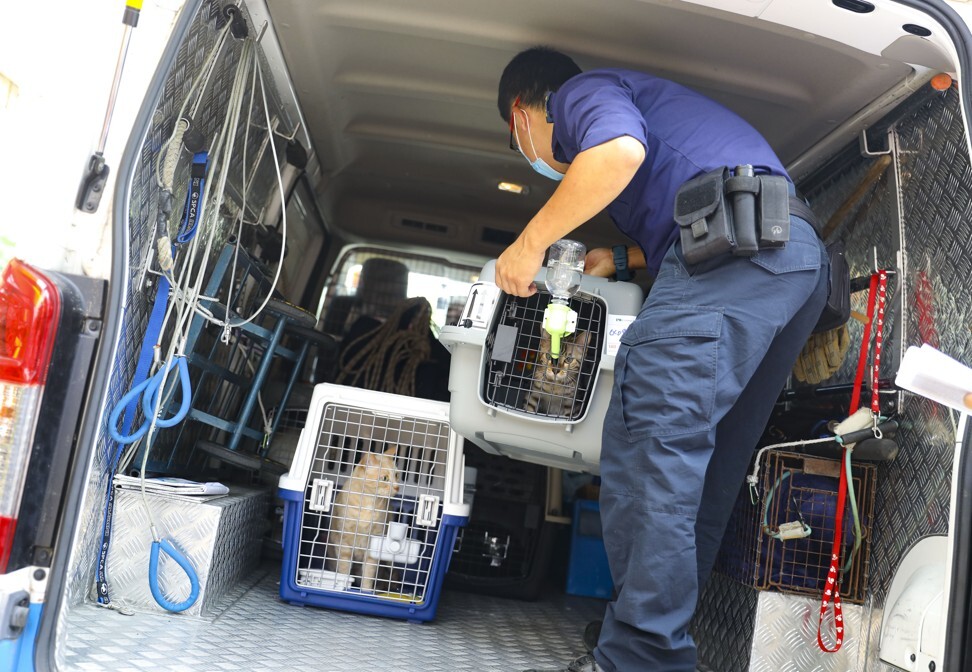 The agent commissioned by Rachel to handle the shipping from Hong Kong to the mainland for 10,000 yuan could not be reached for comment.
An animal transporter in Hong Kong said mainland policy required pet owners to fly with their animals if they wanted to import them, but the pandemic had made it harder for both humans and their pets to travel on the same aircraft.
It is likely pet owners had spoken with agencies which suggested they first send their pets to Hong Kong, which had no such requirements. But securing the correct paperwork to take animals from the city to the mainland could take several weeks.
Some parties involved in the process might have sought the services of smugglers to speed up the process and save on costs.
Police urged pet owners to use transport agencies with a good reputation and to try to travel with their animals.
Owners in the case were urged to come to Hong Kong as soon as possible to claim their pets which could be stressed by their separation.
This article appeared in the South China Morning Post print edition as: Three more arrests during pet-smuggling investigation