Hong Kong protests: student acquitted of obstructing traffic charge as court rules police officer's evidence contradictory
But while she did not find him guilty, magistrate says 19-year-old Tang Cho-fung's account of events was less than believable
The student was arrested in Sai Wan Ho on November 13, accused of tossing a brick in the street near where a protester had been shot two days prior
A Hong Kong student accused of obstructing traffic during a citywide
anti-government protest
last year has been cleared of the allegation, after a court ruled the "contradictory" nature of the arresting officer's evidence outweighed the questions raised by the pupil's own unconvincing account of events.
Eastern Court Magistrate Peony Wong Nga-yan acquitted 19-year-old Tang Cho-fung of obstruction in a public place, an offence punishable by three months' jail and a HK$5,000 (US$645) fine, ruling the prosecution failed to prove their case beyond a reasonable doubt.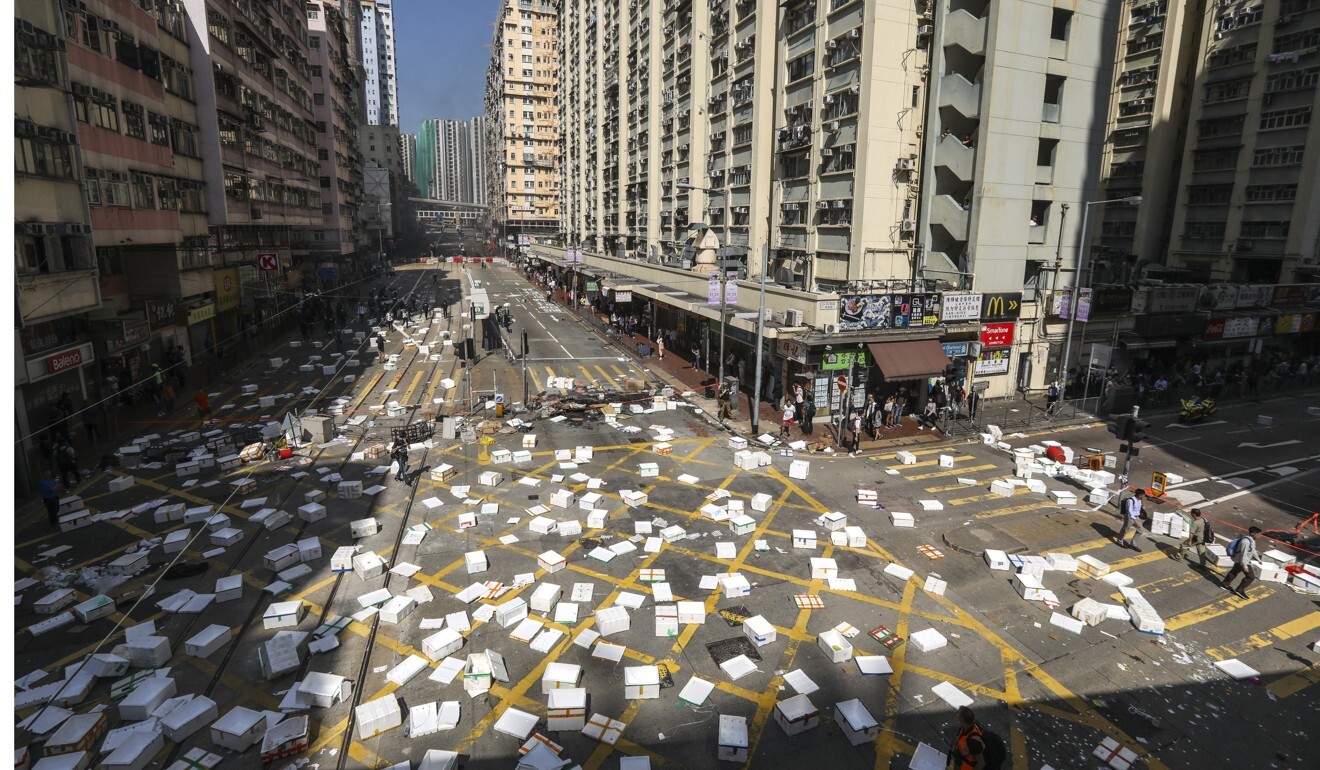 The Form Six pupil was alleged to have placed bricks and rubbish bins at the junction of Shau Kei Wan Road and Shing On Street in Sai Wan Ho on November 13, two days after a 21-year-old student was shot with a live round by police at the same location.
At trial, Tang said he had only gone to observe the protest after classes were suspended that morning, and had hoped to demonstrate his support for the wider democratic movement triggered by the now-withdrawn extradition bill by wearing an all-black outfit.
Constable Wan Wai-lok, who arrested Tang, denied targeting the student simply because of his age and attire. Wan said he had witnessed Tang, who wore a pair of safety gloves, tossing a brick onto the road, before running into him as he tried to escape.
Under cross-examination, however, the officer said Tang dropped the brick while he was fleeing. He also admitted he did not write down an important feature of Tang – the black rucksack he was carrying – when he identified the protester who tossed the brick in his written statements.
In Tuesday's ruling, Magistrate Wong rejected the officer's account, pointing to contradictions and uncertainties in his court testimony.
Wong said Wan had offered three different versions of the number of protesters at the scene in his statements, displaying uncertainty about the circumstances of the incident.
Wan had also failed to explain why Tang would try to escape by running towards the officer rather than away from him, knowing very well he could be apprehended, Wong continued.
But the magistrate also found Tang did not tell the whole truth in the witness box either, as she saw no reason for the student to wear gloves, which he claimed were given to him by an unknown woman at the scene, if he was not there to participate in the illegal gathering.
"The prosecution has failed to prove beyond reasonable doubt that the defendant committed the offence," Wong said. "Although the defendant appeared very suspicious by wearing a pair of safety gloves, the court can do nothing but to acquit the defendant."