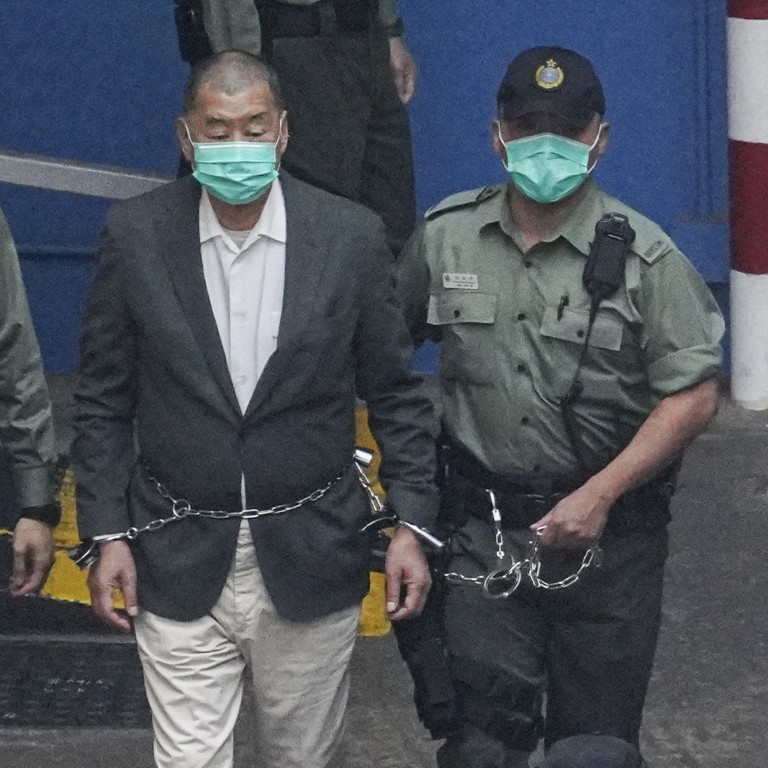 Hong Kong protests: Jimmy Lai, four ex-lawmakers jailed over 2019 march from Victoria Park
Democratic Party founding chairman Martin Lee and four others given suspended sentences
Veteran democrat Albert Ho complains sentences are 'unthinkably high', arguing peaceful protests should be protected by law
Publishing tycoon
Jimmy Lai
Chee-ying was
jailed for 14 months on Friday in back-to-back sentencing for his role in two illegal protests during Hong Kong's
anti-government unrest
in 2019, while four former opposition lawmakers who joined one or both demonstrations were also sent to prison.
Democratic Party founding chairman Martin Lee Chu-ming was given an 11-month suspended sentence for joining one of the protests, an unauthorised march on August 18, 2019, while veteran democrat and barrister Margaret Ng Ngoi-yee was also spared jail in a 12-month suspended sentence. 
The jail sentences of eight to 18 months for five out of 10 opposition figures who appeared at West Kowloon Court marked the toughest punishments to date for Hong Kong's most prominent pan-democratic politicians over the mass protests that rocked the city for a year.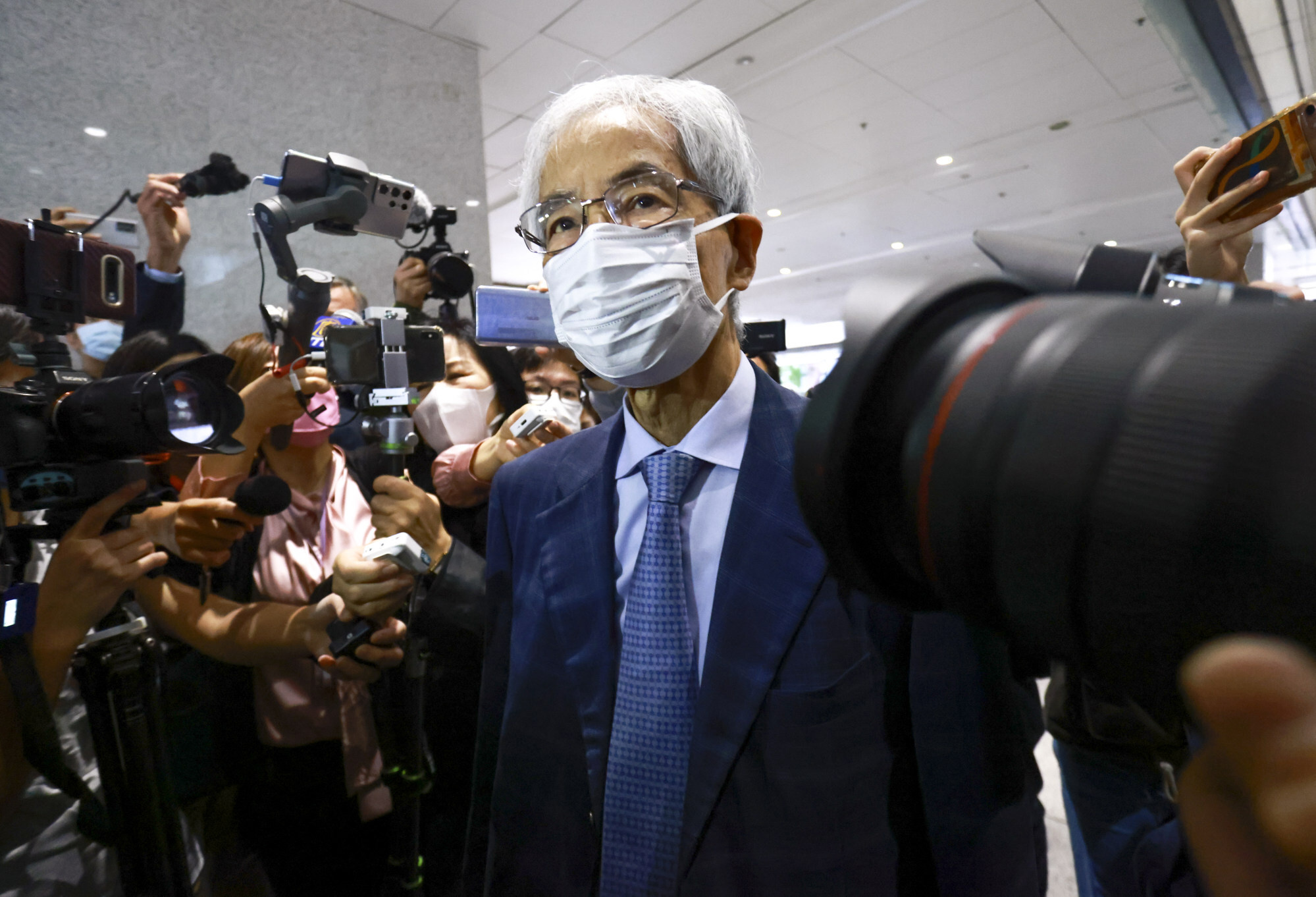 "I am very shocked and disappointed with the approach adopted by the judge," said former Democratic Party chairman Albert Ho Chun-yan, who received a one-year suspended sentence.
Ho complained that the sentences were "unthinkably high", arguing that peaceful protests should be protected by law.
His party colleague Yeung Sum, who was given an eight-month suspended sentence, remained defiant, promising that protests "will go on" as a basic right.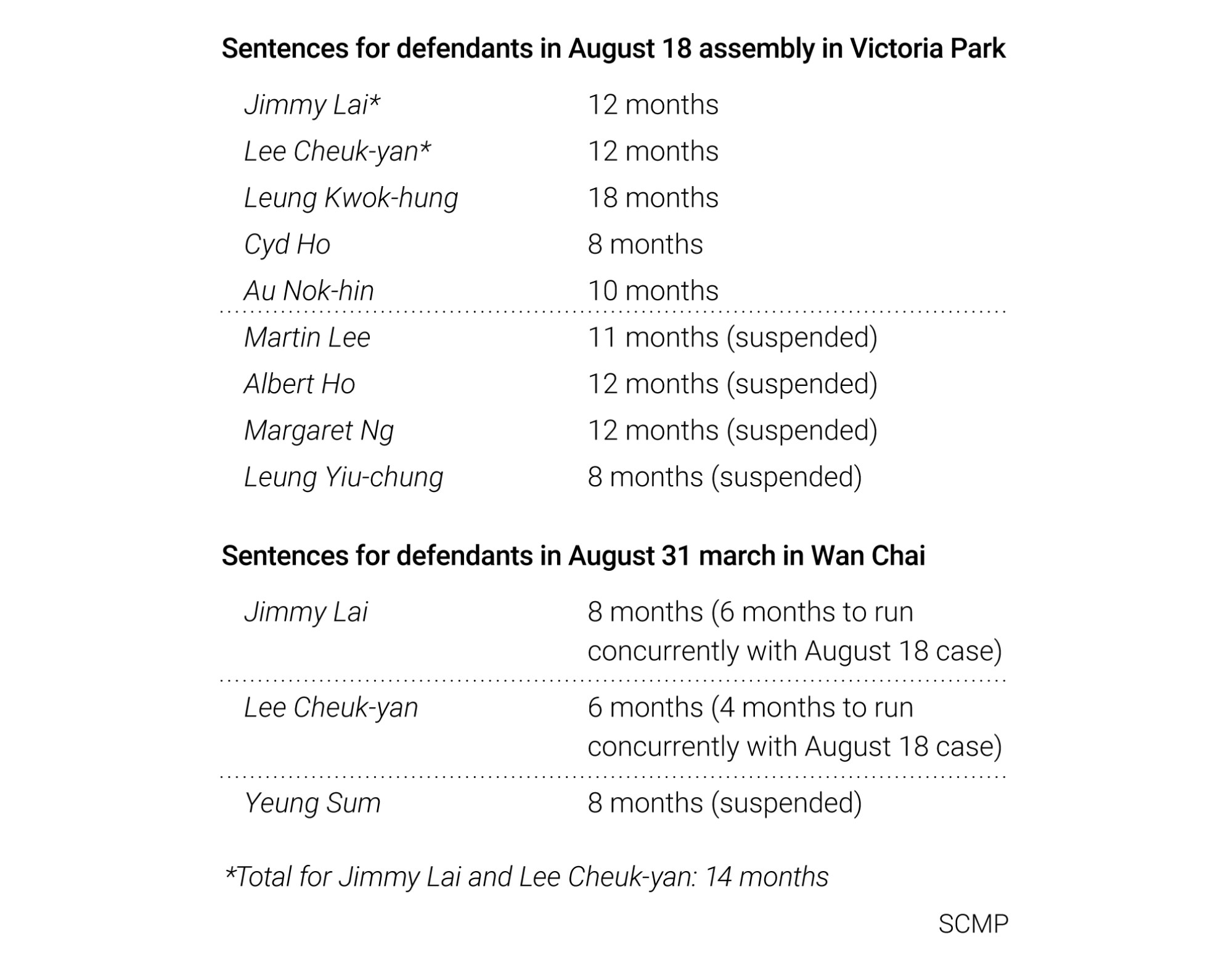 But veteran democrat Emily Lau Wai-hing, who turned up at court to show her support, was less optimistic. "I think the administration dares not allow people to protest," she said. 
All those jailed will be barred from running in
Legislative Council
elections in the coming five years under Hong Kong law. However it is unlikely they would be interested in taking part or even have a chance of getting past the vetting process laid out by Beijing's recently imposed
electoral revamp
. 
In addition to his one-year jail term for the August 18 protest, Lai was given eight months – six of them to be served concurrently – for taking part in another unauthorised rally on August 31.
It was the first-ever criminal conviction for the 73-year-old billionaire founder of Next Digital, already in custody after being charged under the
national security law
.
The verdict came just after he found out in a separate courtroom that prosecutors had slapped an additional national security charge on him and another of perverting the course of justice.
The publisher of the Apple Daily tabloid and Martin Lee, 82, had been charged alongside seven former lawmakers with organising and taking part in an unauthorised assembly by turning an approved gathering in Victoria Park, attended by some 300,000 people, into an illegal procession to Central on August 18, 2019.
Former Democratic Party lawmaker Au Nok-hin had pleaded guilty to both charges before the trial in February at West Kowloon Court, which was used as the venue for the District Court trial to accommodate the larger group of defendants. He was jailed for 10 months on Friday.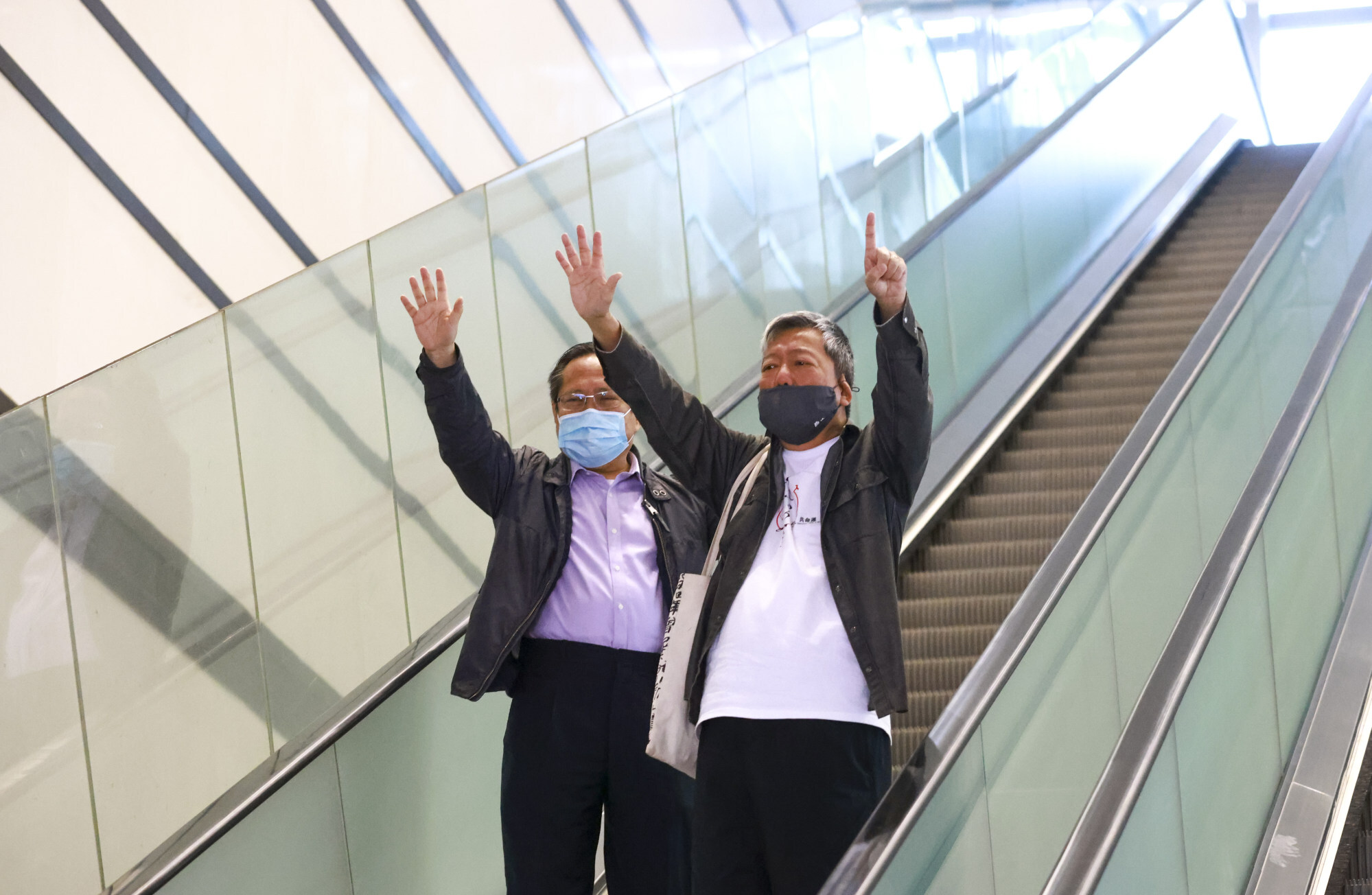 Veteran opposition politician Leung Yiu-chung, who admitted to the participation offence, was given an eight-month prison term, suspended for two years.
The others were convicted of all charges on April 1 after the presiding judge dismissed a constitutional challenge against their prosecution.
Former Labour Party lawmaker and veteran unionist Lee Cheuk-yan, who founded the Confederation of Trade Unions, was jailed for one year, while party colleague Cyd Ho Sau-lan was sentenced to eight months behind bars.
Veteran opposition activist "Long Hair" Leung Kwok-hung was given 18 months. 
In imposing jail sentences for the August 18 protest, District Judge Amanda Woodcock said the accused had consciously broken the law during the social turmoil of 2019, which she said was "as relentless as it was violent and disturbing".
She noted the nine defendants were influential figures in society and could easily persuade the public to join the illegal event, especially at such a volatile time.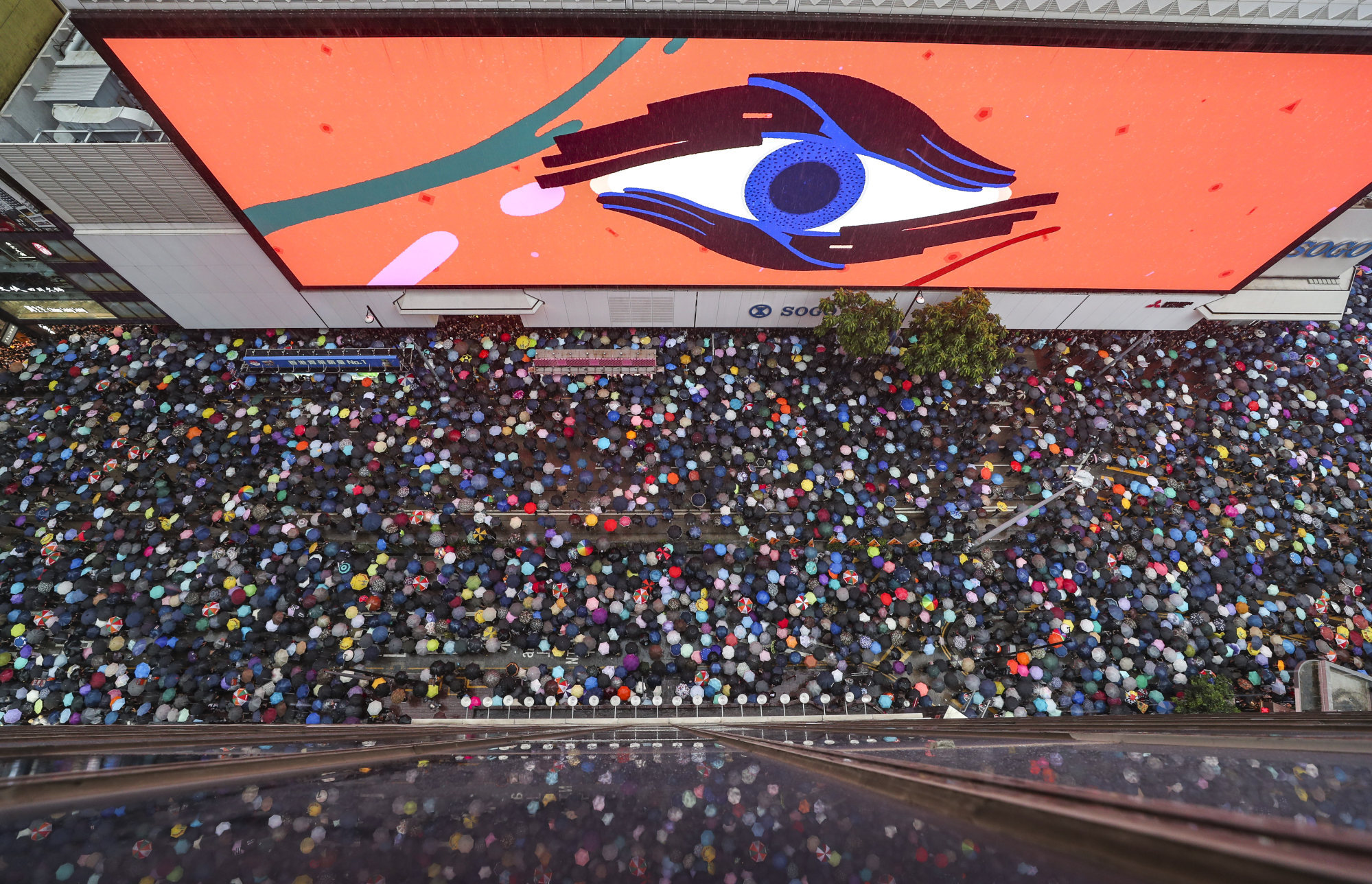 While the march itself was peaceful, the judge said it could well have turned violent and resulted in dire consequences had the participants' emotions been stirred.
"The procession posed a direct challenge to the police and therefore law and order … Taking into account the prevailing circumstances in Hong Kong at the time, a procession of that size posed an inherent latent risk to possible violence," the judge said. 
"A term of immediate imprisonment was the only appropriate sentencing option. 
"I repeat here that the
Basic Law
guarantees the freedom of assembly and freedom of expression for Hong Kong residents, but they are not absolute. Those freedoms are subject to restriction irrespective of the defendants' political views."
Defence lawyers had asked the judge to spare the defendants jail in mitigation, saying the demonstration was so peaceful no police intervention was called for, while highlighting their clients' past achievements and contributions to the community.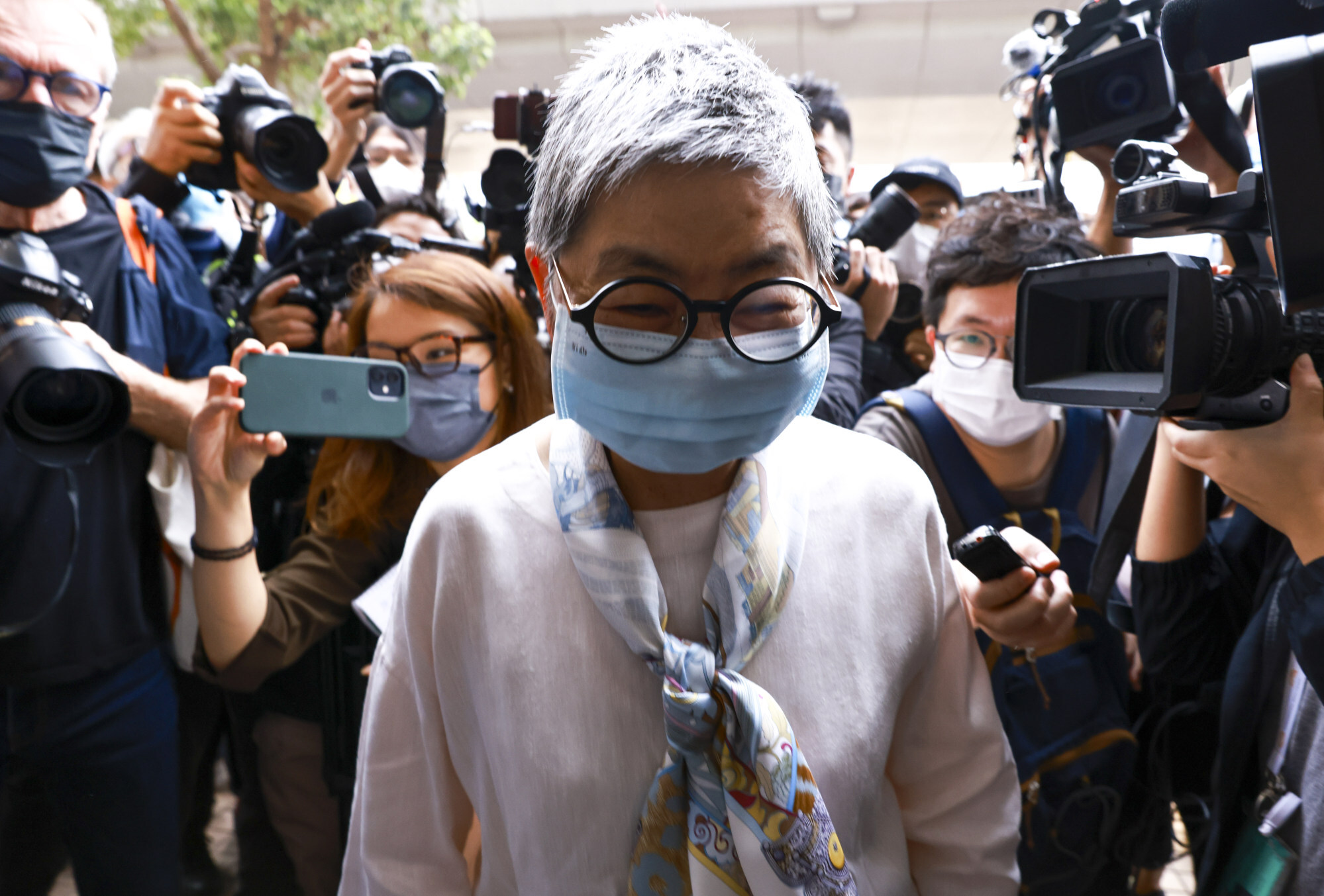 Margaret Ng, speaking for herself in the dock, said her appearance on the streets was part of her "lifelong endeavour" to defend the rule of law, which included respecting the freedom of expression and peaceful assembly.
"I had learned that the rule of law, not only has to be defended in court, or in [Legco], but also on the streets and in the community," said the barrister, who represented the legal sector in the legislature from 1995 to 2012. 
"When the people, in the last resort, had to give collective expression to their anguish and urge the government to respond, protected only by their expectation that the government would respect their rights, I must be prepared to stand with them, stand by them and stand up for them. Otherwise, all my pledges and promises would be just empty words."
In the second case, also heard by Judge Woodcock, Jimmy Lai, Lee Cheuk-yan and Yeung Sum pleaded guilty to taking part in the unauthorised rally on August 31, when more than 2,000 participants defied a police ban and marched from Wan Chai's Southorn Playground to St John's Cathedral in Central.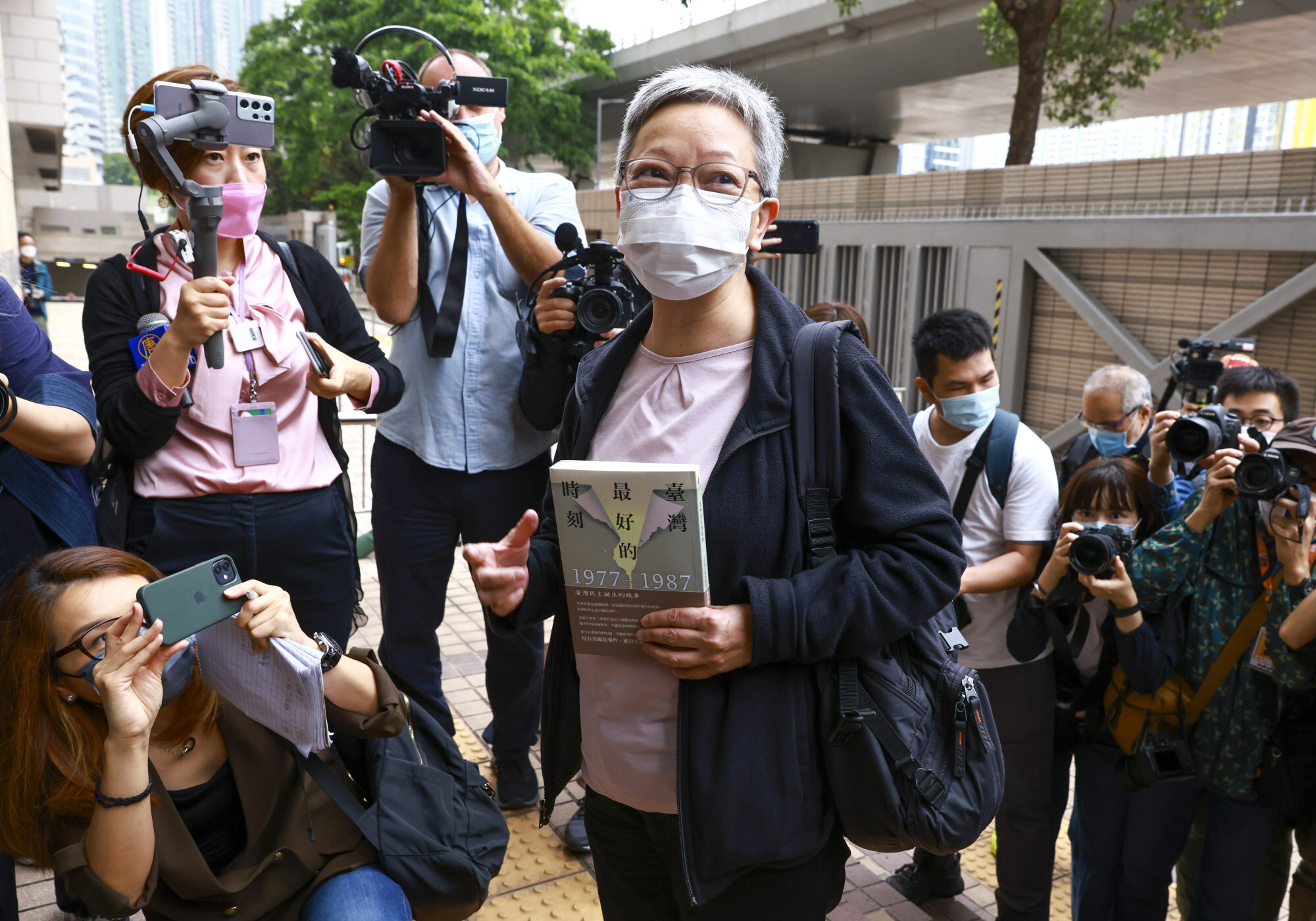 Lee Cheuk-yan received a six-month prison term, also to run partly concurrently, meaning he will serve 14 months. Yeung received a suspended eight-month jail term. 
While both claimed civil disobedience in their defence, the judge said that was not an argument for the court to consider in sentencing.
Unlike Ho and Yeung, who criticised the sentencing outside court, Ng, Martin Lee and Leung Yiu-chung left without speaking to the media. Ho said some of them would appeal.
A crowd of supporters chanted slogans from the 2019 anti-government protests. "There are no rioters, only tyranny," they shouted.
The strong media and public demand to watch the sentencing prompted the judiciary to reserve an entire floor for a live broadcast of the proceedings and relax social-distancing measures.
Diplomats from the United States, European Union, Germany, Canada, France, the Netherlands and Sweden were among the audience.
Figo Chan Ho-wun, convenor of the Civil Human Rights Front, organiser of some of the city's biggest protests, accused the government of creating "white terror" to silence dissent expressed through peaceful demonstrations.
In a statement on Friday, British's Foreign Secretary Dominic Raab said "the Hong Kong authorities' decision to target leading pro-democracy figures for prosecution is unacceptable and must stop".
"The right to peaceful protest is fundamental to Hong Kong's way of life – protected in both the Joint Declaration and the Basic Law – and it should be upheld," he added.
Chris Patten, the last British colonial governor of Hong Kong, said: "We have witnessed some of the most distinguished of the city's peaceful and moderate champions of liberty and democracy placed in Beijing's vengeful sights."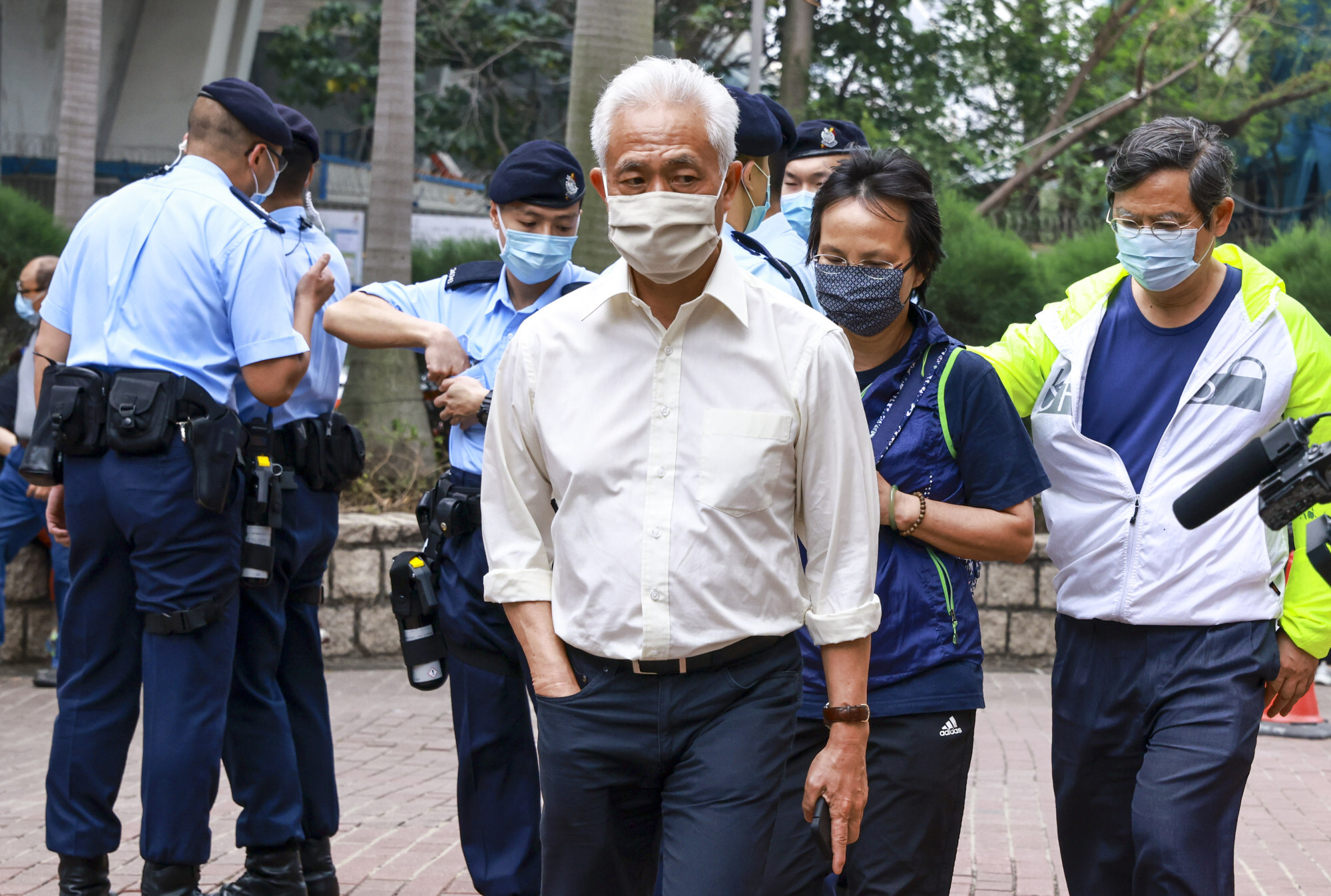 Amnesty International's Asia-Pacific regional director Yamini Mishra said the prosecution underlined "the government's intention to eliminate all political opposition in the city".
The Hong Kong government released a statement strongly rejecting their claims and demands.
"We are appalled by open demands for the immediate release of the defendants who admitted to their wrongdoing by either pleading guilty to their criminal act or were convicted after trial by the court," the statement read. 
"Such demands, absurd and menacing as they are, are in blatant violation of international laws and basic principles of non-intervention."