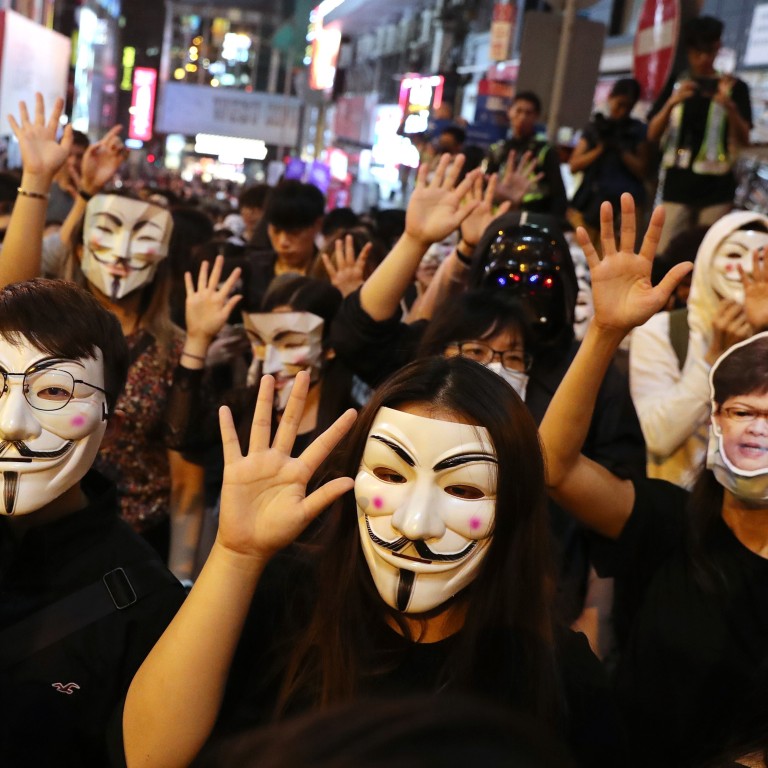 Hong Kong protests: student jailed for chanting slogans calling for city's liberation at unlawful 2019 demonstration
Cherie Yee, 20, sentenced on Thursday to 10 weeks in prison for taking part in an unlawful assembly in Central two years ago
She was among the 100 or so masked protesters who took to the streets on Halloween in and around the Lan Kwai Fong party district
A university student has been jailed for more than two months for chanting political slogans at an unlawful anti-government protest in a famous Hong Kong bar district on Halloween two years ago.
Cherie Yee Lok-yiu, 20, was sentenced to 10 weeks in prison at Eastern Court on Thursday after the magistrate found she was unlikely to benefit from correctional training because of her clear criminal record, academic background and family support network, despite that being the probation officer's recommendation.
The ruling, as sought by Yee's lawyer, instead allows the Hong Kong University of Science and Technology (HKUST) electrical engineering undergraduate to continue with her studies when her third year starts in September.
If imposed, the correctional training sentence would have entailed a period of detention of at least six months at a unit dedicated to young offenders.
Yee was convicted after a trial of taking part in an unlawful assembly in the early hours of November 1, 2019, when about 100 masked protesters confronted police at the junction of Gage Street and Lyndhurst Terrace in Central.
The police officer who arrested the woman accused her of leading the crowd in chants calling for the city's liberation and pressing the government to accede to protesters' five demands, which included investigating alleged police brutality during the civil unrest.
Magistrate Edward Wong Ching-yu expressed reservations about the officer's submission because he had failed to include those claims in two written statements.
However, he accepted that Yee played a part in the illegal gathering which he found had provoked a breach of peace.
Wong acquitted Yee of breaking the government's mask ban, which was imposed earlier that month during the height of the 2019 protests, after her father testified that his daughter suffered from hay fever and asthma.
The court received 13 mitigation letters from Yee's parents, friends and teachers, many of which applauded her good character.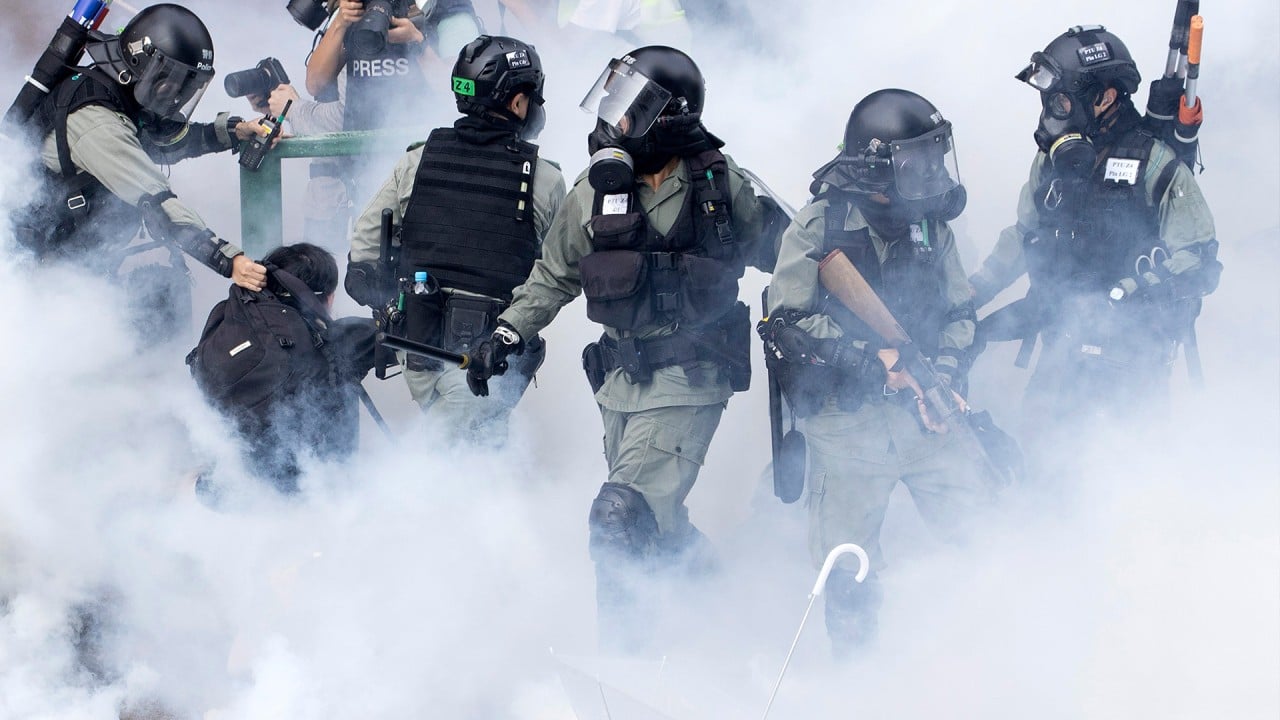 07:30
China's Rebel City: The Hong Kong Protests
China's Rebel City: The Hong Kong Protests
One friend, who suffered from severe depression, expressed her gratitude to the defendant for the "huge support" she had shown her through difficult times.
Defence counsel Douglas Kwok King-hin urged the magistrate to set a starting point of three months in prison instead of sending his client to a rehabilitation centre for correctional training, which would have warranted a longer period in custody.
While Wong found it inappropriate to compare the sentence length of both options, he accepted Kwok's submission on the basis the present case was not so serious that it required a heavy penalty.
"The court needs to take in a multitude of factors in sentencing, including the gravity of the offence, the need for deterrence, and of course, the defendant's personal circumstances," he told the student. "The court should also consider the fact that you have no previous convictions and the support you have given to others."
He subtracted two weeks from a starting point of three months in prison to reflect the defendant's good background.
Taking part in an unlawful assembly is punishable by five years in prison under the Public Order Ordinance, but is capped at two years at the magistrates' court level.
An HKUST spokeswoman declined to comment on the present case, but said the university would decide on a case-by-case basis whether disciplinary action was required for a student convicted of criminal offences.
This article appeared in the South China Morning Post print edition as: Student jailed for slogans at Halloween