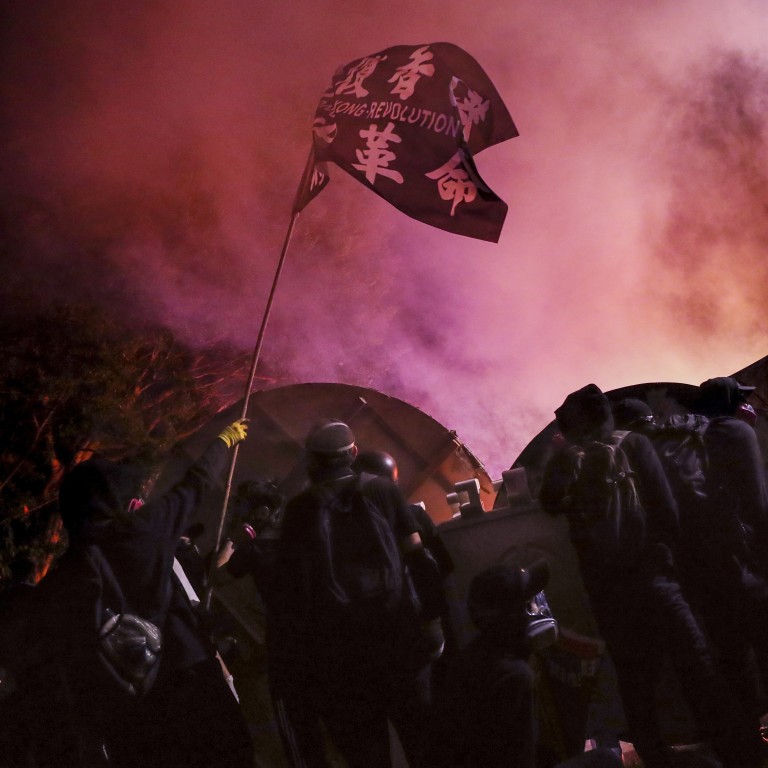 Hong Kong protests: 2 students jailed for rioting over Chinese University clashes; 1 more handed prison term for violating mask ban
Pair jailed for 54 and 45 months respectively, for roles in illegal demonstration at height of 2019's anti-government protests
Judge dismisses request for leniency, saying deterrent sentence is warranted
Two students found guilty of rioting during a violent demonstration at the Chinese University of Hong Kong (CUHK) at the height of
2019's social unrest
were sentenced to jail terms of up to 4½ years on Wednesday.
Vocational school student Cheung Chun-ho and CUHK undergraduate Tang Hei-man returned to the District Court on Wednesday after being convicted earlier this month of rioting and violating a ban on wearing masks at rallies during the protest at the Sha Tin campus on November 12, 2019.
Judge Clement Lee Hing-nin rejected a request from 20-year-old Cheung, who was found to have hurled objects at police that afternoon, that he serve time in a correctional facility in lieu of jail. Lee said the need for a deterrent sentence to protect law enforcement officers and the general public outweighed the defendant's personal circumstances, despite his young age.
Lee said a jail term was also warranted in the case of Tang, 25, who was found to have abetted the violence that day through her black attire and 13-minute presence at the scene, even though she was not caught committing any violent acts.
The judge sentenced Cheung and Tang to 54 and 45 months in prison respectively. He also sentenced the two to six and three months respectively, for violating the mask ban, but ordered those terms to be served concurrently.
A third defendant, CUHK student Chan Hey-hang, 23, was jailed for two months for violating the mask ban that day.
The trio were among the first group of defendants to stand trial over the chaos at CUHK, which went down as one of the most violent episodes of the months-long protest movement that year.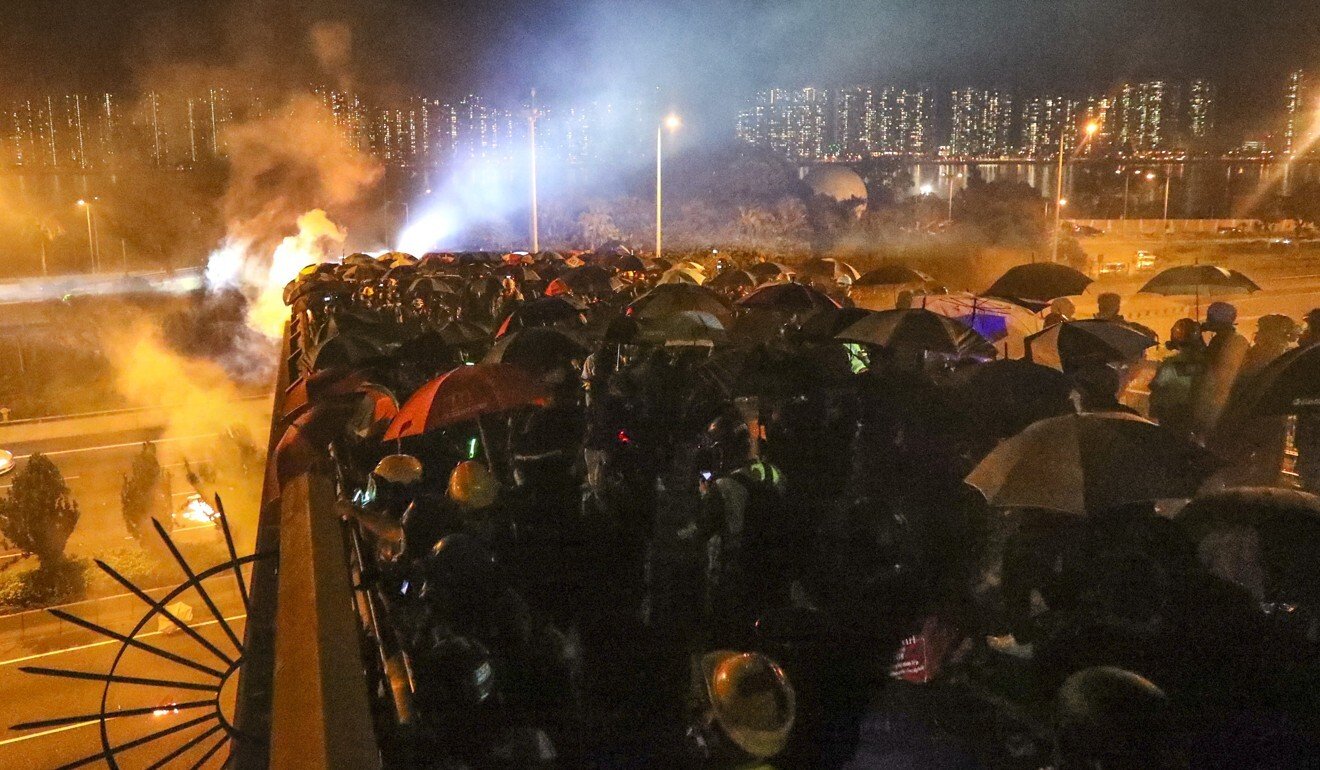 The clashes followed a day of citywide protests on November 11 that saw demonstrators bring the Tolo Highway and the nearby MTR East Rail line to a standstill by throwing objects from a bridge. Police dispersed protesters later that day and cordoned off the road to prevent further disruptions.
But protesters returned to the bridge the next morning, shining lasers at officers and shouting abuse from behind a makeshift barricade.
The illegal gathering escalated into a riot at around 3pm, when protesters began hurling petrol bombs, bricks and miscellaneous items at officers retreating to the other side of the bridge. Police began arresting people 20 minutes later, apprehending the three defendants.
In his verdict earlier this month, Lee dismissed Cheung's defence that he went to the scene by mistake after following an unknown woman who gave him protective gear commonly worn by radical protesters. He also brushed aside Tang's claim she was only there to find inspiration for her literary works.
Though he found insufficient evidence that Chan took part in the riot, the judge said the student had nonetheless violated the mask ban when he was arrested at the illegal gathering.
Rioting is punishable by seven years in prison at the District Court. The maximum penalty for breaching the government's mask ban is one year imprisonment and a fine of HK$25,000 (US$3,220).
This article appeared in the South China Morning Post print edition as: Students jailed for rioting at CUHK campus protest