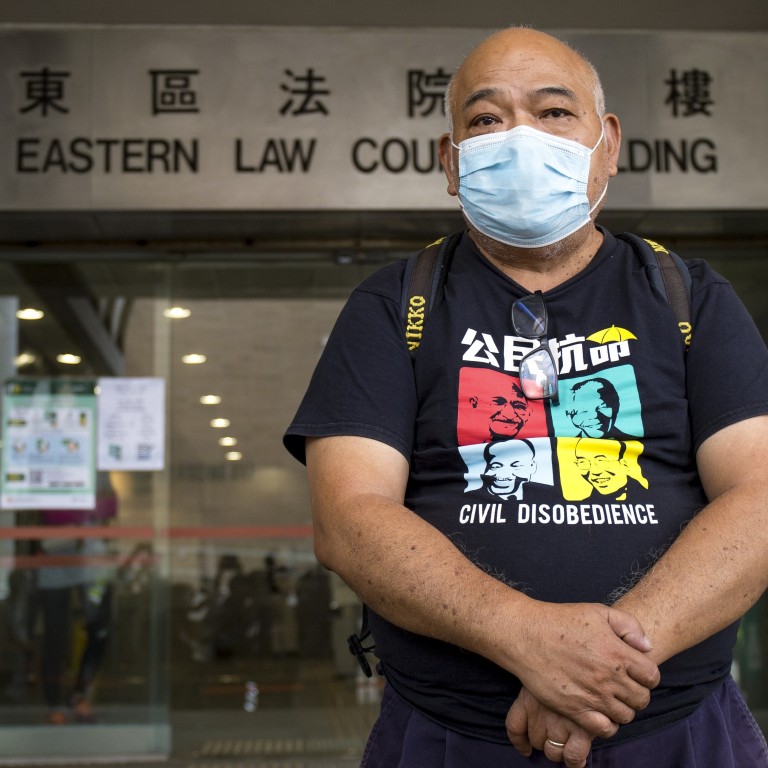 Hong Kong ex-lawmaker fined for breaking aviation law outside Legislative Council with 'release political prisoners' balloon
Tsang Kin-shing, 65, admits flying a balloon exceeding two metres long in controlled airspace, an offence under 1995 aviation order
Opposition activist released near city's legislature a balloon tied to a banner calling for authorities to 'release political prisoners'
A former Hong Kong lawmaker has been fined HK$2,500 (US$322) for violating aviation law by flying in controlled airspace a balloon tied to a banner calling for the release of "political prisoners".
Tsang Kin-shing, 65, appeared at Eastern Court on Tuesday alongside jailed trade unionist Lee Cheuk-yan, 64, in relation to the stunt outside the Legislative Council on January 1.
Opposition activist Tsang, also an ex-district councillor, called the prosecution a political decision and part of the government's ongoing crackdown on dissent.
He pleaded guilty to flying a balloon exceeding two metres long in controlled airspace, an offence under the Air Navigation (Hong Kong) Order 1995.
Lee, an ex-lawmaker who is currently serving a 20-month jail sentence over his roles in three unauthorised assemblies in 2019, denied the aviation charge and another count of obstructing a public officer. He will return to the same court in September.
Tsang and Lee were accused of breaking the law during a small gathering on Legislative Council Road organised by the Civil Human Rights Front on January 1. Members of that gathering had been driven through the streets atop a white van with a second banner saying "free all political prisoners".
The front earlier decided against organising its annual New Year's Day march after police had repeatedly turned down its applications for events citing
coronavirus
concerns and the risk of
peaceful demonstrations being hijacked by radical protesters.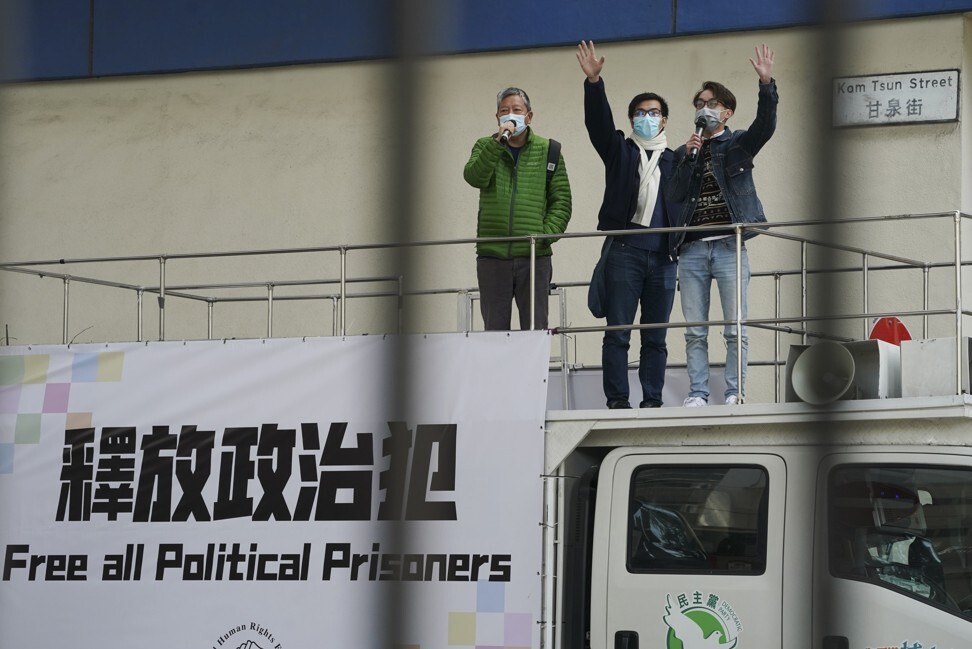 The court heard the pair had carried a white balloon attached to a rolled-up paper banner emblazoned with the words "release political prisoners" outside the city's legislature.
Flying the balloon with the banner – a total length of over two metres – was prohibited in the restricted airspace above the Legco building without the chief executive's consent, the prosecution said.
But Tsang was said to have ignored multiple warnings and let go of the balloon, which shot upwards and disappeared out of sight.
Tsang's counsel Chris Ng Chung-luen said his client had committed the offence on impulse after officers attempted to seize his balloon. Ng added the balloon did not expose any aircraft to serious danger given the relatively small size of the items involved.
Magistrate Arthur Lam Hei-wei accepted that submission and found a fine set at half the maximum penalty of HK$5,000 to be appropriate.
Outside court, Tsang said he and his allies had prepared the balloon to reflect Hongkongers' concerns about city freedoms.
"On New Year's Day this year, we were unable to organise a march to allow citizens to express their views. The only thing we could do was to put [a few words] on a balloon – release all political prisoners – to show Hongkongers' concern over the issue," he said.
Tsang also criticised the government's decision to extend a ban on public gatherings of more than four people. The ban, he said, was being used as a tool to bar demonstrations.
This article appeared in the South China Morning Post print edition as: activist fined for balloon stunt