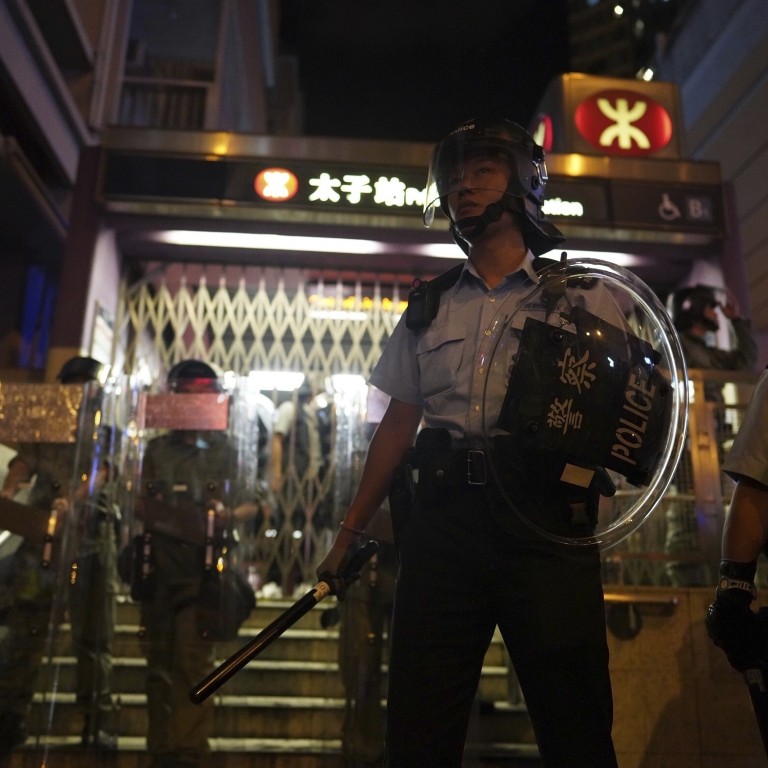 Hong Kong protests: teen gets up to 3 years at training centre for carrying firebombs, role in 2019 demonstration
Lawyers for boy, who was 13 at the time of arrest, had pushed for a hard labour sentence that would have been capped at six months
But Judge Frankie Yiu said the risk the improvised explosive devices had posed to commuters and teen's active role at protest warranted a longer term
A 15-year-old boy arrested during a controversial 2019 police operation inside Prince Edward railway station will serve up to three years in a Hong Kong correctional training centre after pleading guilty to carrying two firebombs to the premises and taking part in an
unlawful assembly
.
Passing sentence at the District Court on Friday, Judge Frankie Yiu Fun-che ruled that the longer term offered by a correctional institution was appropriate given the teen's active role in an illegal gathering in Mong Kok and the risk the improvised flammable devices had posed to railway passengers.
"Without a doubt, the defendant was … an active participant on the front line of the unlawful assembly," Yiu said. "Had the defendant used the firebombs inside the station, the consequences would have been unbearable."
A defence lawyer for the boy, who cannot be identified due to his age, urged the court to consider sending him to hard labour at the Sha Tsui Correctional Institution on Lantau Island, where he could have been released in just six months, allowing the Form Three student to return to school.
But Yiu said such a short period of detention failed to reflect the gravity of the offences, which could have easily landed the juvenile offender in jail for more than two years had he been an adult.
The judge ordered the boy to receive educational and vocational training at Cape Collinson Correctional Institution in Chai Wan for a period of six months to three years. The Correctional Services Department will decide on the exact term to be served based on the teen's performance.
The boy, who was 13 at the time of the offence, pleaded guilty last month to taking part in an unlawful assembly at the junction of Nathan Road and Nelson Street on August 31, 2019, as well as to possessing offensive weapons in a public place.
The illegal gathering took place as anti-government demonstrations rocked the city and was part of a series of chaotic nighttime protests that took place after a peaceful march earlier in the day organised by the Civil Human Rights Front. That demonstration, which was held without notifying police, started at Chater Garden in Central and ended at Beijing's liaison office in Sai Ying Pun.
The underage defendant was among some 100 mostly black-clad protesters who appeared at about 10pm at the site of the clash in Mong Kok. He was caught on camera barricading the street with bricks and styrofoam containers to prevent vehicles from passing and also seen hurling a plastic box at a double-decker bus to stop it from moving forward.
After police began dispersing the crowd, the boy, together with about 20 other protesters, rushed into Mong Kok MTR station, damaging the facilities inside before boarding a Prince Edward-bound train.
The boy was intercepted inside Prince Edward Station at 11pm, after police officers stormed the premises, deploying pepper spray and subduing protesters with batons. Police later found two glass bottles filled with flammable liquid inside the teen's backpack.
Footage of stick-wielding officers entering train cars and pepper-spraying people who were not dressed in black later went viral online,
sparking accusations
of police brutality.
In a separate case before another judge, an associate degree student pleaded guilty to three charges in connection with a plot to produce explosives and airdrop weapons amid the civil unrest two years ago.
Tung Sheung-lam, who has been suspended from school, admitted producing gunpowder and thermite as well as keeping other explosive chemicals in a Tai Kok Tsui tenement flat between October 3 and 15, 2019.
The 25-year-old also admitted possessing three drones capable of carrying small firebombs.
While investigators found only small traces of gunpowder at the flat, prosecutor Ivan Cheung Cheuk-kan said the raw chemicals seized were enough to produce 723 grams of gunpowder.
Tung pleaded guilty to conspiracy to make explosives, possession of explosives and possession of articles with intent to damage property. He will be sentenced on October 19 after the trial of his co-defendant, 19-year-old student Ting Chin-fung, is completed.
This article appeared in the South China Morning Post print edition as: Up to 3 years for boy at training centre in MTR firebomb case