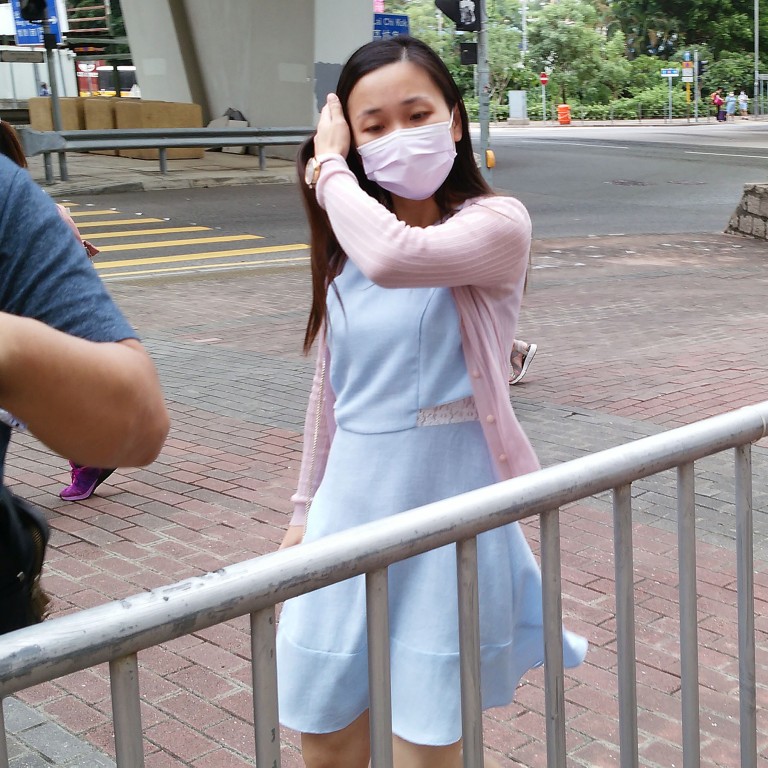 Hong Kong teacher cleared of abusing domestic helper, court says evidence 'riddled with holes'
Educator Mak Pui-shan cleared of all charges by West Kowloon Court for alleged mistreatment of domestic helper Eden Gumba Pales
Deputy Magistrate Sara Li says Pales' verbal testimony was 'riddled with holes' compared to strong evidence provided by Mak's defence
A secondary school teacher in Hong Kong accused of repeatedly abusing a domestic helper has been cleared of all charges after a magistrate found the worker's evidence to be contradictory.
Educator Mak Pui-shan, 35, stood trial at West Kowloon Court last October for allegedly mistreating Eden Gumba Pales, 37, at a Tsuen Wan high-rise residential flat on five occasions between October 2020 and May 29 this year.
On Wednesday, Deputy Magistrate Sara Li Cheuk-wai cleared the teacher of all six charges, saying Pales' account of events was "riddled with holes" in contrast to Mak's well-supported defence.
Mak had faced one count of administering a noxious substance with intent to injure, one for criminal intimidation and four others for assault-related offences.
In pleading not guilty to all charges, Mak said the alleged abuses were made-up stories by Pales in retaliation for sacking the domestic worker.
During the trial, Pales accused the teacher of forcing her to work long hours, denying her any time off and attacking the domestic helper if her work was deemed unsatisfactory.
According to the Philippine national, Mak had allegedly attacked Pales by pulling her hair and hitting her head against a wall, scratching and slapping her, smacking her in the thigh and forcing her to eat porridge spiked with detergent.
Pales had also accused the educator of threatening to withhold her wages and even kill her.
But the deputy magistrate said that Pales' verbal testimony had contradicted her written statements on multiple occasions, while some details had appeared inconsistent when the domestic helper was cross-examined by Mak's lawyers.
Li said Pales had offered several conflicting explanations for the causes of her injuries.
The deputy magistrate cited an instance where Pales had initially claimed she was scratched once by Mak but later said it had occurred multiple times after lawyers pointed out the domestic worker had sustained 18 scars.
The domestic helper also accused Mak of hitting her leg with a frying pan, before alleging she was instead struck with a spatula, the magistrate said.
Li added that investigators' failure to seize the relevant items used in each alleged incident had made it difficult for the court to ascertain the complainant's assertions.
Pales also alleged that her employer had threatened not to pay her last May, with the deputy magistrate noting the domestic helper had acknowledged her wages were usually paid on the first day of each month and had never been withheld in the past.
In contrast, Li said Mak was able to submit evidence, such as message records and photos, to support her claim that the alleged abuses had never taken place.
The magistrate also accepted it could have been true that Mak had terminated Pales' contract due to her poor working attitude.
The magistrate awarded the defendant the costs of the proceedings, adding that she had not drawn suspicion upon herself.