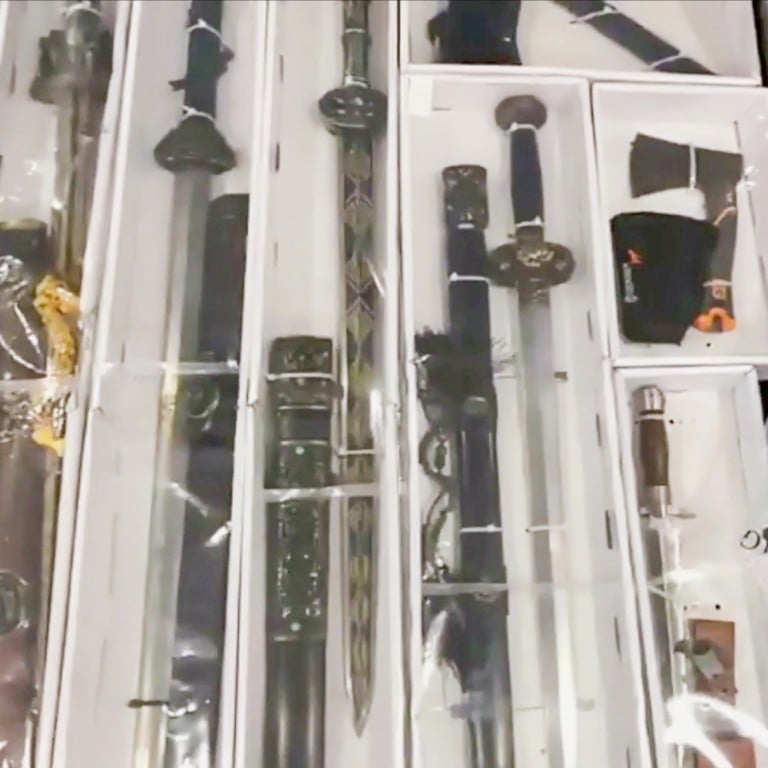 Hong Kong national security law: martial arts coach charged with inciting subversion over alleged role in pro-independence group that taught weapons use
Denis Wong, 59, initially faced a colonial-era sedition charge after a raid on his home also found an arsenal of weapons, including swords and crossbows
Prosecutors applied to upgrade the charge to one under the security law at the District Court, with a heavier sentence of up to seven years in jail
A martial arts instructor in Hong Kong has been charged with inciting subversion under the national security law for his alleged role in an underground organisation that promoted the city's independence and trained members to use weapons.
Denis Wong Tak-keung, 59, appeared in West Kowloon Court in March to face a count under the city's colonial-era sedition law, which carries a maximum jail sentence of two years upon the first conviction.
Prosecutors applied to the same court on Monday to upgrade the charge to one under the Beijing-decreed national security law and move the case to the District Court for trial, where the defendant faces up to seven years behind bars if convicted.
Officers from the police force's national security department
arrested Wong and his assistant
, merchandiser Iry Cheung Man-chee, 61, during a raid in March at a venue in Tsim Sha Tsui, where the training classes were held.
Follow-up investigations at the pair's homes found an array of weapons, including swords, machetes, axes, crossbows, bolts and arrows.
An amended charge sheet said that Wong incited others to "organise, plan, commit or participate" in "overthrowing or undermining the basic system of the People's Republic of China" and potentially "overthrowing the body of central power" of the country between July 1, 2020, and March 20 this year.
Apart from the national security offence targeting Wong, the defendants each face two additional charges – possessing offensive weapons with intent and possessing arms with intent.
The pair were remanded in custody until the first District Court hearing on September 22, where they are expected to indicate their pleas or ask for time extension to seek legal advice.
In the March session, prosecutors sought to hold Wong liable for 35 allegedly seditious statements and posters he had published on two Facebook accounts. They said the publications were likely to bring hatred or contempt of Beijing or the Hong Kong government, to excite residents to try to illegally alter any lawfully established matter in the city, to incite violence and to counsel disobedience to law and order.
Principal Magistrate Peter Law Tak-chuen denied bail to both defendants by adopting the higher threshold for releasing suspects under the national security law, saying he had insufficient grounds to believe they would not continue to pose a threat to the country's safety.
Imposed on Hong Kong by Beijing on June 30, 2020, the national security law targets secession, subversion, terrorism and collusion with foreign or external forces.
Inciting subversion carries a maximum jail sentence of 10 years, with a minimum term of five years applicable to serious cases.
Unlicensed possession of arms and weapons is punishable by up to 14 years and three years in jail respectively under local legislation.
The longest jail term that can be imposed by the District Court is seven years.